This is the AirBnB for 4/20-friendly homes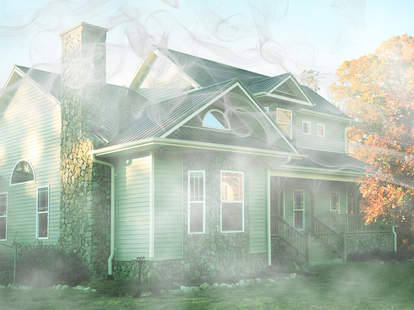 Colorado has been buzzing with marijuana tourists ever since the state legalized – the problem is, they can't smoke up just anywhere. Stoners were searching for couches to crash on and homes to hotbox in. And with those herb aficionados in mind, airTHC came to the rescue.
Modeled after AirBnB (duh), airTHC features weed-friendly vacation rentals for high-minded travelers in search of a place to legally light up. Like on AirBnB, listings range from luxury chalets to spare bedrooms, and even boutique hotels and hotel rooms. Unlike AirBnB however, and relatively atypical for an inert pothead, airTHC will also recommend concerts, restaurants, and events, as well as nearby dispensaries.

"We want people from around the world to have a legal and safe place to enjoy marijuana".

"We envision it being bigger than 'rent a place that's 4/20 legal'. We talk about breweries, skiing. We're thinking a concierge service, not just things related to marijuana", airTHC co-founder Jordan Conner told Thrillist. "We want to erase this negative connotation".
Connor explained clients won't be stereotypical tie-dyed burnouts. Instead, he envisions an older male, rolling in the dough, who's looking to recapture the high times with fraternity brothers and burn serious cash in the process.
The idea for airTHC came about when a friend, and now co-founder, visited from New York and bought weed, but had no place to toke, as public consumption remains a no-no in Colorado. Recreational weed smoking has been legal since 2012, but the state still heavily regulates where stoners can spark up. There are no Amsterdam-like cafés, and the Colorado Clean Indoor Air act, which bans cigarette and cigar smoke in bars and restaurants, was amended to include spliff smoke.

Plus, according to the New York Daily News, Denver only has 600 hotel rooms that are smoker-friendly to begin with. Savvy smokers who want to avoid the $150 fine (which skyrockets to $5,000 in national parks) for smoking in public should check out the site, which, aside from connecting cannabis consumers with chill cribs, also provides locals an opportunity to cash in on the Kush trend. It's simple economics.
"We want people from around the world to have a legal and safe place to enjoy marijuana, and we want to help keep Colorado legal", Conner said.
The company, which will be changing its name soon, has loftier goals too. According to the website, airTHC hopes that "by promoting legal, responsible marijuana use, the movement can take another step forward".
Taking that step forward, however, would also entail stepping out into the world, not just hogging a whole bag of Funyuns.
Sophie-Claire Hoeller is Thrillist's über-efficient German associate travel editor, who's had frequent flyer status since her mother gave birth to her in a Lufthansa terminal. Follow her @Sohostyle