The Happiest State in America Is...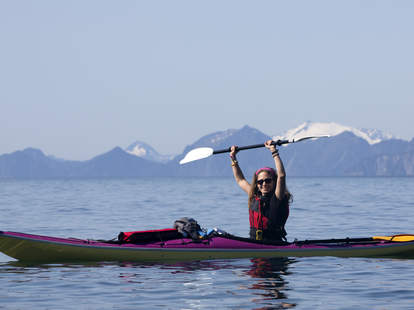 Whether it's the twenty-two hours of summer daylight, the vast wilderness, or the fact the every citizen scored an easy $1,884 in oil money last year for just, well, being themselves, when it comes to being happy -- nobody beats Alaska.
At least according to this year's Gallup-Healthways Well-Being Index, which interviewed over 176,000 people nationwide and ranked each state based on factors like personal health, work, social life, finances, and community pride. It was the second straight year the Last Frontier took top prize.
Not surprisingly, Hawaii came in second place and received top marks for financial security and physical health. Very surprisingly, South Dakota came in third and immediately threw the results into question, as they claim the Mount Rushmore State ranks number ONE in social life. Haha, who knew?
As for the saddest state, well, the more things change the more they stay the same: West Virginia claims the title of absolute worst place to live for the sixth consecutive year (scoring last for work and physical health) with Kentucky and Indiana following closely behind.
Want to see where your state falls on the list? Take a look...
The 10 happiest states:
10. Texas
9. New Mexico
8. Utah
7. Nebraska
6. Colorado
5. Montana
4. Wyoming
3. South Dakota
2. Hawaii
1. Alaska
The 10 worst states for well-being:
10. Missouri
9. Michigan
8. Arkansas
7. Tennessee
6. Alabama
5. Mississippi
4. Ohio
3. Indiana
2. Kentucky
1. West Virginia
Or head here for the full list and a breakdown of the ranking.