All aboard, y'all! It's
Trains Week
at Thrillist, which means we're celebrating our obsession with trains—fast trains, slow trains, wine trains, even snow trains. Throughout the week, you'll find off-the-rails stories and handy locomotive guides to help you plan your next great adventure. In the meantime, we'll see you in the bar car!
Imagine you've just finished a hike in the wilds of Alaska. You're sweaty, your back aches from carrying gear, and it's been such a long day that even your dog companion has lost the pep in his step. You have no car, and there's no road in sight for calling an Uber or hitchhiking out of there. There is a train track, but unfortunately you're nowhere near a train station. Fearing the worst, you suddenly spot a train approaching. Desperate, as a last ditch effort you stand by the rails, take out your handkerchief, and wave. Miraculously, the train slows to a stop.
The scenario might seem preposterous. Who hails a locomotive like it's a giant taxi? Turns out, quite a few people. What you didn't know was that you just waved down the Hurricane Turn Train, the country's last true flagstop train. And when it stopped to let you aboard, that was exactly what it was designed to do.
We probably aren't the first ones to tell you this, but if there's one must do on your first trip to Alaska, it's take a ride on the magnificent Alaska Railroad. If you can, spring for the glass-domed GoldStar Service. With the tracks stretching 470 miles on the main route from the port city of Seward to the inland ice castles of Fairbanks (not so icy in June, though, when the city holds its annual midnight baseball game), a glass-topped train ride is an intimate—and the ultimate—way to get to know the interior of the dense and somewhat daunting 49th state.
Inside the train, you're immersed: The see-through ceiling beckons blue skies as you're enveloped in rugged mountains and crisp landscapes laden with moose and other wildlife that seem close enough to touch (warning: don't touch). If it's a clear day, you may even see the majestic snow-capped peak of Denali—it pairs nicely with the mean Bloody Mary they make on board.
Your visit would also be timely: This year, the Alaska Railroad celebrates its 100th birthday, with a roster of events including the epic 12-day "Centennial Special" ride hitting all the major landmarks, through September. And the occasion is well deserved. President Harding drove the final Golden Spike into the railroad in 1923, signifying its completion and kicking off the freight and passenger transport that played a huge part in developing the state's fledgling wilderness areas. Prior to the Alaska Highway's arrival in 1942, the railroad was the only way to access Alaska's vast interior.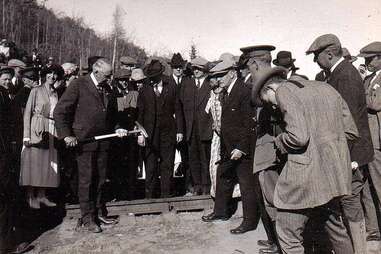 "We've always been a critical part of the infrastructure in a young state with few highways," says Meghan Clemens, communications manager for the Alaska Railroad. "On the passenger side, our longevity stems from the fact that we are just so well suited as a way to travel within Alaska. Our goal is for our passengers to consider their in-state travel time as a trip highlight."
The railroad stops everywhere a first-timer would want it to. Take it to Anchorage for some laid-back city living and a particularly robust Pride festival. Or Whittier to deep-sea fish for some massive prehistoric-looking bottom crawlers. Head to Girdwood for glaciers or Fairbanks for Aurora-spotting, then stop in Denali for backcountry thrills.
But if you really want a truly once-in-a-lifetime, only-in-Alaska experience, you flag down the Hurricane Turn Train.
In 1862, President Lincoln signed the Homestead Act, which allowed men, women, the formerly enslaved, and immigrants on the path to citizenship (Native Americans not included, mind you) to claim a piece of federal land for themselves, provided they were over 21, promised to live on the land for at least five years consecutively—in an actual house, not a tent—and committed to cultivating at least one eighth of it. During this time, a lot of burgeoning homesteaders took advantage of the plan and snatched up their own little slice of America—270 million acres of it, to be exact, spread throughout 30 states, a mad dash that, it must be acknowledged, irreparably displaced generations of Indigenous people in its wake. But one state came to it a little later than the rest: It wasn't until 1898 that homesteading was allowed in Alaska, when President McKinley extended the laws to the territory. From that day forward, however, it was on.
For the rest of the country, the freebie homesteading craze officially ended just over a century later with the passing of the Federal Land Policy and Management Act of 1976. But since Alaska's statehood was then in its infancy, it got a little leeway in the form of a 10-year extension. By the time the last Alaskan homestead was claimed in the 1980s, some 3,500 people had secured their own private piece of wilderness.
But the land was just that: wilderness, and the homesteaders still needed a way to get out there. Enter the Alaska Railroad. "Many Alaskans took advantage of this opportunity before a direct highway connection between Anchorage and Fairbanks was built, and instead relied on the Alaska Railroad to access their properties," says Clemens.
A highway was eventually constructed, and except for a 58-mile stretch of tracks north of Talkeetna, much of it paralleled the railroad's route. So it's in Talkeetna, a rustic former gold mining town worth some exploration in itself (population 1,200; its mayor, a cat) that the Hurricane Turn Train actually begins and ends its 6.5-hour loop. Still without a road, area homesteaders—recluses and local celebrities alike—continue to rely on this Alaska Railroad loop, both for themselves and for supplies, which means everything from dog sleds to fuel to, sure, toilet paper.
After departing Talkeetna, the Hurricane Turn Train currently makes scheduled stops in Chase, Curry, Sherman, Gold Creek, Twin Bridges, Chulitna, and the eponymous Hurricane. The full loop costs $117; prices of each leg begin at $29. And if you happen to find yourself along the tracks at any other point in the loop, simply stand on the side of the road and wave a flag if you've got one, or just your hand if you don't. Like magic, the train will slow down from chugging along at 30 MPH and scoop you up, no planning ahead required.
Beyond the homesteaders living along the tracks, the Hurricane Turn is also popular among Alaskans from around the state, who ride it to access camping and fishing sites without the hassle of backpacking in all their gear. And though it's still by far the least-known Alaskan line, tourists have increasingly begun to discover its charms, with ridership more than doubling over the last decade. It seems folks are eager to ride the last true flagstop in the country and enjoy some eye candy they wouldn't see otherwise. "On a clear day, passengers enjoy great views of Denali and the Alaska Range rising over the Susitna River, which is always a highlight," explains Clemens. "And the turnaround point for this route is the Hurricane Gulch Bridge, the longest and tallest bridge on the Alaska Railroad system standing over 296 feet above the river canyon below."
The Hurricane Turn stands as the Alaskan Railroad's smallest train by passenger volume and by far its most casual. "I've heard stories of the conductor taking an informal poll of passengers [to see] if they wanted to park the train to watch a bear for a few minutes," says Clemens. "And of visitors making new friends and helping locals unload their cabin supplies from the baggage car."
Unlike the GoldStar Service, the Hurricane Turn Train is Adventure Class only, which just means it works like a regular Amtrak, with standard picture windows and no food service. And while those bar car Bloody Marys may sound appealing, the Hurricane Turn's no-frills aesthetic actually makes it better—what it lacks in amenities can be made up for in snack-focused creativity. Pack your favorite sandwich and pickles for an onboard picnic or, heck, class it up with some Champagne and dessert, as a wedding party Clemens recently heard about probably did.
"A group of about 40 flagged the train at a particularly pretty area called Twin Bridges—it's a narrow stretch of land fully curved around by the Indian River and a steep canyon backdrop, flanked by train trestles on both sides," she says. "They brought out a wedding altar along with refreshments, and the bride and groom got married and had a reception with all their family and friends in the Alaskan wilderness."
Even if you're not ready for a destination wedding on the rails, your next trip to Alaska could very well include a short flagstop excursion with man's best friend. The Hurricane Turn Train is also pet-friendly—though you may want to cover Spot's eyes if any bears show up.
Vanita Salisbury is Thrillist's Senior Travel Writer. She had a couple of those Bloody Marys.