All 14 Grapefruit League Baseball Stadiums, Ranked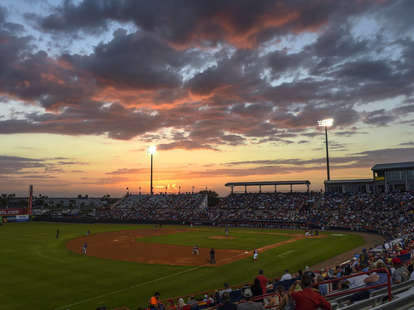 The Washington Post/The Washington Post/Getty Images
The Washington Post/The Washington Post/Getty Images
Yep, spring training.
That time of the year when every team thinks it can win the World Series, every manager is happy to talk to reporters (mostly), and minor-league players actually get to play with the dudes making $20 million a season.
And one of the best parts of spring training for a baseball reporter like myself is crisscrossing Florida, driving to various cities scattered around the Sunshine State, and taking in some of the most unique baseball stadiums the country has to offer. Also, trading the death of winter for green grass and 70-degree weather.
So, in the spirit of MLB teams regrouping to aim for another (or a first) World Series title, below is a ranking of all 14 stadiums that make up the spring training Grapefruit League.
Play ball, y'all.
14. Space Coast Stadium -- Washington Nationals
Viera, FL
Coolest feature: Um, Bryce Harper?
Best place to sit: It really doesn't matter
This is the last season the Nats will be at Space Coast, moving farther south in 2017. And you can't blame them for wanting to abandon the place -- it's an uninteresting building in an uninteresting location. That said, the stadium is small (capacity: 7,400), you can get in cheap, and pretty much any seat is close to the field. Plus there's a Tiki bar and picnic area down the left-field line. But that's about all. Still, go this season and watch Bryce Harper, probably the best player in the National League. When he exits the game, feel free to do the same.
13. Osceola County Stadium -- Houston Astros
Kissimmee, FL
Coolest feature: Autograph availability (see below)
Best place to sit: If you want to avoid kids, anywhere but the end of right field
Osceola has been home to the Houston Astros since 1985 and owns the smallest capacity of any stadium in the league (5,300). What's cool, though, is the clubhouses aren't attached to the dugouts, so players have to walk by fans in order to get to and from. You know what that means: autographs galore. Food? It's stadium food. And you can't bring anything inside.
12. Charlotte Sports Park -- Tampa Bay Rays
Port Charlotte, FL
Coolest feature: The boxy backstop
Best place to sit: Deep right-center, under an umbrella (Tiki bar)
About an hour and 15 minutes south of Tampa, the Rays call Port Charlotte home for seven weeks in the spring and... it's fine. The park is kid-friendly, but the boardwalk in the outfield allows for plenty of shaded drinking and eating with a good view of the game. The Rays haven't been good for a while, so drink up, and you won't miss much. There is a Chick-fil-A, too. Plus peanut butter sandwiches are for sale, for some reason, along with something called the "Triple Play," said to be a pile of roast beef and ham. Sure.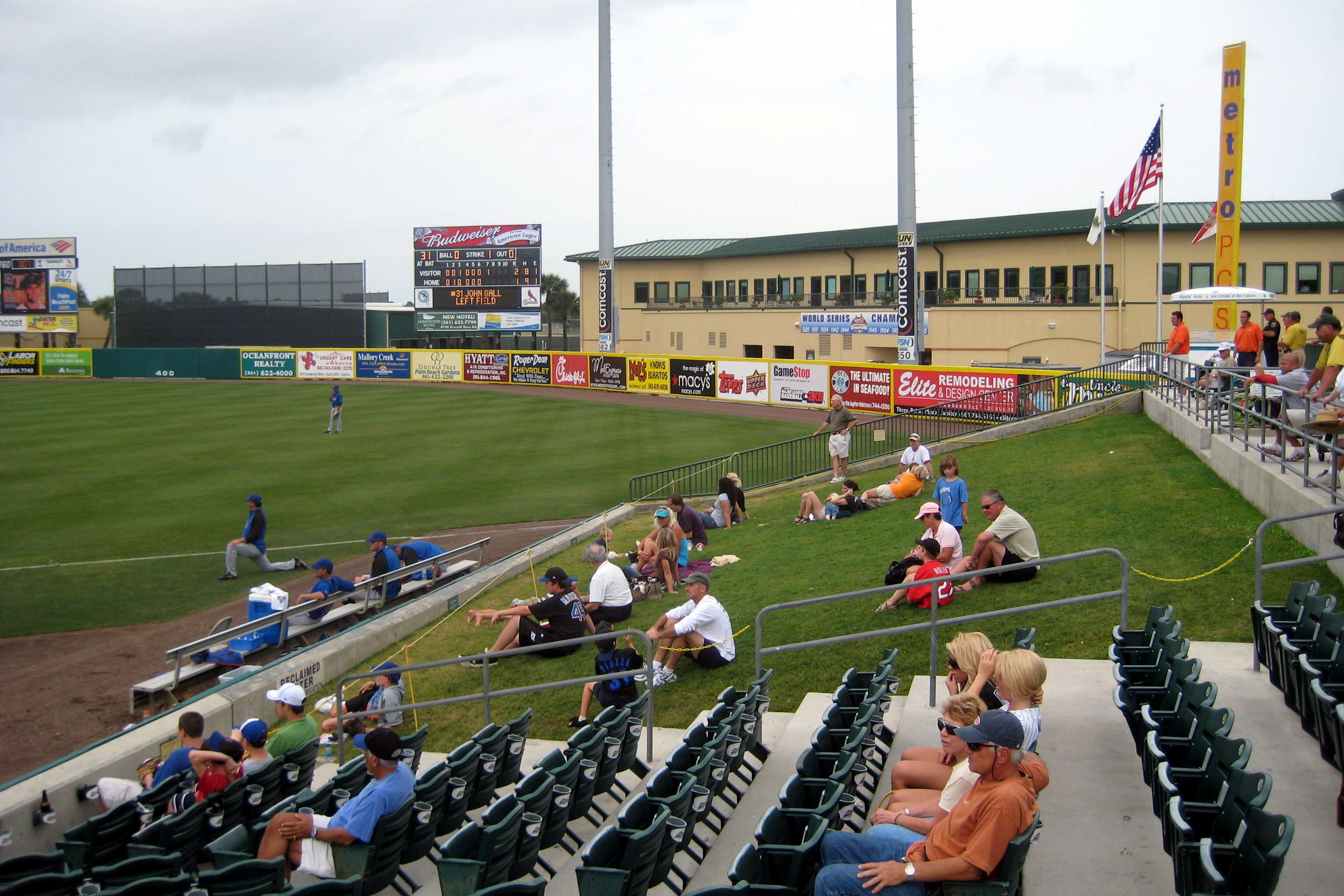 T-11. Roger Dean Stadium -- Miami Marlins
Jupiter, FL
Coolest feature: Autograph availability
Best place to sit: Anywhere, since the place is so small
Roger Dean boasts one of the most intimate settings in the Grapefruit League -- the outfield walls down the foul lines are so short, players and fans are pretty much on the same level in some places. The relief pitchers are so close to the fans that they could probably touch each other. (But, uh, don't?) Specialty food changes every year -- when I went, in 2012, it was the Caribbean roast pork sandwich. It was fine. Let me know what it is this year.

T-11. Roger Dean Stadium -- St. Louis Cardinals
Jupiter, FL
Coolest feature: Autograph availability
Best place to sit: Anywhere, since the place is so small
Yes, you're reading the same thing as above, because the Cardinals and Marlins share the place. When I went in 2012, I spent the entire time in deep-right field, near the foul pole, drinking light beer and watching Carlos Beltran play pretty good defense for a 35-year-old. (He's with the Yankees now.) So head to Jupiter and if you play your cards right you can see four teams play in two days.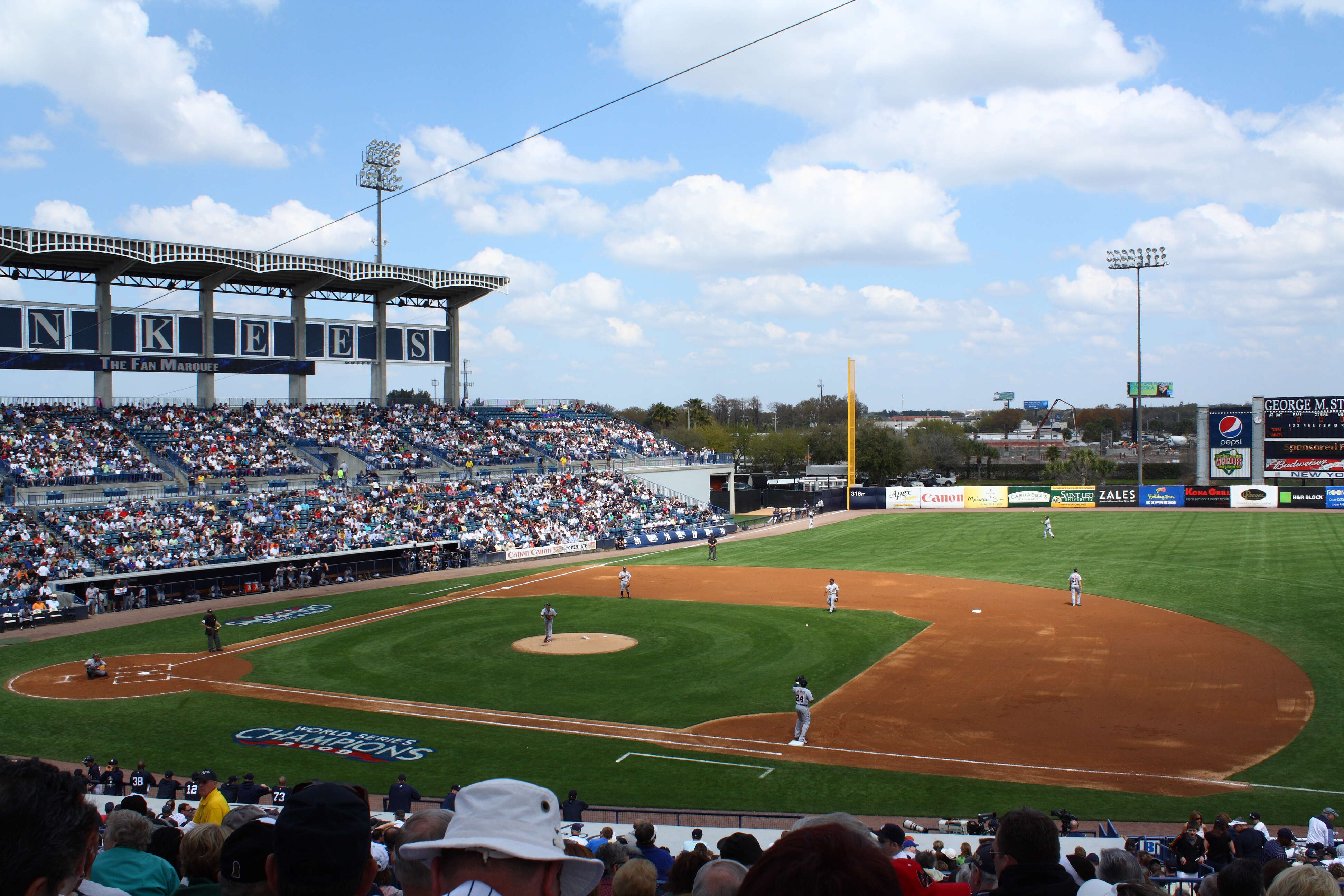 10. George M. Steinbrenner Field -- New York Yankees
Tampa, FL
Coolest feature: The historical plaques outside
Best place to sit: As close to the first-base dugout as possible -- the Yankees always have star players
The Yankees have been in Tampa for 21 years now, their stadium name honoring late owner George Steinbrenner. The outfield dimensions are the same as Yankee Stadium in the Bronx -- 318ft to left, 408 to center, and 314 to right. The Yankees haven't won a World Series since 2009 (gasp!) but rest assured, the team is always sporting one of the league's highest payrolls, meaning their players are always among the best in the league. Food isn't cheap (hey, someone has to pay A-Rod), and frankly, it's nothing special. But when it's Tuesday and you're eating a hot dog and it's 80 degrees, does that really matter?
9. Joker Marchant Stadium -- Detroit Tigers
Lakeland, FL
Coolest feature: The orange and blue seats
Best place to sit: Beyond left field, on the grass ("The Berm")
The Tigers have been in Lakeland since 1934. 1934! They moved into Joker Marchant in 1966 (cost: $360,000) and for many years the all-concrete place was known as one of the simplest, no-fuss stadiums in all of Florida. But a 2002 renovation jumpstarted the joint, and included the 45ft grassy lawn in left field known as "The Berm." You can't bring any food into the stadium, but there is a Little Caesars Pizza, so what are you complaining about?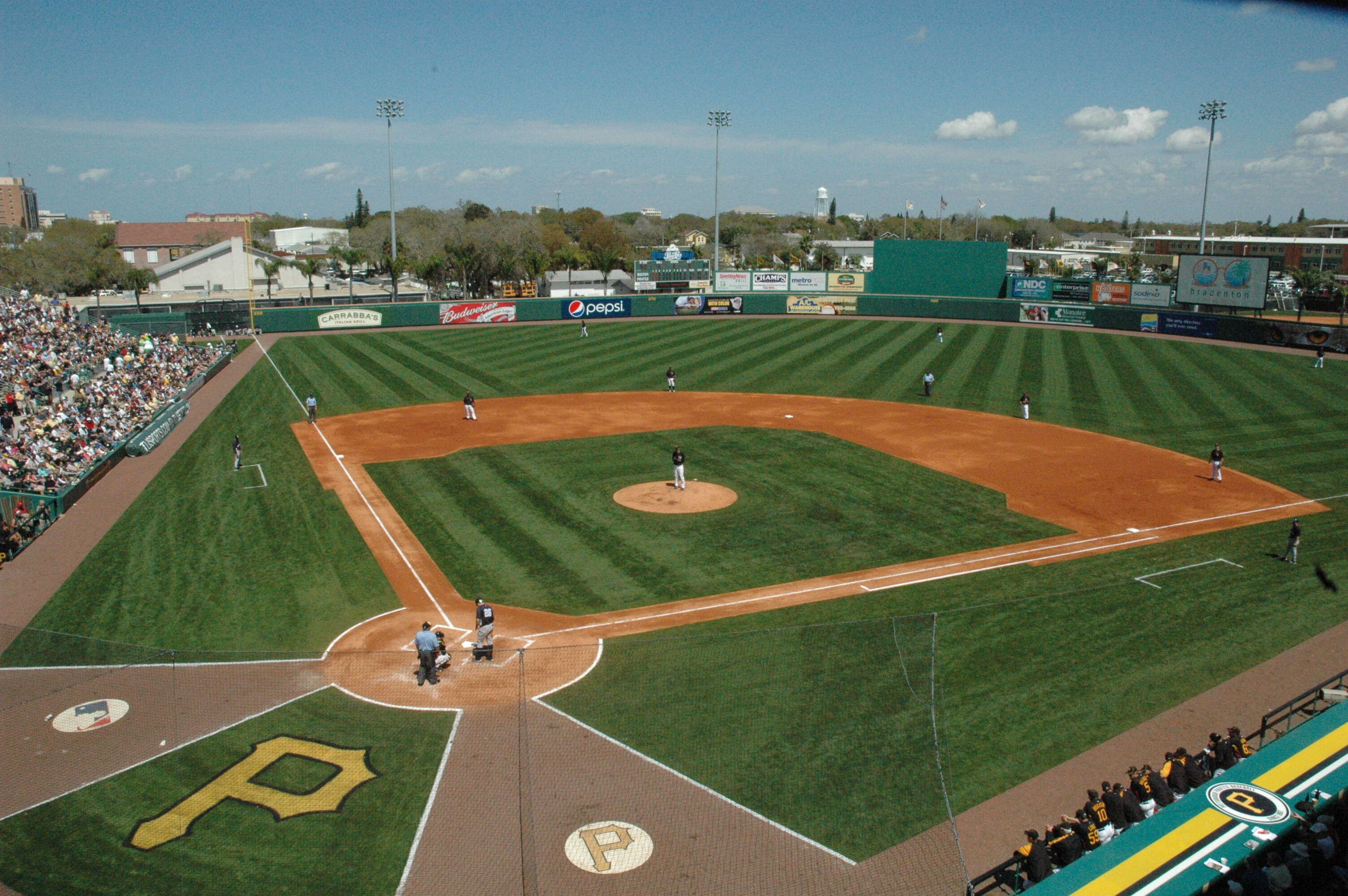 8. McKechnie Field -- Pittsburgh Pirates
Bradenton, FL
Coolest feature: Bullpens
Best place to sit: Anywhere, and it's all really cheap
McKechnie underwent big upgrades in 2013 and they were much needed -- the old place felt like a high school stadium when I was there a year before. Now, the bullpens are in the outfield and there is a 360-degree concourse for fans to walk and look down on the relief pitchers. Yes, there is less access to the relief pitchers, but to be honest: you don't know who any of those relief pitchers are anyway.
Here's another reason the renovations were important: fans can now drink on the boardwalk or at the plaza bar for at least a half-hour after the game. Have your Uber app downloaded.
7. Ed Smith Stadium -- Baltimore Orioles
Sarasota, FL
Coolest feature: Entrance at home plate
Best place to sit: Sit by the field, preferably in the first-base-side shade
When fans walk into Ed Smith at the home-plate entrance, the field is immediately in view. Instagram it. Snapchat it. (Or don't, and just keep walking, and live in the moment, and don't spend your time at a baseball game staring at a screen.) You can bring in your own food, but it must be in a clear bag. But, uh, don't do that either. Instead, head to Cafe 54 for sandwiches and wraps or go to the Left Field Pavilion for a bison burger, skirt steak sandwich, or a brat. Plus, Baltimore's Esskay hot dogs are available throughout.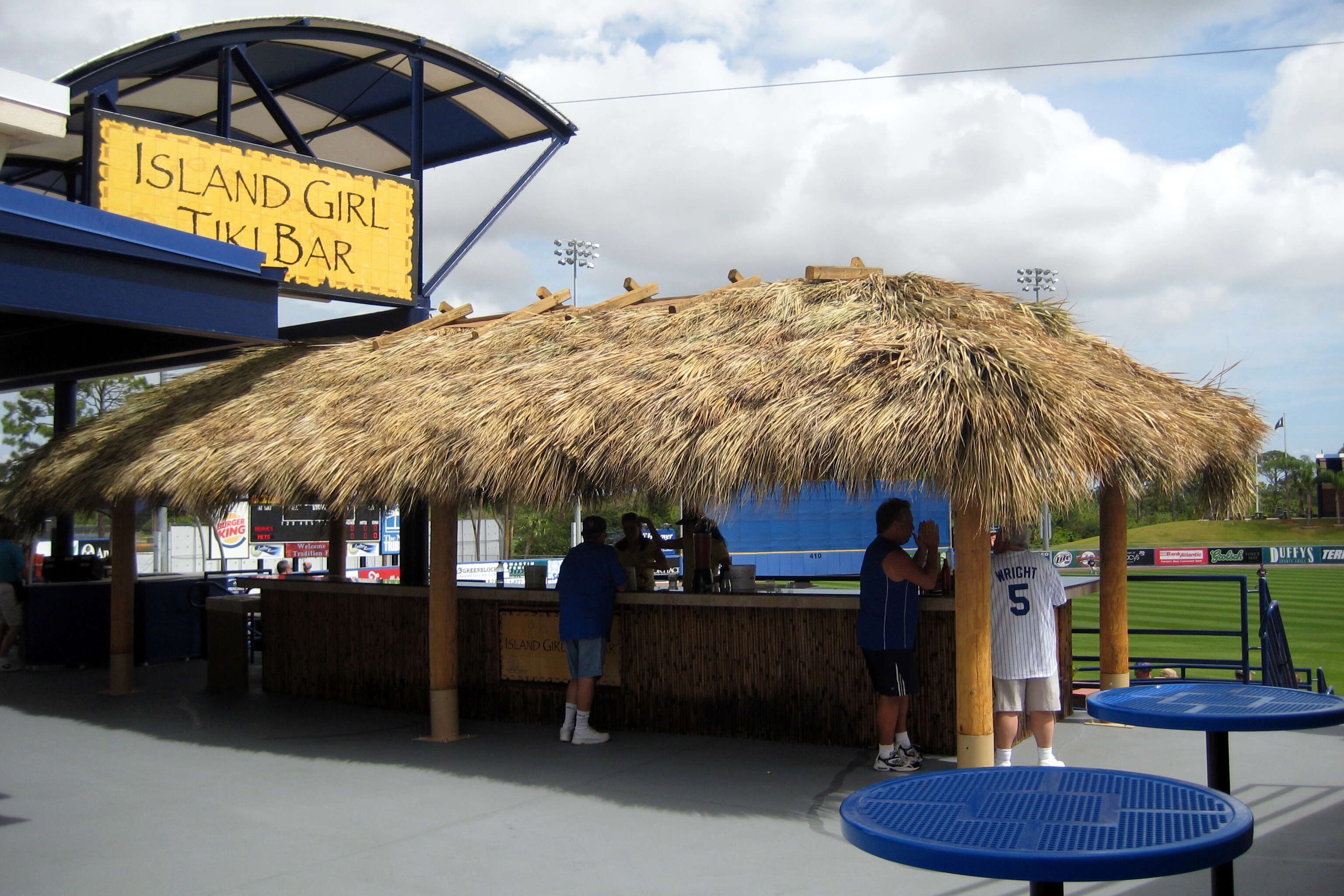 6. Tradition Field -- New York Mets
Port St. Lucie, FL
Coolest feature: The Bat House
Best place to sit: Deep-right grass berm, left-field pavilion
The outfield scoreboard is one of the largest in the league and recent renovations have made Traditional Field a great place to catch a game. I spent five days here in 2015 and if nothing else, the lines for drinks and food were always short. (I was working, so always just water, but still.) Here's what's on tap: Killian's Red and plenty of Bud Light, plus some lemon Italian ice.
And want to hear something creepy? There's a bat house at Traditional Field. No, not the wood bats the players use to hit home runs. A bat house, like A HOUSE TO KEEP BATS. REAL, LIVE BATS. Yeah, man. Anyway, it's said that 10,000 to 15,000 bats live comfortably in the Port St. Lucie Bat House. Good times!
5. Bright House Field -- Philadelphia Phillies
Clearwater, FL
Coolest feature: Tiki bar
Best place to sit: Tiki bar
The Phillies do spring training well, and the Tiki bar is a big part of it. Beyond left field, the bar was built to resemble the "pirate ship" at Raymond James Stadium, where the NFL's Tampa Bay Buccaneers play. And this being a Philadelphia venue, Philly cheesesteaks are in abundance. So, indulge. And if all that fails, there's a Chick-fil-A, where I ate three straight days last year and plan on doing again in a few weeks.
4. Hammond Stadium -- Minnesota Twins
Fort Myers, FL
Coolest feature: The 360-degree boardwalk beyond the outfield
Best place to sit: Beer garden
Hammond underwent a massive overhaul prior to the 2015 season, $48.5 million pumped into the 8,730-seat stadium part of the CenturyLink Sports Complex. The beer garden is cool (it's exactly what you think it is) but the waterfall fountain near the stadium's entrance might be even better. And part of that renovation was an upgrade in food. Here, start with this: the Richard Simmons burger (yep), a funnel-fry sundae (yep), and a Shock Top Belgian White to wash it all down. Then do it again.
3. Florida Auto Exchange Stadium -- Toronto Blue Jays
Dunedin, FL
Coolest feature: The Canadian national anthem (eh?)
Best place to sit: Wherever, really
At this point you've seen nearly every other park in the Grapefruit League, and you're making a late-March trip to Dunedin (I still have trouble pronouncing this) after spending a day on the spectacular Clearwater beaches, just a few miles away. The quiet neighborhoods surrounding the stadium suggest a lame atmosphere inside but that's not the case; Toronto keeps it simple at FAES, showcasing the World Series teams of the early 1990s while maintaining a modern look with upgrades to the scoreboard in the outfield and, when you walk into the park, giant scorecards with that day's lineups.
2. JetBlue Park -- Boston Red Sox
Fort Myers, FL
Coolest feature: The Green Monster (duh)
Best place to sit: The Green Monster (duh)
The Sox have only been in JetBlue since 2012 but the place -- dubbed "Fenway South" -- is fabulous, even if Ft Myers isn't. I can personally attest to the food: there are several tents outside the stadium along the first-base side serving crab cake sandwiches and... well, just get one of those. The Green Monster in left field is broken up a little bit, allowing fans to sit in seats about halfway up. It's fantastic. Get a crab cake sandwich and go sit up at the Green Monster. Thank me later.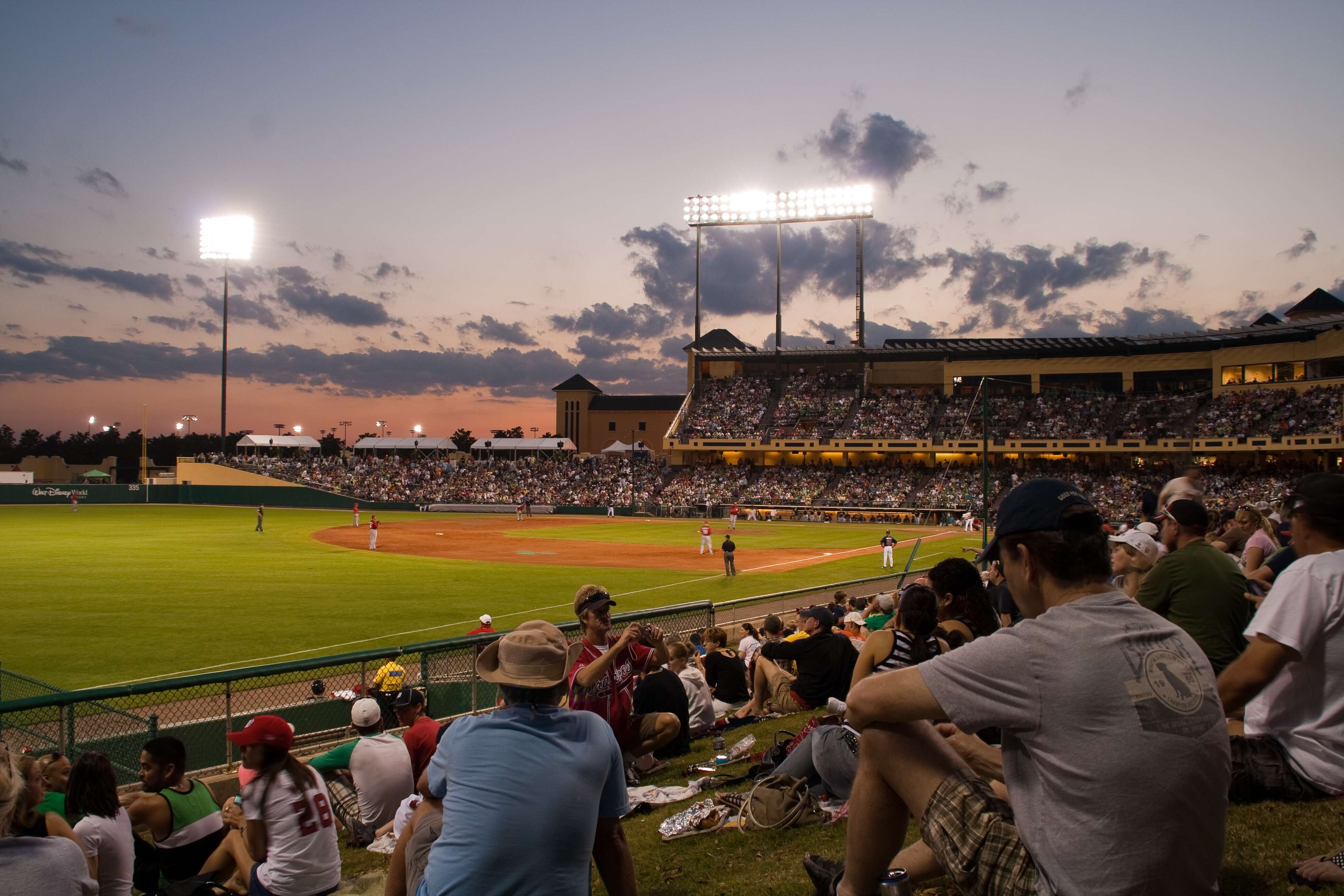 1. Champion Stadium -- ESPN Wide World of Sports Complex, Atlanta Braves
Orlando, FL
Coolest feature: Disney characters as concessionaires
Best place to sit: General admission lawn, third base
You're probably taking in a Braves game sunburnt, having walked six miles around Magic Kingdom all afternoon. Or that's happening tomorrow. Either way, Champion Stadium, especially at night, is as good as it gets for baseball in March. Its design has a Florida Spanish Mission flavor with an Art Deco influence. Yes, it's Disney-heavy, but is that a bad thing? Tip: figure out what "craft of the day" is being served. (Hint: it's based on the opposing team.)
Sign up here for our daily Thrillist email, and get your fix of the best in food/drink/fun.
Ryan Hatch is a Yankees beat writer. He lives in New York City. Twitter: @ryanhatch.