From titanic muffler men, to hilariously oversized furniture, to junked cars parked where they shouldn't be, seeing the next roadside attraction is the biggest reason we never want to stop driving. So we scanned the highways and byways of America to rank all 50 states by roadside excellence -- how weird, big, and beautiful did your road candy come in?
Recommended Video
Stay in This Treehouse Village That Gives You a Birdseye View of the Dominican Republic
North Carolina
Biggest Hits: Holden Beach's Bottle House is surprisingly not a nightclub in a seedy strip mall, but a house covered with 8,000 actual bottles. You could pull over and climb America's Tallest Lighthouse at Buxton, or take in all 208 feet from the car (you know what to do).
Big Whiff: Christened The Firebird by its creator, Charlotte's fowl metallic monstrosity (18-feet-tall) is vaguely shaped like a bird. But it's so gaudy and glittery that locals refer to it as The Disco Chicken.
 
Vermont
Biggest Hits: Vermontasaurus is so large, it caused a stir over whether or not it should require a building permit. But if the classic Giant Roadside Dinosaur doesn't do it for you, there's also the Floating Bridge of Brookfield, which sometimes sinks but is now reopened!
Big Whiff: MAYBE tallest filing cabinet on earth. Who wants to think about work on a road trip? Also, computers.
 
Tennessee
Biggest Hits: For whatever reason, folks in the middle of America love giant fiberglass Vikings, so who are we to argue with a lowkey (har) classic in Memphis. More unusually, Tennessee is also home to Billy Tripp's Mindfield, one man's giant outdoor sculpture dedicated to… well, himself.
Big Whiff: The Powell Airplane. What is your purpose, former service station shaped like an airplane that no longer pumps gas or sells things?
 
Montana
Biggest Hits: Artist Jim Dolan's Bleu Horses off Highway 287 will lull you into a beautiful Big Sky Country zen. The giant memorial to Old Shep the faithful dog will lull you out of zen and make you start crying.
Big Whiff: It claims the title of representing the coldest place in America -- but with a name like The Talking Penguin Statue, we'd hope that Cut Bank's flightless mascot would not lose its vocal abilities quite as often as it reportedly does.
 
Wyoming
Biggest Hits: A cabin made of dinosaur bones in Medicine Bow? Take that, Abe Lincoln (whose magnificent head is incidentally represented as a two-ton bronze bust that sits off I-80 just east of Laramie).
Big Whiff: Born of jackrabbit and antelope, the jackalope is the mythical creature nobody asked for, but Wyoming embraced -- you'll find both the World's Largest Jackalope statue and the former World's Largest in Douglas, where jackalope tributes are multiplying like… rabbits.
Delaware
Biggest Hits: The Apex Medical Center's huge, old-school steel doctor's bag, complete with overflowing stethoscope. Miles The Monster, bursting from the Dover International Speedway's roof like The Thing and The Hulk's misunderstood cousin as he prepares to smash a full-size car into the pavement. For a small state, Delaware brings big weird.
Big Whiff: Millsboro's giant cell phone. Which way is 1998?!
 
Oregon
Biggest Hits: He's got one of those bunnyman faces that strike terror into the hearts of kids BUT Harvey the Giant Rabbit is somehow weirdly comforting enough that people write letters to him. You can also hop over to O'Brien and check out the giant fly on top the restrooms. If you've gotta stop anywhere, it might as well be where the keys to the bathroom are shaped like fly swatters.
Big Whiff: We're trying to get into the World's Tallest Barber Shop Pole in Forest Grove but outside of how terrifyingly tall it is, it couldn't fit into a decent IG shot, and there's not much else to say about it -- it just doesn't make the cut.
 
New York
Biggest Hits: Upstate in Canisteo, "The World's Largest Living Sign" (at 300ft by 900ft) consists of 260 scotch-pine trees arranged to spell out the town's name on a hillside. And at least a couple of people a year must look at Brooklyn's 37-foot Statue Of Liberty replica and say, "It looked so much bigger in Ghostbusters!"
Big Whiff: Crows are already creepy, so no need to make them gigantic, roadside side-eyers, Fishers Landing off I-81. Did they just move?
 
New Hampshire
Biggest Hits: Once upon a time, America shot a man into space atop a nuclear ballistic missile, he lived, and now we can all admire the 92-foot-tall Redstone Rocket replica built in his honor. Besides shooting men into space, NH is also all about flinging pumpkins there with the Yankee Siege Trebuchet in Greenfield.
Big Whiff: Oddly enough, the words "Christmas Theme Park" inspire no desire to pull over. And yet the park remains open.
 
Michigan
Biggest Hits: At the height of the USA's car craze, Uniroyal reached even higher with the Uniroyal Giant Tire Ferris wheel. It was stripped of its mechanics, probably by Detroit's 24-foot-long sculpture of Joe Louis' punching arm, and made into a regular, immobile 80-foot-tall tire, but it's still pretty awesome.
Big Whiff: What is even the point of stopping to look at the World's Former Largest Cherry Pie Pan? Did Michigan learn nothing from Talladega Nights? If you ain't first, you're last.
Massachusetts
Biggest Hits: The Bancroft Tower is basically Kate Moss if she was a castle, and that's hot. The 40-foot-tall Hood Milk Bottle represents everything Kate Moss has probably denied herself in order to stay that way.
Big Whiff: Gardner's one-time "World's Largest Chair" (the Bicentennial Chair) lost its title when "Chair City" exited the novelty seat arms race. Still, cool nickname bro!
 
Virginia
Biggest Hits: What is America's obsession with twisted versions of Stonehenge? We don't know, but Foamhenge is almost as great as Carhenge, and you might actually trick your grunkle into believing you were at the real thing. If you're not about mysterious pagan circles, Virginia also has Dinosaur Land, which is even better than a random dinosaur found nowhere near his birthplace.
Big Whiff: The Markel Building: if your claim to fame is being one of the ugliest buildings in the world based off a baked potato… er...
 
South Dakota
Biggest Hits: There's only one Corn Palace, and we're ear to corngratulate South Dakota on beating Iowa to the punch. Corny jokes aside, there is also the prodigious six-ton prairie dog in Kadoka, where you can also go and feed its live, normal-sized compatriots -- peanuts, not corn.
Big Whiff: How much more obnoxious can the Center Of The Nation Monument be? It's almost like South Dakota thinks America revolves around it or something.
 
Iowa
Biggest Hits: Iowa's Largest Frying Pan in Brandon can hold 528 eggs. And then the World's Largest Strawberry, located in Strawberry Point, though we're not sure why you'd want to fry that.
Big Whiff: Lombard Street was probably the only area in California unaffected by the drought because the amount of shade Snake Alley threw its way was enough to form a small, personal raincloud. While we support the underdog, Snake Alley's claim to be the "real" crookedest street with only five curves against Lombard's eight is pretty lame.
 
Indiana
Biggest Hits: Roselawn's enormous, comely sundial in the shape of a lady's leg will have you thinking about sex every seven seconds. Or check out the statue of comic strip hero and occasional Nazi fighter Joe Palooka in Oolitic for your fix of giant roadside male specimens (without ever having to set foot in a truck stop).
Big Whiff: While people do visit TV houses religiously -- we're pretty sure the Breaking Bad house is still scraping pizza off its roof -- every Roseanne fan knows she blew up her residence in Season 7, so this imposter in Evansville can't be the original house. Continuity errors, ugh.
Idaho
Biggest Hits: "Sweet Willy" the 30ft beagle stands outside of the Dog Bark Inn in Cottonwood and would probably find a kindred spirit in Clifford the Big Red Dog. And because you're in Idaho, direct your attention to the riveting intrastate dispute as to which is the biggest fake potato. Is it the potato in front of the Idaho Potato Museum, or the Spud Drive-in's Giant Potato? Also, is it moral to admire "conflict potatoes"?
Big Whiff: Interested in visiting the "Center of the Universe"? Well you shouldn't be, because it's a manhole cover in Wallace, Idaho.
 
South Carolina
Biggest Hits: South of the Border -- with its giant sombrero -- is the most quintessentially tacky roadside attraction ever. The giant fire hydrant at Busted Plug Plaza is a wonderful thing to scratch your head over. And instagram.
Big Whiff: What kind of roadside attraction lures people to drive into a concrete wall. We've got our trompe l'oeil on you, Tunnel Vision.
 
Nevada
Biggest Hits: Between the International Car Forest of the Last Church (think psychedelic carhenge) and the Shoe Tree of Middlegate (exactly what it sounds like), it's not difficult to imagine that Hunter S. Thompson loved this state more than he feared or loathed it.
Big Whiff: There's a Clown Hotel, it's next to an abandoned graveyard, and well… we can't stop here. This is clown country.
 
Kentucky
Biggest Hits: If Cave City's Giant T-Rex on the way to Dinosaur World ever comes to life, hopefully we'll figure a way to use the 120-foot replica of Babe Ruth's bat outside the Louisville Slugger Museum to keep the score Humans 1, Dinosaurs -1 (on account of extinction and all that).
Big Whiff: The giant Dixie Cup water tower in Lexington is a looming reminder that you're long overdue for having a dentist shove one in your face and tell you to rinse.
 
North Dakota
Biggest Hits: While Nekoma's eerie bone-colored pyramid looks something like an Illuminati clubhouse, it's actually an old military base leftover from the Cold War (Pyramid), and cool as hell in a Dalek way. And enough about Paul, jeez: New Town shows his most under-appreciated brother, Earl Bunyan, some love with a 19-foot statue.
Big Whiff: Dickinson's The Big Cow is faker than a fake cow already inherently is, as the actual World's Biggest Cow resides in Salem, just east on I-94.
Hawaii
Biggest Hits: With all its natural wonders, Hawaii's lacking in manmade roadside attractions, but it does boast a giant statue of Elvis in Honolulu and Hilo's regal statue of King Kamehameha the Great decked out in gold leaf --  and those guys are big movers and shakers (literally, thanks Elvis).
Big Whiff: What a poor way to remember lovable detective Steve McGarret of Hawaii Five-O, otherwise known as actor Jack Lord. A commemorative bust outside of a Honolulu MACY'S? Really?
 
Florida
Biggest Hits: "World's largest" claims are dubious in the roadside game, but we're inclined to believe Florida on its 200-foot-and-one-inch-long Swampy the Alligator, at the entrance to Jungle Adventures in Christmas. Islamorada's Betsy, the 35-foot-long, 25-foot-high lobster, is a meticulously detailed reminder that lobsters are really just delicious roaches.
Big Whiff: Maybe that car stuck to the side of a building in Miami made slightly more sense when it was the American Police Museum and not a medical center?
 
Oklahoma
Biggest Hits: Chocktaw's enormous Sonic Cup (Exit 166, I-40) is actually a disguised municipal water tank, kind of a bummer if you're expecting gallons of cherry limeade, but still pretty sweet. At Catoosa on Route 66, you can climb inside -- and slide back out of -- a giant Blue Whale. And head to Oklahoma City for an unlikely assemblage -- a dinosaur donning tennis shoes, a cowgirl, and a charismatic raccoon, among others, all in front of a library.
Big Whiff: Barnsdall has the world's only main street oil well, probably because that's just a terrible idea.
Maryland
Biggest Hits: While the roadside rocket on top of an old trailer in Oakland is impressive, there's no doubt that Oxon Hill's giant man determinedly bursting out of the earth like he needs to line up for the new iPhone is Maryland's coolest roadside attraction.
Big Whiff: God's Ark of Safety was built to the exact proportions listed in the Bible, and this recreation would be pretty cool if it wasn't an unfinished steel skeleton on the side of the road in Frostburg.
 
Georgia
Biggest Hits: Forget eponymous libraries -- the Jimmy Carter peanut statue in Plains is the greatest Presidential honor ever bestowed, and should be probably be moved closer to Atlanta's three-quarter-scale White House replica.
Big Whiff: So there's a legend behind the statue of Romulus and Remus suckling a wolf's teats in front of Rome's city hall, but whatever, it's still nasty.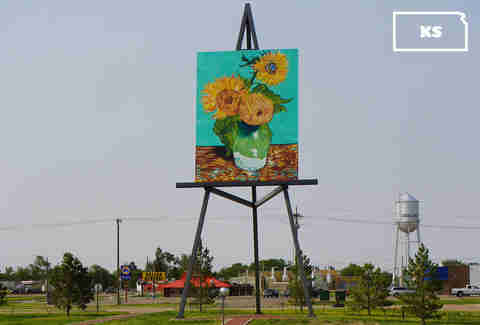 Kansas
Biggest Hits: Not long after World War II, a time when America collected menial household items like paper, string, and twine to help ensure our freedom, some dude celebrated that freedom and started the World's Largest Ball of Twine in Cawker City. Kudos. If an almost 20,000lb ball of twine isn't big enough for you, check out the recreation of Van Gogh's Three Sunflowers in a Vase -- atop an 80-foot-high steel easel in the town of Goodland. God Bless America. And Holland!
Big Whiff: Highway 24's 50-foot concrete teepee, mainly because its creator actually patented its design in 1930. Because he's totally the first person that ever came up with a teepee design.
 
Arkansas
Biggest Hits: While the Giant Tire Man off Highway 165 looks like he's about to eat your soul, his creator Charlie, of Charlie's Tire Service Center, maintains that his big swinging tire arms are merely saying hello. Or maybe he's reaching for Lavaca's 8,734,902 fluid ounce Budweiser silo, painted by a farmer/beer distributor in 1975.
Big Whiff: The Port of Pine Bluff's welcome sign -- a full-sized tugboat, elevated on 30-foot-tall pilings -- looks like it might define "welcoming" as falling off its supports and flattening your car.
 
Texas
Biggest Hits: EVERYTHING'S BIGGER IN TEXAS, like the world's largest cowboy boots in San Antonio. Or that giant Sam Houston in Huntsville (statetriotism at its finest). Or mortal fear in the form of the largest killer bee in Hidalgo.
Big Whiff: How could you let Canyon's 47-foot-tall, sideways-slouching cowboy Tex Randall fall into such disrepair? Use some of that oil money from that Don Johnson show to fix him up!
 
Pennsylvania
Biggest Hits: Berwick has a giant, red-eyed gorilla, à la King Kong, on a roof, and it's somehow not attached to a used car lot -- it's for a home remodeling company. And we have to admire the commitment of the burg of Mars, which has been home since 1990 to a roadside one-ton flying saucer, which shifts around to accommodate the annual Apple Festival.
Big Whiff: The Cape Hatteras Lighthouse Replica is lame. As if making replicas of transportation-related things (planes, trains, and apparently lighthouses) wasn't a dorky enough hobby, this lighthouse doesn't even save boats from smashing into the banks of the Susquehanna River.
 
Connecticut
Biggest Hits: Amston's giant eagle has been looking down at motorists on Route 66 since 1989, when a high school student got to work on a rock outcropping with some paint. On the giant judgmental head tip, there's a giant Easter Island statue, visible from I-84, outside Timex's museum of clock and watch history. While this may seem like madness (he's not even wearing a watch), Timex's owners helped fund a friend's Easter Island research, and devoted part of the museum to the results.
Big Whiff: The "World's Largest Jack-in-the-Box," a 50-foot silo from which a 600-pound giant clown head appears every minute. Let's never speak of it again.
Minnesota
Biggest Hits: It's written into the Constitution that you have to take a photo with at least one Paul Bunyan statue to maintain your citizenship, and this nationally beloved version in Bemidji was supposedly the first. Minnesota's classic Giant Ball of Twine is notably the largest rolled by one man, and its giant Jolly Green Giant statue was weirdly neither financed nor built by the company -- someone really loves vegetables, mascots, or vegetable mascots.
Big Whiff: Spoonbridge and Cherry is a massive spoon sculpture holding, quelle surprise, a giant cherry, proving that the '80s were a fantastic time to be a modern artist, but a bit premature to be a Spoon fan.
 
Alabama
Biggest Hits: If you're wondering what Chilton County's good at, behold its 120-foot-tall Big Peach Water Tower, on the way to Peach Park, where you might run into a former Miss Peach. Birmingham's Statue Of Liberty, also via France, is one of the largest replicas in the world, complete with a real burning flame. Only slightly less prestigious is Stan The GCR Muffler Man, who has been a Birmingham fixture for more than 50 years, and whose magnificent fiberglass square jaw was rebuilt following a 1998 hurricane.
Big Whiff: "World's Largest Chair" is already dubious, but the "World's Largest Office Chair"? Again, life-size work reminders are tedious enough, thanks.
 
New Mexico
Biggest Hits: For some reason, a few residents of Hatch were not keen on its gigantic, very pink pig, which guards the town's entrance like a hilarious mistranslation of a Greek myth. White City's 10-foot-tall aliens challenge the "little green men" stereotype. Santa Fe's family of brontosauruses are literally the realest brontosauruses you'll ever meet, since "brontosaurus" never existed -- it was just a mishmash of two separate species.
Big Whiff: Santa Fe's Camel Rock is already a stretch, and wouldn't that be a dromedary?
 
Missouri
Biggest Hits: The World's Largest Rocking Chair had to be welded to the ground because it was so good at breaking the record, it turned into a horrifying safety hazard when actually in motion. The World's Largest 20th Century Pecan is slightly more mobile, having moved from the farm it was grown -- er, sculpted on, to a more impressive spot in Brunswick for all to see.
Big Whiff: In spite of all the general good will between the US and Canada, one thing no blue-blooded American will stand for is a Canadian goose crapping on their lawn. And Sumner built the world's largest one. The blasphemy of it all.
 
Colorado
Biggest Hits: Pharma rep gatherings at Denver's Colorado Convention Center got a bit more exciting with the 2005 addition of a 40-foot-tall blue bear peeking in the windows. Herkimer, "The World's Largest Beetle," could write a memoir: he was built in Colorado Springs, his current spot, in the mid-1950s to advertise a museum and briefly relocated with it to Weeki Wachee Springs, Florida, where he made it into a vintage postcard with bikini babes. Retirement must be a drag.
Big Whiff: Denver's 20-foot-high "Big Chair With Horse." WTF is happening here, Denver?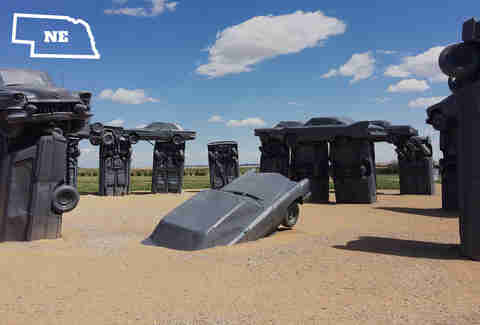 Nebraska
Biggest Hits: Carhenge is so deliciously weird: a proportional and accurate replica of Stonehenge, but made of cars, so a millennium from now folks can look at England AND America and go "what were they thinking?" Also slow down for the Fort Cody Trading Post, a bizarre stockade rest stop with a giant Buffalo Bill out front promising two-headed cows inside and all the Nebraskan souvenirs your heart could ever wish for. Which is more souvenirs than you'd expect.
Big Whiff: The Archway. It's a monument to travel that doesn't really get you anywhere and it just doesn't quite work.
 
Alaska
Biggest Hits: Reliable Sheet Metal in Juneau's Wizard Of Oz display features the entire cast (winged monkeys, check) plus the farmhouse, mid-tornado. Anchorage's "The Last Blue Whale" statue should be subtitled, "Whale Kills Whaling Dudes And Looks Stoked About It." Despite not being the North Pole, North Pole's 42-foot-high, 900lb Santa statue is a priceless gift for fans of huge statues.
Big Whiff: Parks Highway's half-finished "igloo hotel" is neither built of snow (it's urethane), nor has it ever operated as a hotel (its windows weren't to code. Who knew igloos even had windows?).
 
West Virginia
Biggest Hits: If you ever visit Point Pleasant, don't bring up the Mothman movie, but do drive by the Mothman Statue, a 12ft replica of the mysterious being in polished steel. Cleanse yourself of creepiness by cruising by the Hare Krisnha temple, Prabhupada's Palace of Gold, a gilded structure of stained glass and gold leaf built by Rich Rodriguez. Just kidding, it was not built by Rich Rodriguez.
Big Whiff: A teapot that is vaguely shaped like William Shatner's head. Beam us up.
 
Mississippi
Biggest Hits: The giant crossroads marker made with guitars, commemorating where blues singer Robert Johnson sold his soul to the devil, is a stirring reminder that it's probably good you suck at guitar. State Line Big John the grocery clerk does giant muffler men one better; instead of just being giant, he offers to carry your bags across the state line. Thanks Big John!
Big Whiff: In its heyday, Margaret's Grocery and Market was a wildly wacky stop along Highway 61, but since the death of Reverend Dennis, Margaret's is disintegrating into ruins and we gotta dock points from ol' Miss for letting such a gem go to pot.
 
Maine
Biggest Hits: While you're in Yarmouth visiting Eartha, the World's Largest Rotating Globe, try counting all the visible deserts -- including the Desert of Maine, which is a thing, thanks to one family's poor farming practices and the silt runoff of an ancient glacier. Driving by 12-foot dunes in the land of lobster rolls is more than a little surreal.
Big Whiff: The Maine Solar System Model of Aroostook County, which is made to scale and at representative distances across sprawling rural highways, just kind of leaves you thinking we live in a third-world solar system.
Arizona
Biggest Hits: If there's one thing Arizona has no shortage of, it's rocks. Sweet formations run the gamut from Tucson's Finger Rock (it flicks you off), to Wickieup's Snoopy Rock (he's sleeping, see!?), to the Congress' painted green outcropping, Frog Rock. If you're a time-telling junky or just need some feminine products, swing by the country's largest sundial in Carefree.
Big Whiff: The Longhorn Grill's giant pair of horns, piercing the sky above I-19, are mad cool, but entry to the restaurant is via the skull's nasal cavity. Gross.
 
Wisconsin
Biggest Hits: The magical fairy lights and snow globe vibe of the Chippewa Falls Christmas Village! A muskie fish as long as a jumbo jet at the National Freshwater Fishing Hall of Fame! Pair that with La Crosse's largest Six Pack in the World and maybe Dad will finally respect you!
Big Whiff: Now that Laona's "World's Largest Soup Kettle" hasn't served soup in decades, it's just kind of a big drum of nothing.
 
Illinois
Biggest Hits: Between the World's Largest Catsup Bottle in Collinsville and a half-size replica of the Leaning Tower of Pisa (called The Leaning Tower of Niles, thankyouverymuch), along with Vandalia's Kaskaskia Dragon -- a 35ft metal fire breathing dragon -- and a giant statue of Superman, in Metropolis, of course -- Chicago's Cloud Gate (aka THE BEAN) has some competition.
Big Whiff: The concept of squatting in a dark, wooden outhouse is already terrifying, but doubly so at the Two-Story Outhouse. It is closed to the public and presented with no context (sometimes you gotta go, sometimes two gotta go?).
 
Rhode Island
Biggest Hits: The Druid's Chair and Altar may seem like a drab stone slab, but local lore insists that it was used as a platform for ritual Pagan sacrifice. The World's Biggest Bug in Providence is the mascot for New England Pest Control, and probably the inspiration for insect-oid antagonists in the hilarious Starship Troopers.
Big Whiff: Hope Valley's Enchanted Forest was once a kiddy amusement park, complete with fairytale-flourished buildings, and a huge Humpty Dumpty statue. But time, wild grass, and hoodlums have lent it a nightmarish, circus-left-town feeling; it's where Kafka would host his birthday.
 
Ohio
Biggest Hits: We challenge you to drive by Columbus' 8-foot-tall bronze statue of Arnold Schwarzenegger, in muscle-popping Speedo mode, without launching into the Governator's accent. Marion's Steam Shovel Bucket is not only big enough for you to stand in, but it was once used as part of a larger building apparatus for one of the greatest engineering achievements ever, the Panama Canal.
Big Whiff: The Pasture Carousel, in Beverly, is a cluster-what of fiberglass animals arranged in some semblance of a circle on what appears to be an old silo foundation. Like most old, odd, and abandoned things, it's a bit spooky.
 
Washington
Biggest Hits: The world's largest egg AND the world's largest frying pan (or at least a contender for it)? If the Teapot Dome Service Station -- which actually looks like a teapot -- referenced tea and not a government scandal, you could have one massive English breakfast.
Big Whiff: Sam Hill's Stonehenge is an insult to the American tradition of weird Stonehenges. THAT'S JUST A CIRCLE OF PERFECT, NON-MYSTERIOUS, AND NON-DECREPIT CONCRETE SLABS. WHAT IS THIS.
 
Utah
Biggest Hits: The Hole 'N' The Rock. It's a rock! It's a big, beautiful rock. Oh, the pioneers used to ride these babies for miles, probably around the rest of the state to check out other neat stops like the Delta Solar ruins where, fingers crossed, you might catch Tina Turner roaming around in a chainmail bikini, or pop by the one place in Utah you can find a metaphor in the desert and not be guilty of pretentiously imitating Kerouac (Metaphor: The Tree of Life, jutting weirdly and proudly up out of the Salt Flats).
Big Whiff: Cedar City's lighthouse, guiding all the ships… on the Utah Ocean... safely home to port. You know what they say about Utah harbors! They don't exist.
 
New Jersey
Biggest Hits: You want buildings shaped like giant elephants? Jersey has Lucy. Decrepit gingerbread castle? Jersey's got your weird pastry palace fix on Route 23. A clock that SPANKS Big Ben? The Colgate Clock's face is over twice as large as wimpy Ben's.
Big Whiff: The world's largest light bulb atop the Thomas Alva Edison Memorial Tower and Museum isn't even lit by Edison's invention -- they're LEDs. For shame, NJ.
 
Louisiana
Biggest Hits: Wonderfully weird Louisiana could have won this thing if it wasn't for that rule that states you have to be able to see the attractions from your car. However, Newellton's giant mailbox is still impossible for neighborhood punks to fell with baseball bats (unless they borrow Kentucky's). The 14-story mural (the biggest in the U.S.)  depicting life in Shreveport is just as safe, unless they get a good grappling hook or some suction cups.
Big Whiff: The formerly upside-down Giant Frostop Mug of Rootbeer in New Orleans just doesn't have the same charm now that its owner set it right-side up again.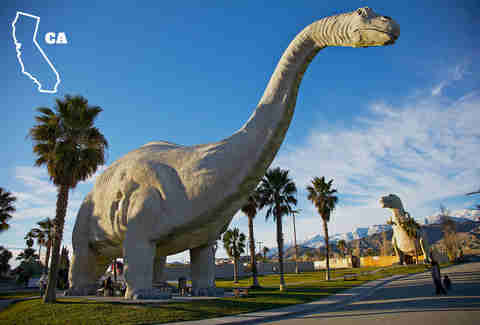 California
Biggest Hits: Amidst the Alabama Hills, the comically evil Nightmare Rock is even more kickass now that someone's given it a KISS-style left eye. More than 12 million I-10 drivers per year pass by Cabazon's 30ft concrete dinosaurs, Pee Wee's Big Adventure stars Mr. Rex and Ms. Dinny. And we have yet to track down the giant martini to go with the giant green olive, plus toothpick, at the edge of an olive grove in Corning, but maybe "The World's Largest Paper Cup" in Riverdale is close enough.
Big Whiff: Sacramento's single-log statue of Kevin Costner as "Jake" from Silverado (great movie!) might be the most unflattering depiction of a famous person since that old lady parishioner "restored" that fresco in Spain by making Jesus look like a potato.