Step Outside of Time in Utah's Mythical, Luxurious Amangiri Hotel
Sure, it's absurdly expensive, but it's unlike any other hotel in America.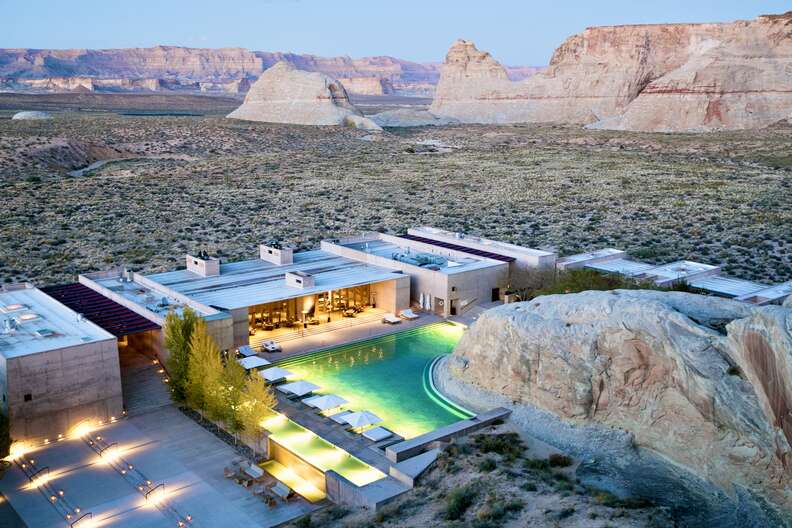 Amangiri has developed a reputation for being the most luxurious, hard-to-book, and beautiful property in America.

| Photo courtesy of Amangiri
Amangiri has developed a reputation for being the most luxurious, hard-to-book, and beautiful property in America.

| Photo courtesy of Amangiri
There are a few hotels in the world that have risen to near-mythical status: The Plaza Hotel in New York, the Burj Al Arab Jumeirah in Dubai, and the Ritz in Paris. But among the travel industry's cognoscenti—be they journalists, seasoned travel agents, or simply hotel snobs—there is only one name that makes the pulse quicken: Amangiri.
It's ironic, then, that "aman" means "peace" in Sanskrit, while "giri" translates to "mountain." As you enter the unassuming gate into the Utah property's nearly 1,000 stunning acres, it's hard to think of a moniker that's better suited to the resort. Its low-slung buildings materialize like an actual desert mirage in a red-hued landscape of mesas, ridges, and dunes. No noises greet you beyond the whoops of birds circling overhead. And yet despite the tranquility of its location, Amangiri has developed a reputation for being the most luxurious, hard-to-book, and beautiful property in America, a particular favorite of celebrities like Justin Bieber and Kylie Jenner. But even if you're not an A-lister, the hotel excels at making you feel like one.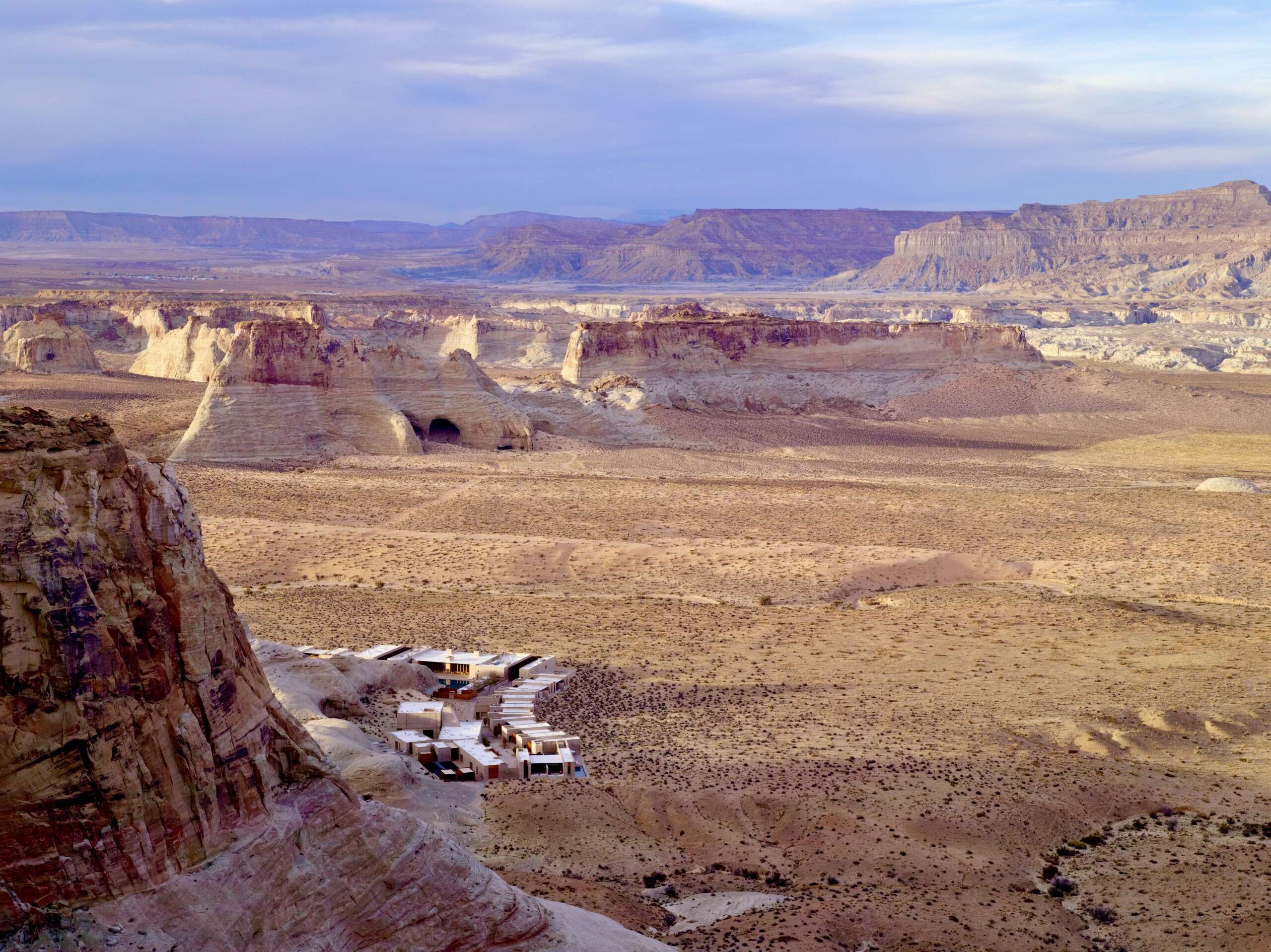 "The Aman brand journey is inspired by a singular intent, and that is to provide a level of service unlike any other," says Audrey Huttert, the general manager of the hotel. "Our team strives to ensure every interaction and experience with the guest makes them feel at home."
"Fine," you might say. "But isn't that what every luxury hotel purports to do? What could possibly make this incredibly remote and—let's not mince words—absurdly expensive hotel, worth it?"
It's a good question with a short answer: Everything. What makes Amangiri worth it is everything. (And don't ask me how much I paid—my parents would disown me if they knew.)
"Transportive" is perhaps the best single word to describe the experience here—on an emotional level, but also a metaphysical one. As to the latter point, they literally have you set your cell phone's clock back an hour when you arrive, aligning yourself with the time zone of the nearest town (Page, Arizona) rather than the rest of Utah. For those coming from within the state, as we did, this has an added bonus of giving you an extra hour on property.
Once you've completed this minor act of time travel, you're whisked away to your room. The level of luxury is astonishing, both on a macro and micro scale. In the former category, our room was palatial: We had a king-sized bed situated in the center of the room, along with a bathroom bigger than my first New York City apartment, plus a sitting area and our own outdoor fire pit with unobstructed views of the surrounding desert. But it's the smaller touches that make the experience truly memorable, from the unlimited supply of free snacks in the pantry (including multiple varieties of trail mix and locally made sodas), to the chic hats and totes that are provided to use while on property, to the house-made hand sanitizer in the bathroom with its light aroma of desert sage. And then there's the fact that when I picked up the phone to call reception, it never even rang: Someone was always instantly available to take my call.
You could easily spend days lounging on the massive bed and ignoring everything else Amangiri has to offer, but it would be a mistake not to rouse yourself to eat (and eat, and eat). All of your meals are included in the nightly rate (which eases its sting a little bit), and you can order as much or as little as you want, whenever you want. Amangiri's main restaurant incorporates inspiration from Native American cuisine, especially if you opt to try the tasting menu, which is specifically meant to celebrate the five tribes that are indigenous to the region. Guests at Amangiri can also have their meals at sister property Camp Sarika, whose restaurant offers a multicourse seasonal feast every night for dinner, often accompanied by live music.
In general, your choice of food is extensive, impeccable, but not overly fussy; for me, the standout was the malty, oversized cast iron pancake—crisp on the outside, hot and fluffy on the inside—topped with a mound of subtly sweet, macerated desert cherries.
When you're fed and rested, there are also the resort's activities to consider. Most famous among these are the via ferratas, challenging routes of iron rungs, ladders, and sky-high bridges that crisscross the peaks on property. Acrophobics won't enjoy these, but for anyone else, the views from the top make them worth the considerable exertion. On the more relaxing end of the spectrum, you can also reserve a romantic sunset experience: Just two chairs, a cheese plate, and a bottle of champagne on a remote corner of the mountainside. And of course, no five-star hotel is complete without a full-service spa; I particularly enjoyed a body polish and wrap that was topped off with smoked body butter.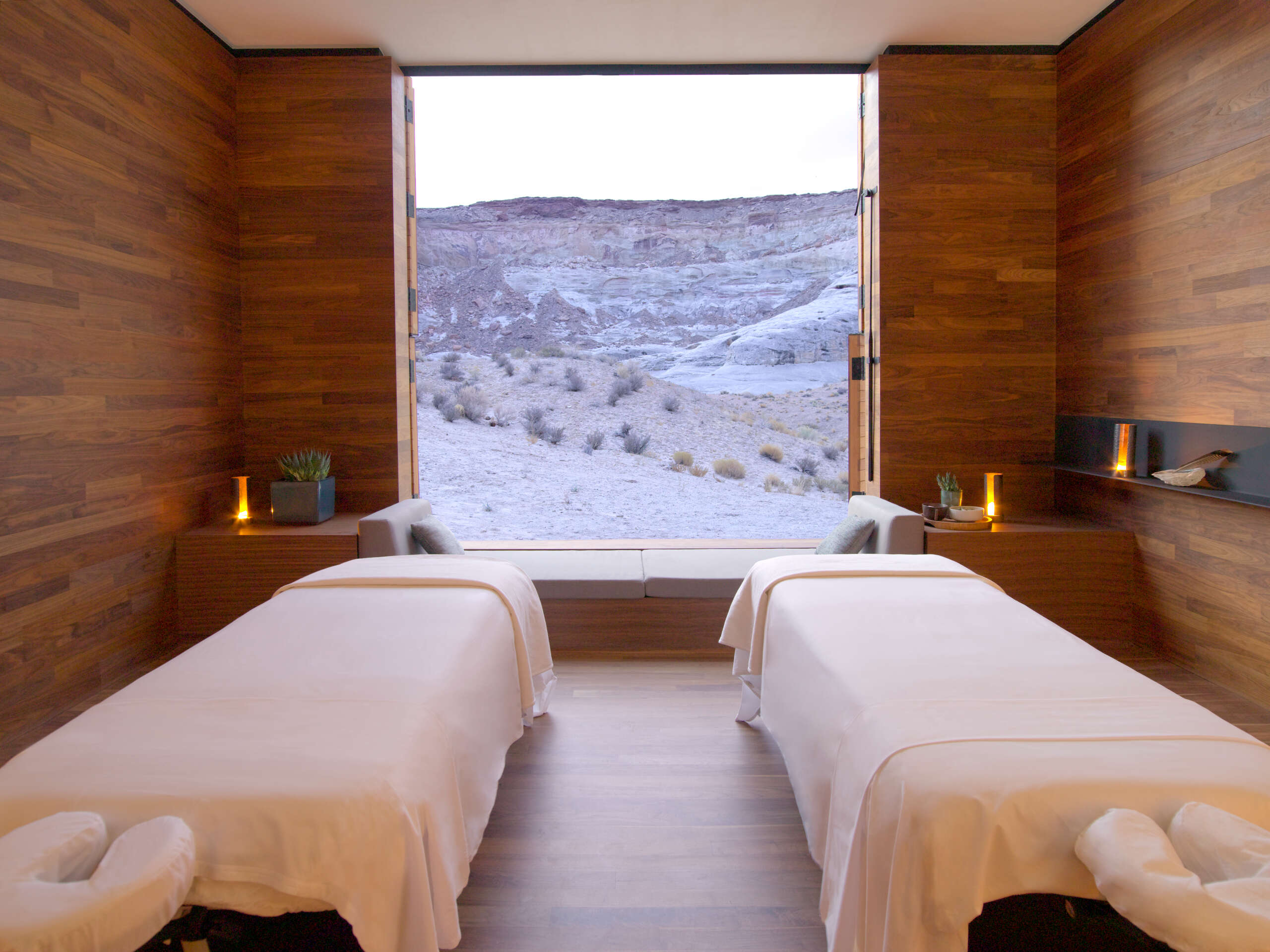 After all that pampering, the prospect of returning to the real world (and Mountain Daylight Time) can feel daunting. But the hotel's staff does the best they can to ease the journey. At the end of our stay at Amangiri, we found that the filthy rental car we'd arrived with (courtesy of ten days spent hiking in southern Utah) had been cleared of all accumulated mud, dirt, and debris.
No, we hadn't requested the cleaning. The idea never occurred to us. Amangiri simply anticipated our needs before we did—a level of care and thoughtfulness that explains why staying there is worth the price.