12 Public Pools That're Legitimately Amazing (Instead of Gross)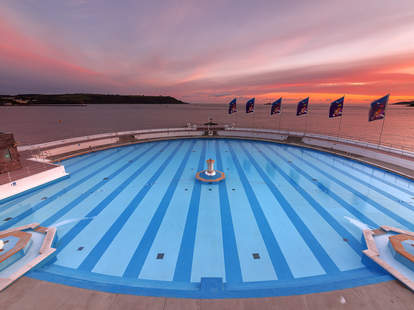 While we can't guarantee that a used Band-Aid won't float by while you're playing Marco Polo in one of these pools, we're pretty sure you won't notice. If only because each rocks a stunning backdrop certain to capture your attention. Also, 'cause your eyes are closed, remember -- you're "it!!!"
North Sydney Olympic Pool
Sydney, Australia
Flanked by Luna Park on one side and the Sydney Harbour Bridge on the other, you've got a clear shot of the famous Opera House from this 164ft art deco stunner. There's also an accompanying heated indoor pool, gym, sauna, spa, and café.
Barton Springs Pool
Austin, TX
Apparently, a young Robert Redford learned to swim in this three-acre pool (for whatever that's worth), which's open year-round and remains a constant (and toasty) 68-70F thanks to the underground springs that feed it.
Tinside pool
Plymouth, UK
This 1935 art deco gem rocks a semicircle shape that helps create the illusion that it hangs out over Plymouth Sound. Once a hotspot for beauty competitions, Tinside fell into disrepair from 1992 to 2005 but was restored to the tune of over $5 million.

Sea Point Pavilion
Cape Town, South Africa
Warmer than the cold ocean water it overlooks, the beachfront Sea Point is a popular spot for locals. In addition to the Olympic-sized seawater pool, there are two splash spots for the kids to pee in and a springboard diving area.
Badeschiff
Vienna, Austria
German is a very literal language, so it should come as no surprise that the name of this pool translates to "swim ship." Because that's exactly what it is: a 213ft-long barge with a built-in, 100ft-long pool, floating on the Danube in the middle of Vienna. Open until 10pm, the Badeschiff morphs into nightclub and restaurant once the sun sets, and there's even a bowling alley in the barge's bowels.


Kitsilano Pool
Vancouver, Canada
Proudly selling itself as North America's largest saltwater pool, the 450ft heated tub is almost three times the size of an Olympic pool and sits right on the water in Vancouver's Kitsilano neighborhood. When not practicing your doggie stroke, you can enjoy views that extend from Kits Beach across the English Bay and include both Vancouver's West End skyline and the North Shore mountains.
Piscine Josephine Baker
Paris, France
As close to the Seine as you can get without getting some kind of rash, this floating steel and glass aquatic center features an 82ft pool built under a retractable roof, hot tubs, tanning booths, and even a steam room.

Gellert Baths
Budapest, Hungary
Budapest is famous for its historic hot springs -- and its insane
bath parties
-- but this huge complex of eight mineral baths and saunas takes the cake. The castle-like structure was built in an Art Nouveau style in 1918, and features stained glass windows, mosaics, and ancient statues. And yes, this is a
public pool
.
Kastrup Søbad
Copenhagen, Denmark
Less of a pool than a way to corral the ocean, this conch-like wooden structure in the Baltic Sea (designed by White Arkitekter) sits 3ft above the water and winds into a circle that gradually gets higher before culminating in a 16ft diving platform.
Piscina das Mares
Leça da Palmeira, Portugal
This dramatic tidal pool complex was cut into Portugal's rugged coast by famous Portuguese architect Alvaro Siza in 1966. The two seawater pools are meant to serve as a calm respite from Leça da Palmeira's generally dangerous waters.
Coral Gables Venetian Pool
Coral Gables, FL
When real estate developer George Merrick carved this pool out of a coral rock quarry in 1924 he had hoped to bring some Mediterranean flair to Florida. Amazingly, the world's largest freshwater swimming pool (at 820,000 gallons) -- the only one on the National Register of Historic Places -- is
drained and refilled daily
with fresh spring water.
Courtesy of Annenberg Community Beach House/Peter Figen
Annenberg Community Beach House
Los Angeles, CA
This historic house was originally built by William Randolph Hearst as a private home for his mistress, actress Marion Davies. Now open to the public, the swanky pad has both volleyball and tennis courts, as well as a gym, sundeck, gallery, and café.