Despite being the third-largest city in the UK, Manchester's often depicted as a land of strong accents, bad food, and seriously questionable fashion choices. But there's actually a wealth of legitimately cool things to do in this working-class town. Between interesting museum visits and late-night bar crawls, you can go from dawn to dusk without ever running out of activities. Here are 21 cheap (and free!) things you absolutely must do in Manchester.
Salford
While getting locked in a room might sound like the start of a horror film, there's no one actually trying to break in and kill you here. Instead, you'll work together with three to six other "victims" and find a way to escape in under 60 minutes, solving a series of puzzles and tests designed to kick your brain into overdrive.
Cost: £14
Recommended Video
Nashville Absinthe Cocktails & the Hottest Chicken (Literally)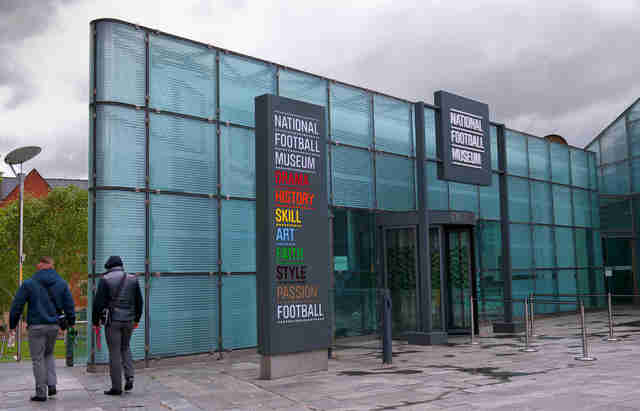 NOMA
If trading FIFA stats makes your heart beat fast, and stories about Diego Maradona or Geoff Hurst make you weak in the knees, be sure to spend some quality time with the greats over at the National Football Museum. Loaded with thousands of artifacts, from shoes and jerseys to artwork and trophies, this is a sports-lover's wet dream come to life.
Cost: Free
City Centre
Housing one of the largest collections of Pre-Raphaelite paintings in the world, this museum is chock-full of famous paintings you've only ever seen in books, with over 13,000 pieces in its Classics exhibit alone. There are also over 21,000 pieces in the costume exhibit, covering aspects of fashion and textiles from 1600 to the present day. Haven't you ever wanted to see a 17th-century codpiece up close?
Cost: Free
Sweat it out on the dance floor at Sankey's
Ancoats
More than a little dark and dirty, this isn't the kind of spot you'd want to wear your new white trainers to. But if your heart beats to the rhythm of house, garage, and electro, you'll feel right at home. With a busy calendar of world-renowned artists and DJs ready to roll on the top-notch sound system, plus a history of breaking artists like Daft Punk and The Chemical Brothers, this classic dance hall will create some of the best (albeit fuzzy) experiences of your dancing life.
Cost: Plan ahead, and tickets can be as cheap as a fiver.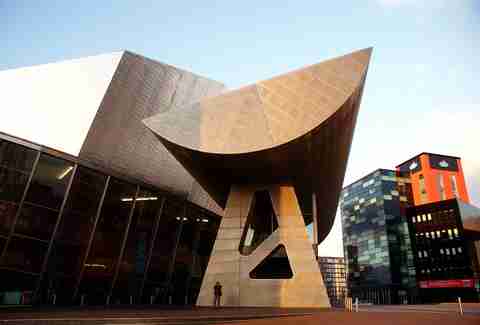 Salford Quays
This ridiculously gorgeous, mind-bendingly designed building houses some of the best art exhibitions and live entertainment in Manchester. With two theatres, five studios, gallery space, cafes, and bars, there's pretty much always a reason to see what's going on here.
Cost: Ticket prices vary, but are often on the lower end to encourage people to get their art on.
Flex your brain with trivia at Pen & Pencil
Northern Quarter
Think your smarts about film, TV, and music are up to snuff? Head to the Pen & Pencil, where John Stansfield holds court every Tuesday to test your knowledge and keep you on your toes. Entry is cheap, but keep an eye on how many drinks you're downing if you're watching your wallet.
Cost: £1 per person
Deansgate
Chock-full of turrets, stained glass, and a billion books (obviously), this bibliophile's dream space is absolutely gorgeous. Although barely a hundred years old, this place packs a serious literary punch with plenty of book-lined rooms to explore.   
Cost: Free
Chorlton
Go visit all your friends and hum along to all the best tracks at this old-school record shop that features rare and vintage vinyl and CDs. Known as the spot where all the top DJs shop, it's become a musical destination for club kids, record collectors, and wannabe DJs.
Cost: Free, unless you're actually a DJ
University of Manchester
With more than 50 vendors selling everything from crafts and food to clothes and plants, this weekly Saturday market always has something interesting to see and taste. Most of the street food is crazy-delicious, and won't cost you much, either... which is an added bonus.
Cost: Free
City-wide
Starting from Castlefield, flowing on towards Ancoats, and running through most of the city, this winding waterway offers a peek into a bygone era in Manchester. Put together a picnic, then find an idyllic spot to sit and watch the water run by.
Cost: Free
Stockport
Although it's a bit of a trek to get here, this vintage cinema is as jaw-dropping as some of the films it showcases. Featuring oldies, independents, and cult classics, The Plaza is entirely staffed by volunteers who love film, and even has an old Wurlitzer organ that plays before showings.
Cost: £7.75
Spinningfields
What started as a pop-up pizza shop has turned into a full-blown party spot with some of the best pies in town, plus one of the largest selections of tequila and mezcal in the North. Open until 4am, Crazy Pedro's is always home to a fiesta, so grab a drink and slice and let yourself go. Even if the food & drinks were rubbish (which they're not), the people-watching here alone is pure gold.
Cost: £3 slice + £3.50 pint = £6.50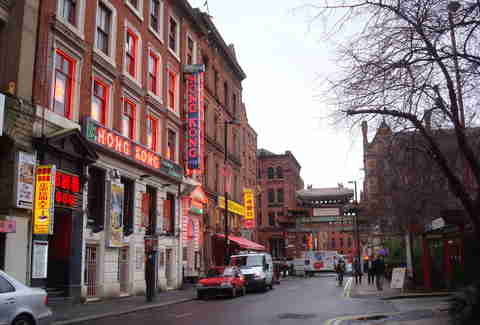 Explore Chinatown
Chinatown
Manchester is home to the largest Chinatown in Europe, so if you want to get your fill of maneki cats, dim sum, Chinese fans, and incense, this should be your No. 1 stop. If you're disciplined and resign yourself to simply window shopping, you can make it out without spending a penny, but the dumplings here are amazing enough to break your will.
Cost: Have strength, and it's totally free.
Whitworth Park
Once thought of as an artistic afterthought filled with second-rate pieces, the Whitworth went through a massive revamp a couple years ago and is now a stunning space housing collections of creative, intellectual, and innovative art. The transformation was so complete that it even went on to win the 2015 Museum of the Year award from the Art Fund.
Cost: Free
Hit the lanes at Dog Bowl
Gay Village
Part of the Black Dog Ballroom group, the wittily named Dog Bowl offers five lanes of 10-pin bowling, plus a menu of reasonably priced Tex-Mex (including a £5 lunch deal). Then there's the Snoop Dogg, a pork hot dog topped with mac & cheese and a beef patty. If that's not an easy way to spend a couple hours, we don't know what is!
Cost: £6 before 6pm, £8 between 6pm-midnight, £4 after midnight.
Various locations
The history of Manchester is intrinsically linked with some of the greatest musical acts Britain's ever produced, from Oasis and Joy Division to The Smiths and The Stone Roses. Set aside 90 minutes to retrace their steps and see the places they lived, worked, and played, inspiring the songs we still listen to today.
Cost: £10
Spinningfields
Open since 1969, this public spot looks at how Manchester has contributed to the advancement of communications, railway, air & space, power generation, and more. Highlights include an Avro Skeleton plane from 1954, which was designed to fly for 24 hours straight.
Cost: Free
Piccadilly Gardens
A rotating assortment of food vendors set up shop here from Thursday through Saturday, offering easy eats with everything from traditional African fare and ostrich burgers to fresh Italian pasta and dim sum. In partnership with the local council, there's even a market-wide loyalty scheme in place where every 10th meal is free. There's also a selection of craft and vintage stalls as well, which you'll find on Fridays and Saturdays.
Cost: £5, depending on how hungry you are
Expand your brain at MadLab
Northern Quarter
Holding weekly events, the Manchester Digital Library aims to help advance the field through classes on coding, developing, designing, writing, and more. Many of the workshops here are free, and there are plenty of others that won't exactly leave you penniless, either.
Cost: Mostly free
University of Manchester
The Observatory holds weekly meetings, and anyone can stop in as a guest for the chance to see some truly spectacular sights through the impressive double telescope. That being said, if the weather's being its usual British self, the view of the city from the roof of the Sackville Street Building is pretty awe-inspiring in its own right.
Cost: Free
See a lunchtime concert at Chetham's
Victoria
One of the country's top schools for music, Chetham's likes to spread the love by showcasing some of its rising stars with a free lunchtime concert series held at Carole Nash Hall. The shows run from 1:30pm to 2:10pm on Tuesdays, Wednesdays, and Thursdays (while school's in session), and there's no booking required: all you have to do is show up. You should probably call ahead to make sure the concert's still on, though, just in case.
Cost: Free
Sign up here for our daily Thrillist email, and get your fix of the best in food/drink/fun.