Why Cruising the Amazon River Needs To Be On Your Bucket List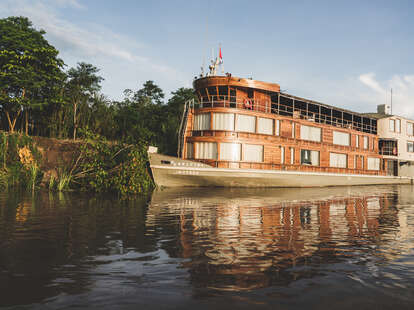 We know COVID-19 is impacting travel plans right now. For a little inspiration, we'll continue to share stories from our favorite places around the world so you can keep daydreaming about your next adventure.
I get it -- you see the words "river cruise" and you think of Grandma Jean gathering up her bridge club comrades and setting sail on the Danube, freaking out about all the UNESCO World Heritage Sites and posting an excessive amount of medieval church photos.
Nothing against the Danube, but a river cruise down the Amazon River totally shatters those stereotypes. The most popular ones set sail from Iquitos, Peru, a city of 420,000 people that can't even be accessed by road because it's smack dab in the middle of a rainforest. These are not your average port cities, but extremely remote destinations with limited infrastructure. And your excursions? Well, let's just say you're not getting a walking tour from a guy waving a flag down cobblestone streets.
If you have even one adventurous bone in your body, sailing down the Amazon is one of those ultra-gratifying life experiences that deserves a spot on your bucket list. If you want to see flora and fauna in one of the most biodiverse places on earth, spot pink dolphins leaping out of the water as you sail by on a skiff, or get up close and personal with a happy-go-lucky sloth, this river cruise is your jam.
A note about the Amazon wildfires
Now some of you may be thinking, "But Stefanie, wasn't the Amazon all over the news in 2019 because of some destructive wildfires?" Right you are, but the wildfires were nowhere near the cruise operations in Peru. "We did have many questions on social media about the fires, asking us if the area where we operate is affected," says Aldo Macchiavello, founder of Delfin Amazon Cruises. "But the fires were not in the Pacaya Samiria National Reserve, where we sail."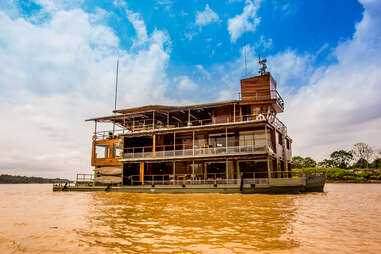 These river boats are NICE, y'all
The rest of you may be thinking, "But Stefanie, aren't river cruises really expensive?" Indeed! But can you put a price on exploring the awe-inspiring splendors of the natural world from the comfort of a plush private cabin? You may be roughing it out there, but in here, you're basking in air-conditioning, hot showers, and gourmet meals emphasizing local Peruvian ingredients, like paiche fish and yucca.
There are two main operators out of Iquitos: Delfin, with rates starting around $2,800 per person, and Aqua Expeditions, with rates starting at $3,500 per person. Both offer three-, four-, and seven-day sailings throughout the year, and those rates include all excursions, meals, non-alcoholic drinks, and a few boozy drinks too.
Delfin sails a fleet of three ships -- Delfin I, II, and III -- which range from four to 22 cabins. They're small, but you'll still find amenities like a restaurant, bar, massage room, and even a tiny pool. The ship has an earthy, rustic look with wood elements, plus textiles and handicrafts made by local women who live in communities along the river.
"Delfin began working with local artisan communities 11 years ago," says Macchiavello. "By exposing our guests to their marketplaces and using their work as part of our decoration onboard the vessels, these handicrafts have become the main source of income for many of these riverine communities."
Aqua Expeditions takes a contemporary design approach with two sleek ships (the 16-cabin Aqua Amazon and the 20-cabin Aqua Nera, which will begin service in October 2020). Like its competition, the ships have amenities you'd find on much larger ships, like a Jacuzzi to an exercise room.
There's just one thing missing: connectivity. Wi-Fi just isn't an option in these remote areas, and cell service is spotty as soon as you disembark Iquitos. Bring a book, or a laptop preloaded with movies, or just watch the jungle scenery float by your suite's floor-to-ceiling windows. Delfin also offers cocktail- and ceviche-making classes on board.
The wildlife-spotting is absolutely bonkers
Before setting sail, you could easily spend a day or two exploring Iquitos' markets and street food scene (grilled slugs, anyone?). Definitely pay a visit to the Amazon Rescue Center -- they rehabilitate orphaned baby manatees, and other sick and injured animals like otters and various primates. Your cruise operator can arrange a visit, pre- or post-cruise. I spent a solid 20 minutes watching a baby otter play with its toys and splash around its enclosure -- a major win in my book.
Then, set sail along some 350 miles of the Marañon and the Ucayali tributaries of the Amazon. You'll embark on a ton of water adventures via skiffs -- you can go birdwatching one morning and stand-up paddle boarding with dolphins in the afternoon. Keep an eye out for river otters, bats, caimans, and poisonous dart frogs. Go kayaking, piranha fishing, and swimming all in the same river (your guides say it's perfectly safe, though on our sailing, we spotted an electric eel being devoured by large birds right next to our swimming spot, so maybe play that one by ear. Hey, it's the WILD.)
Landside, you'll take jungle walks with local guides who point out all manner of wildlife, from sloths in the trees to tarantulas on the ground. A personal highlight for me: seeing a juvenile sloth slowly make his way down a sapling, directly in front of us.
Something I don't need to experience again: our guide putting his hand on an anthill and letting the biting ants crawl all over him, just so we could see them better. (Thanks, man, but yikes.) And it turns out that it's not just animals that are hardcore -- you'll learn about the impressive plants throughout the rainforest, including the strangler fig tree, which chokes the life out of its cousins. It's pretty badass.
Village excursions help support local communities
You'll also have the opportunity to visit one of several local villages, such as San Regis, San Francisco, Puerto Miguel, Amazonas, and Posada. I personally opted out, uncomfortable by the idea of treating villagers as a tourist attraction -- though these excursions do directly benefit the community. On most sailings, the crew will bring goods and medical supplies to the villages, and you can purchase women-made handicrafts, which helps the local economy.
"The communities have their own malocas, or communal houses, where the women exhibit their artwork," explained Macchiavello, Delfin's founder. "They identify and differentiate themselves from other artesian communities with names such as 'The Butterflies of Yarapa,' and have representatives who are in charge of organizing their work. Many of the men and husbands help out by collecting fibers, seeds, and barks needed for the handicraft production.

"
In addition to buying and displaying local crafts on their ships, Delfin also works directly with locals to facilitate excursions. "We work with local guides, who clear the hiking paths we use and give support to our Naturalist Guides, helping them identify plants, insects, and other fauna during our rainforest excursions," says Macchiavello. "We hire them on a rotating basis, so every member in the community has the opportunity to be part of this effort."
When done well, these excursions can facilitate respectful, educational interactions between passengers and residents; for example, locals will often put together cooking and natural healing demonstrations for guests. "All of this adds up to a positive economic alternative for our local communities as opposed to over-fishing and over-use of natural resources."
Tack a river cruise onto your Machu Picchu trek
Keep the adventure going, because why not? As of 2018, LATAM Airlines offers direct flights between Iquitos and Cusco, Peru -- the jumping-off point for the trek through the Sacred Valley to the ancient site of Machu Picchu. We recommend hanging in Cusco for a few days to sip pisco sours and acclimate to the altitude, then hooking up with a tour company like Salkantay Trekking for a 5-day guided hike to Machu Picchu. Bucket list indeed.
Stefanie Waldek is a contributor for Thrillist.