These Indigenous Tour Guides Are Showing Travelers How to Protect the Amazon
Swim with pink dolphins, track piranhas, preserve the forest.
Spongy ground underfoot, shady palms above, a cacophony of squawks, screeches, and howls. When most people think of the Amazon, they picture a dense, humid tunnel of green. But standing on the rocky precipice overlooking the Cachoeira do Araçá—Brazil's largest waterfall, plunging more than 1,300 feet—you get an entirely different perspective on the world's largest rainforest. From that vantage, teetering on the edge of a tabletop mountain and looking out over the vast forest canopy, the immensity and primordial beauty of the Amazon opens up all around you.
It's a sight that few travelers ever witness. But a new movement is ensuring the views remain healthy and lustrous for years to come. In a once-threatened swath of the Amazon, two Indigenous-owned tour groups are opening the door to ethically visiting and protecting the precious jungle.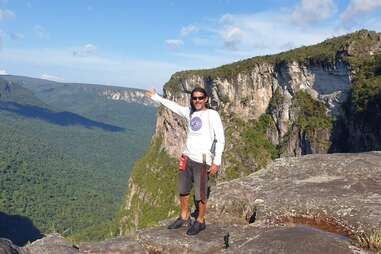 It takes more than 30 hours to travel from Manaus, the capital city of Brazil's Amazon, to the municipality of Barcelos via a regional boat, followed by another 30 hours of cruising along the muddy waters of the Araçá River, home to pink river dolphins, black spider monkeys, and rare species of birds and reptiles. Then comes the hard part: hiking along moss-covered trails en route to the falls, scrambling over boulders and using rope to maneuver through difficult passages.
Considering the complicated logistics, very few tourism agencies operate expeditions to the waterfall. But for the Indigenous Amazonian guide Saru Mundurucus, it's a favorite journey, so much so that he named his new tour company after it. Last year, after more than two decades of working for tour companies and as a fixer for wildlife documentary crews, Mundurucus launched Aracá Expeditions to show off the real, more hidden wonders of the Amazon.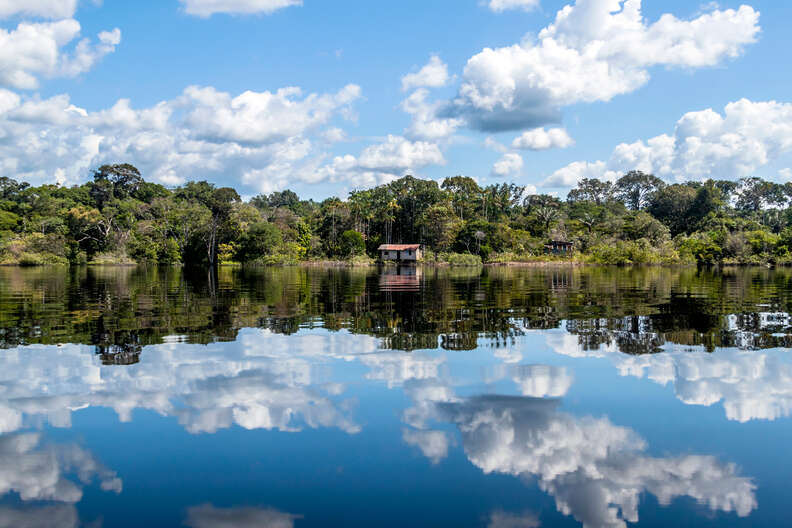 "Tour companies say they take travelers into the heart of the region, but in reality, they don't," he explains. Beyond showing his guests dramatic sights like the Cachoeira do Araçá and the Jaú National Park, Mundurucus is passionate about sharing his deep knowledge of the forest, from its medicinal plants to the rich cultural traditions of people who call the Amazon home, including the Yanomami Indigenous group, the region's largest isolated tribe. He dedicates a portion of his proceeds to reforesting an area around Novo Airão (where he now lives) and buying supplies like medicine, clothes, and soccer balls for riverine children.
"Indigenous communities have developed complex relationships with plants, animals, and this land over thousands of years."
Mundurucus is among the few Indigenous-owned tour operators in the Brazilian Amazon. Most Indigenous people who work in tourism serve as guides for lodges and travel agencies where they don't always share in the profits or have a say in how these culturally sensitive tours are carried out. Many times, these partnerships are entered into without full consent from the community, says Tânia Neres of the newly created Afro Tourism, Diversity, and Indigenous Peoples Department at the Brazilian Tourism Board (Embratur). While she notes that there are legitimate operators like Roraima Adventures and Uika that are partnering with Indigenous peoples in responsible, ethical ways, she says many operators are engaged in exploitative cultural practices—and it's not always easy for travelers to make informed decisions due to a lack of certification and licensing.
"We want to end the circus of predatory tourism," explains Neres, who, together with her colleagues, are working to map a network of licensed Indigenous-owned tour operators, agencies, and guides across Brazil. The initiative will help Indigenous people take control of the narrative while ensuring that 100% money generated from tourism stays in these communities.
It will also help pave the way for more authentic travel experiences, says Neres. Instead of moments of staged authenticity such as ceremonial dances and displays of hand-crafted weapons, travelers might learn how Indigenous people understand the climate, how they differentiate between plants, the importance of the lunar calendar to some communities, and the ingredients that they use in their cooking.
Neres believes this form of tourism is key to promoting environmental conservation at a critical moment in the rainforest's history. Last year, deforestation in the Amazon hit a six-year high, and a new report revealed that mining operations in the Amazon basin covers more than 20% of Indigenous lands. Illegal mining in the Yanomami Indigenous territory has led to a humanitarian crisis with a soaring infant mortality rate due to malaria and mercury poisoning.
"Indigenous communities have developed complex relationships with plants, animals, and this land over thousands of years," says Neres. "They possess deep generational knowledge on how to sustainably manage and protect these environments."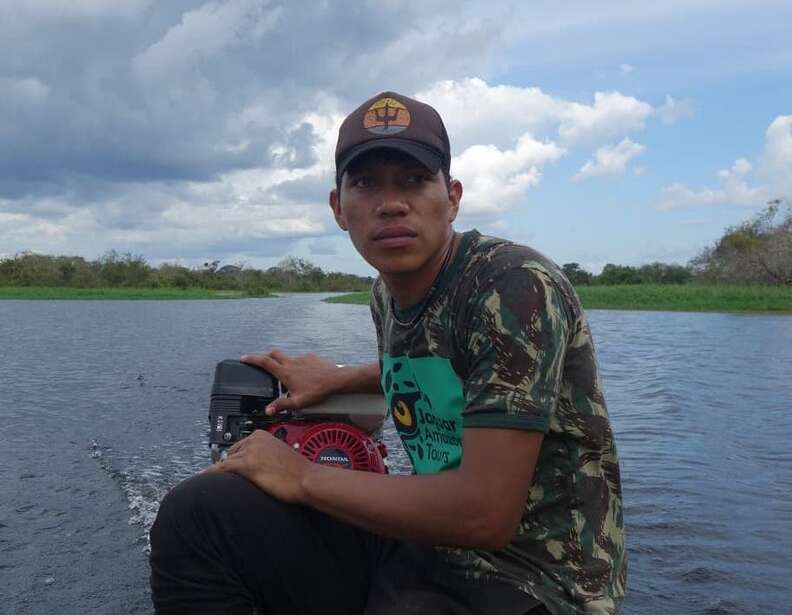 "I didn't want to be a part of the destruction anymore."
Tour guide Josuel Crosa, a member of the Wapishana tribe, used to work for a Canadian gold-mining company from the age of 11 through 15, then for a Canadian drilling company until he was 17. He contracted malaria more than three times, using the money he made to buy medicine to treat the disease. Because he had not completed basic schooling, his options for employment were limited. But he was desperate to find another job, even as his father continued working for the drilling company.
When one of his brothers found a job working for a tour company in Manaus, Crosa asked to tag along. He ended up working as a freelance tour guide for five years before launching his own company, Jaguar Amazon Tours, in 2017.
"As an Indigenous person, I have deep respect for this magnificent ecosystem," says Crosa, adding, "I didn't want to be a part of the destruction anymore. Thankfully, tourism has brought the possibility of a different economic system."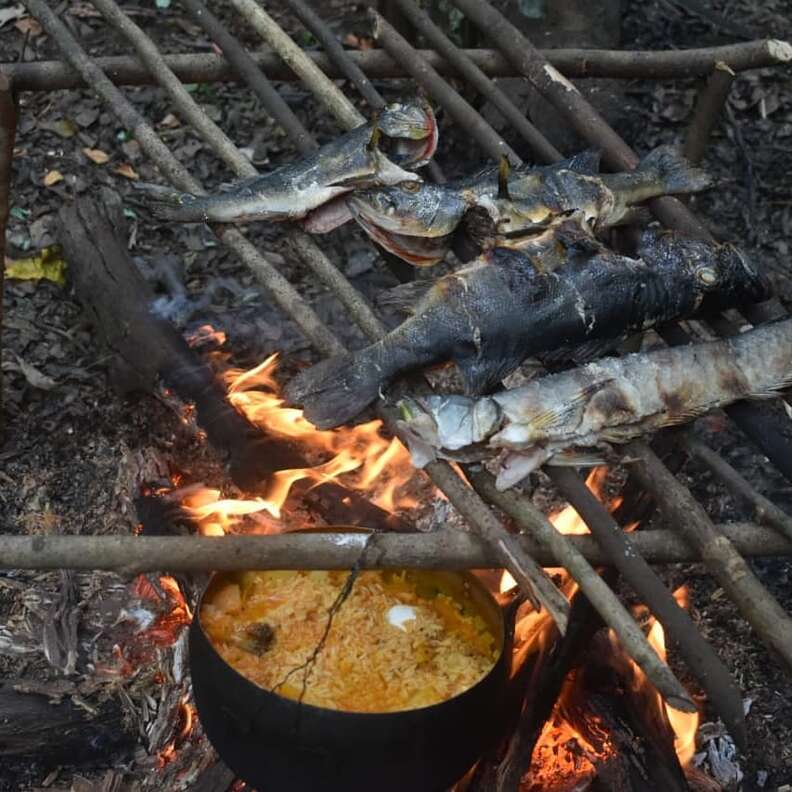 Today, Crosa offers a handful of trips, ranging from one day to multiple weeks and incorporating activities like spear and piranha fishing, swimming with pink river dolphins, staying in the home of a local family, and canoeing through the flooded areas of the forest. On the Jungle Survival Tour, guests will learn the basics of how to find fresh water, search for edible and medicinal plants, navigate dense vegetation, set out traps, and build shelter using palm leaves and sticks. Another popular experience is the five-day Adventure Tour, which includes piranha fishing, learning the process of making farinha (cassava flour), sleeping in the jungle, and visiting the Dessana tribe, located 15 miles up the Rio Negro River from Manaus.
Neres of the Brazilian Tourist Board dreams of launching a website that brings together dozens of licensed Indigenous tour operators like Crosa by 2030—the same year that 100 world leaders (including Brazil's new president Luiz Inácio Lula da Silva) have pledged to end global deforestation. It's an ambitious goal and one that in volves partnering with federal agencies like the Indigenous protection agency Funai and the small business support service Sebrae. The biggest concern is a change in politics, since the Brazilian Tourist Board is a federal, state-owned agency whose mandate changes based on whatever government's in power.
Until more Indigenous tour operators are up and running, Aracá Expeditions and Jaguar Amazon are leading the way with their adventurous bookable tours. As for when travelers can expect the website to launch so as to find more Indigenous-owned tours? Neres starts explaining the steps involved in getting the first project off the ground this year, then cuts herself short: "I could tell you more, but I say, let's just get this done!"