Book your next hotel room on Amazon, help complete their world domination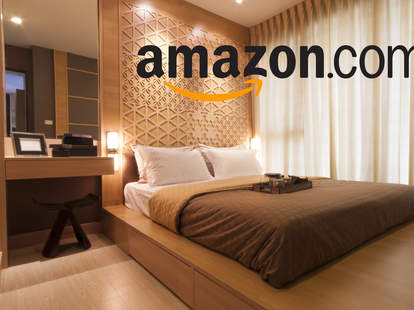 Apparently unsatisfied with just recommending books to read on vacation, Jeff Bezos now wants to actually, well, book the vacation. Or at least the hotel room.
Amazon is scheduled to launch a new hotel-listing site, Amazon Travel, on Jan. 1, 2015, and it'll pretty much run like the rest of the online retailer you know and love (or hate, if you're a book publisher). Participating hotels -- from indie boutiques to big-name resorts -- will simply upload room info (availability, rates, and photos) and kick Amazon a 15% cut on all bookings made through the site. The hotels will be responsible for setting their own rates and discounts. [In related news, an Hachette executive in Germany just punched a hole in his office wall.]
While there's no official word from Amazon on the specifics of the forthcoming site, or the locations that will be serviced, NYC, LA, and Seattle are considered early front runners. And we do know that at least two hotel companies have already signed up, just not which ones. 
One thing's for sure, though: while Amazon Travel will certainly be good for Americans who need a reminder to take their vacation days, it won't be so great for the weak-willed among us who'll go to buy a $1.29 Drake MP3 and wind up with a weekend in Toronto.

Chloe Pantazi is an editorial assistant on Thrillist's travel team. Yes, that's a British accent. No, she doesn't watch Doctor Who. Follow her on Twitter at @ChloePantazi.