The 25 Best Beaches in America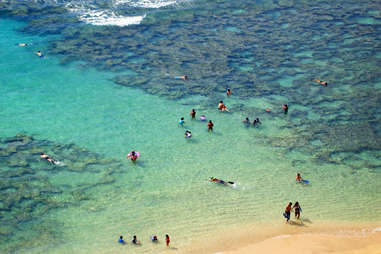 Hanauma Bay
Where: Honolulu, Hawaii
Why it made our list: This former volcanic crater was flooded, and, because it's protected by cliffs on three sides, quickly became filled with 400 species of tropical marine life, like butterflyfish, triggerfish, pufferfish, moray eels, and squid, as well as sea turtles, reef sharks and dolphins. And now, at times, tourist. But Hanauma remains one of the best snorkeling spots in the world – there's even a concession stand that rents masks, fins and snorkels.
Bonus: You might recognize this beautiful bay from your favorite Scott Caan show, Hawaii Five-0. Guess that's just a fun fact. The more you know! Continue Reading Related Stories
Coligny Beach
Where: Hilton Head, South Carolina
Why it made our list: In many ways, it's an amped-up suburbia, where the rich who think the Hamptons are passé come to summer. Think manicured lawns and bored cougars in tennis whites. They're not bad things to think about.
Bonus: Hit the links at one of the 26 golf courses in one of America's golf meccas.

Related Stories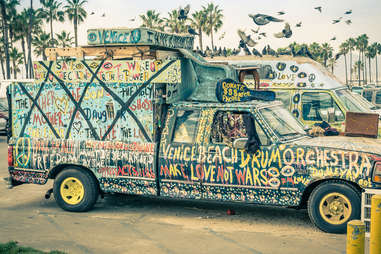 Venice Beach
Where: Los Angeles, California
Why it made our list: It's sexy, sandy, and sunny -- attributes most beaches can boast, but the real attractions here are the people. The full gamut of exceptional humans flock to Venice, including hippie chicks, glistening bodybuilders, bleach blonde surfers and skaters, magicians, artists and street performers, all to mingle on the boardwalk among circuses and flea markets.
Bonus: Behind the safety of your polarized lenses, watch wannabe actresses and models lounging about in next to nothing. Or, take in one of this hotspot's famous beachside basketball showdowns.
Cannon Beach
Where: Cannon Beach, Oregon
Why it made our list: In the heart of rugged Oregon, this unusual beach is flanked by forests, with the towering Haystack Rock and Needles only heightening the surreal surroundings.
Bonus: This beach is famous for its incredible tidal pools -- and a cameo in The Goonies. Check out Haystack Rock at low tide for a natural aquariums full of sea stars, hermit crabs, anemones, crabs, sculpins, mussels, urchins, sea cucumbers, and even puffins. Also, it's entirely legal to drink there.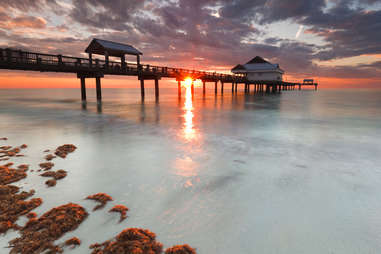 Clearwater Beach
Where: Clearwater, Florida
Why it made our list: This beach, with white sands and bathtub-warm Gulf waters, will make you forget whatever the weather's like in wherever you came from. And the fact that Florida is often a weird place.
Bonus: Epic dolphin watching. Which, pretty much any dolphin watching session classifies as epic.
Beachwalker Park
Where: Kiawah Island, South Carolina
Why it made our list: Most of Kiawah Island's beautiful, 10mi stretch of Atlantic Beach is contained in a private community to keep the riff raff out. But you, being said riff raff, can head to Beachwalker County Park on the West end of the island to enjoy the same gorgeous marshes, pine forests, magnolias and live oaks as the rich folk.
Bonus: Grab one of the free grills in the picnic area and have a cookout, or head to nearby Charleston for its famous low country cuisine, like she-crab soup and fried oysters.


La Jolla Cove
Where: La Jolla, California
Why it made our list: This teeny tiny beach, tucked between towering sandstone cliffs, is one of the most photographed in SoCal. So, yeah, it's photogenic. That means it must be alright.
Bonus: Seals! They're everywhere! The cove's also teeming with colorful garibaldi, yellowtail, rays, and leopard sharks, and, as part of the La Jolla Underwater Park Ecological Reserve, it's a world-famous diving and snorkeling spot.
Assateague Beach
Where: Assateague Island, Virginia/Maryland
Why it made our list: Literally where the wild things are, this island and its beaches are overrun by a herd of around 300 wild horses.
Bonus: Birding's a big deal here, if that's your thing. No? Well then how about surf fishing, crabbing, clamming, kayaking, and beach camping? There's something for everybody. Unless you just don't like fun.


Bolongo Bay Beach
Where: St. Thomas, US Virgin Islands
Why it made our list: Pretty much any beach in the Virgin Islands -- with water clearer than vodka and shallower than that cheerleader you dated in high school -- will raise the bar and spoil any other shore for you for years to come.
Bonus: Speaking of bars, Iggies ranks as one of the best beach bars in the world. If you're up for a vacation drinking challenge (who isn't?), the dizzyingly potent, five-rum Voodoo Juice cocktail throws down the boozy gauntlet, and then some.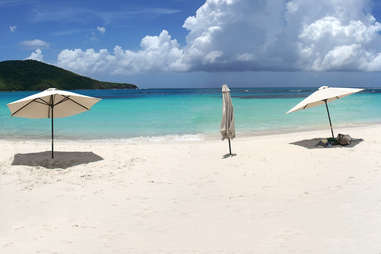 Flamenco Beach (Playa Flamenco)
Where: Culebra, Puerto Rico
Why it made our list: This small island off the coast of Puerto Rico is still predominantly populated by locals, and practically an untouched paradise, thanks to a lack of fancy hotels and restaurants. Oh, and it used to be a pirate hangout, saw Columbus swing by, and became one of the country's first wildlife refuges.
Bonus: Kioskos sell food and booze and give you an authentic Puerto Rican experience. Grab a Bushwacker, a rum-heavy, chocolatey piña colada, and walk to the end of the beach to check out its famous graffitied tanks that use to be part of a Naval bombing practice site.


Black Sand Beach
Where: Waianapanapa State Park, Maui, Hawaii
Why it made our list: Black. Sand. Black sand everywhere.
Bonus: Freshwater caves, ancient burial grounds and temples to explore, as well as sea stacks, blowholes, anchialine pools, and other stuff you've never heard of mean you'll have a lot more to do than just soak up rays. C'mon, broaden your horizons.
South Padre Island
Where: South Padre Island, Texas
Why it made our list: "Padre or bust" is a common refrain in this Spring Break hotspot, a party animal paradise like Miami, but without the stacks of money and pretension. Even without barely clad co-eds and red solo cups, this 34.5mi beach along the Gulf of Mexico is a stunner.
Bonus: You can try pretty much every imaginable water sport, including deep-sea fishing, scuba diving, and dolphin watching. For the less athletic and more alcohol-inclined, there's Clayton's Beach Bar, the "Biggest Beach Bar in Texas", which has frozen Blow Pops and weekend fireworks.

Anything that can claim to be the biggest anything in Texas is probably worth your while.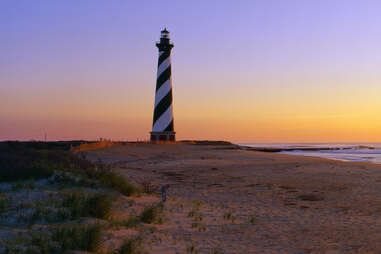 Cape Hatteras
Where: Cape Hatteras, North Carolina
Why it made our list: Named America's first National Seashore back in 1953, this spot is pure, nostalgic Americana, full of landmark lighthouses (including the tallest in the nation) and historic fishing villages that'll transport you back to a better time, a simpler time, although hopefully not a time before string bikinis.
Bonus: According to Dr. Beach – and with a name like that, he must be an expert -- this beach has "some of the best board surfing along the East Coast". Also, at night the sand glows with dinoflagellates, which is really romantic. Or at least really glow-y.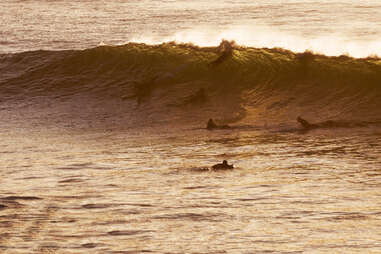 Ditch Plains Beach
Where: Montauk, New York
Why it made our list: Not only the summer playground for the rich and famous, Montauk has recently been reinvented into a hipster haven so hot your mustache wax will melt.
Bonus: After a surf session, check out Ruschmeyer's, an adult summer camp that boasts teepees, yoga lessons, ping-pong, live DJs, and movie nights. Oh, and technically, it's even accessible by train from New York City (though you'll need a few hours to actually get there).
Cayo Costa State Park
Where: Bokeelia, Florida
Why it made our list: Old-school Florida at its finest, this super secluded beach on a protected island is only accessible by spending an hour in a private boat or small ferry. Sex on the beach isn't just a drink. Here, well, it's a possibility (not that we're condoning that sort of activity).
Bonus: Private beach, yo. But you can also camp or rent a bare-bones cabin on this nine-mile stretch of untouched shore, which has manatees, sea turtles, and excellent snorkeling and fishing.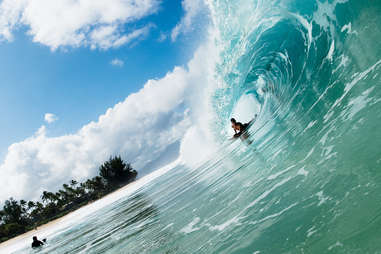 Ehukai Beach Park's Pipeline
Where: Oahu, Hawaii
Why it made our list: If you like living on the edge, or at least like watching those who do, this beach is the most famous (and most deadly) surf spot in the world.
Bonus: People- and wipeout-watching is the de facto pastime here, and surfers like Kelly Slater and Jack Johnson drop in at times on the beach's 20-footers.
Baker Beach
Where: San Francisco, California
Why this made our list: No list of the best beaches would be complete without a nude beach. Wouldn't you agree?
Bonus: Everything's better in the buff, especially lauded views of the Golden Gate Bridge. Though we hear the water isn't all that warm, and the support beams may suffer from shrinkage.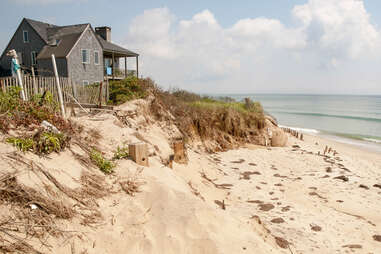 Katama (South) Beach
Where: Martha's Vineyard, MA
Why it made our list: Moneyed East Coasters flock to this upscale islet for a wholesome slice of good, old-fashioned American summer – expect to see lots of Kennedy wannabes and Vineyard Vines clothing on this three-mile barrier beach.
Bonus: Since this place is all about the simpler pleasures, line up nightly at Oak Bluffs' Martha's Vineyard Gourmet Cafe and Bakery for "Back Door Donuts" straight from the oven. Just don't expect them to help our your beach body in any way.


Siesta Key Beach
Where: Siesta Key, Florida
Why it made our list: Often rated the country's number one beach, Siesta Key claims its sand is the "world's finest and whitest", which sounds like something out of Scarface, as well as being 99 percent quartz, which sounds like something out of Breaking Bad. But it does have a right to the claims, culling from its victory in the International Sand Contest in 1987 for best sand. It's unclear what happened to the storied contest since.
Bonus: Chicks with volleyballs.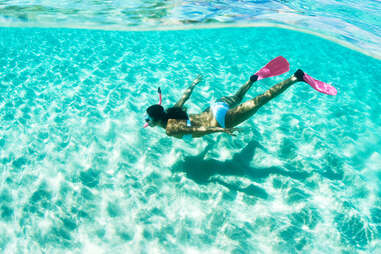 Turtle Beach
Where: Buck Island, St. Croix, US Virgin Islands
Why it made our list: We like turtles. But seriously, the place is a national monument for crying out loud. It comes as no surprise that it's been a protected area since 1948, and part of the national park system since 1961.
Bonus: So secluded and so very tropical, this 176-acre paradise that boasts a 4,554-acre reef requires a boat for access. This place is literally so teeming with lobsters, you could dive down and catch your own dinner -- that is, if you knew what you were doing and it wasn't a protected nature preserve.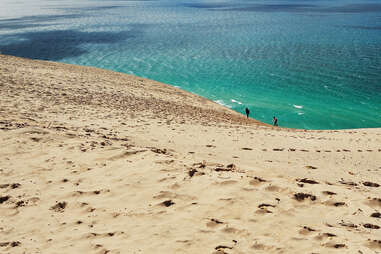 Sleeping Bear Dunes National Lakeshore
Where: Empire, Michigan
Why it made our list: These 65mi of shoreline were voted "most beautiful place in America" by Good Morning America, which is good enough for us. Have you seen how good Robin Roberts is before 9 am? And for those who can't stand salt chafing their eyes, this is a freshwater beach.
Bonus: The main draw here is climbing the massive sand dunes. Perched up to 450ft above Lake Michigan on top of epic glacial moraines, they're part of the world's longest stretch of freshwater dunes, as well as its most Michiganest. We may or may not have made that last word up.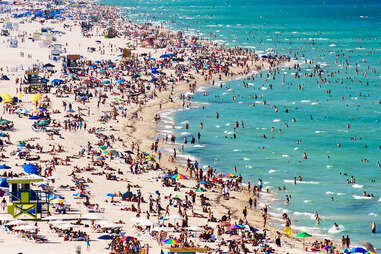 South Beach
Where: Miami, Florida
Why it made our list: Aspiring models, accomplished gold diggers -- the entire ecosystem of hot women with not a lot of clothing crawls (slinks?) around South Beach. Perhaps you've heard of it.
Bonus: Is this where Girls Gone Wild started? No? Well, that doesn't mean there's any lack of skin on display. And you won't even have to pay installments of $19.99 to see it.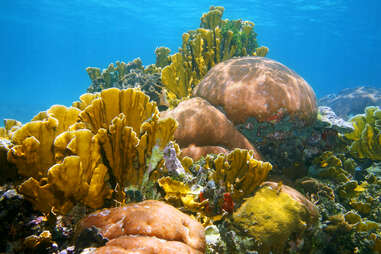 Mosquito Bay
Where: Vieques, Puerto Rico
Why it made our list: Mosquito Bay is one of the world's best examples of bioluminescence -- basically nature's version of a broken glow stick at an EDM pool party, but all-natural, thanks to dinoflagellates that've been disturbed. Try saying that three times fast.
Bonus: Rent a clear canoe and feel like you're skimming over Mother Nature's birthday rave.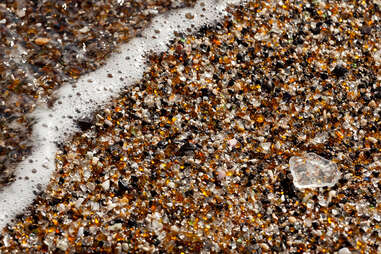 Glass Beach
Where: Kauai, Hawaii
Why it made our list: Clear, polished glass pebbles > itchy, sticky sand. Glass on the beach is typically a foot hazard, since it's usually some bozo breaking beer bottles in his wake. But here, the sand is smoother than Robert Goulet at an AARP convention.
Bonus: Bring some of the aforementioned silt back as a souvenir for a better alternative to the "My friend went to Hawaii and all he got me was this crappy shirt" shirt, which usually just says "Hawaii" on it, anyway.


Rockaway Park
Where: Queens, New York City
Why it made our list: At times, it's like Williamsburg, the hipster mecca, was magically transplanted onto the beach, with plenty of tats, horn-rimmed glasses, and pale, confused folks dotting the shores. But aside from that, this beach actually feels more like a Carolina beach town hundreds of miles away, despite being only an hour from the center of the City That Never Sleeps.
Bonus: Hurricane Sandy brought with it a brand new boardwalk full of foodie gems imported from the city, including Caracas Arepa, Citysticks, Lobster Joint, and Breezy BBQ. Making yourself schlep home on the subway just got that much harder.