8 of America's best BYOB strip clubs
Maybe your local gentlemen's club doesn't serve your favorite flavor of Mike's Hard Lemonade. Maybe you'd gladly blow a month's rent on lap dances, but draw the line at spending more than $8 for a six pack. And maybe you just want to nip some rosé, then cork it up and take it home again.
Whatever the reason, you'll be glad to hear the American dream is alive and well in the form of BYOB strip clubs. If you build them, they will come. And they will bring their own coolers. Here are 8 of America's best BYOB strip clubs.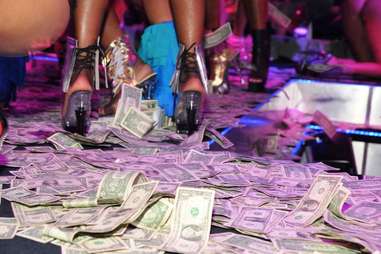 BYO anything but beer – which this classy joint has deemed too trashy. Good news: You can store your liquor in lockers; it'll be brought to your table as you walk in, probably greeted by name because you're lonely and sad.

You'll think you've died and gone to heaven when you wheel your very own keg into this all-nude Poconos club, which also features shower shows.

This members-only joint charges a $15 yearly fee, with a $25 nightly cover. And while the club's Geocities-era website goes heavy on exclamations, its discount rates for bachelor parties and two stages will leave you heavy on the exhalations.
And it offers handicap accommodations!
When Belinda Carlisle recorded "Heaven Is a Place on Earth", she probably meant this place, which lets you bring your own cooler. Baseball games don't even let you do that. And baseball games don't have naked women!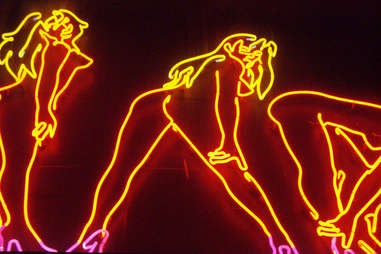 AC's biggest all-nude club, this place is perfect for when you've blown all your money playing craps and can't afford more than a gas station six pack.

You can BYOB here err'day, but Sunday through Thursday, Daydreams fills you up with free beer. Probably to stop you from re-evaluating your life after finding yourself in a strip club on a weekday.
You know it's good when it's a massive chain in Texas.

This after-hours strip club, which is open from 1:30am to 5am, works with another strip club that closes at 2am. A post-strip club strip club? We can't even imagine what goes down here. You may not want to, either.
Sophie-Claire Hoeller is Thrillist's associate travel editor, and thinks a BYOB white wine spritzer would totally class things up. Follow her @Sohostyle