A woman on the boat deck fist pumps to "In Da Club." A flailing water skier rips his patriotic swim trunks. A swan diver leaps into the water with tremendous bravado while spectators in flamingo tubes rejoice. Nobody screams "SHAAAAARRRRKK!"
Lake partying beats ocean partying because you will not fall victim to carnivorous fish or riptides; plus, America's lake towns have a certain distinct charm that our beach towns simply do not. Lake partying is definitely better than land partying because it's not the end of the world if you spill your beer -- and if it lands on the boat, it's probably not your boat anyways. (Does lake partying beat river partying in an inflatable donut? Up for debate.)
So bring a six pack or two to one of these lakes; they're the rowdiest good-time lakes in the US, and have long-standing traditions, nude shorelines, and Guinness World Records to prove it.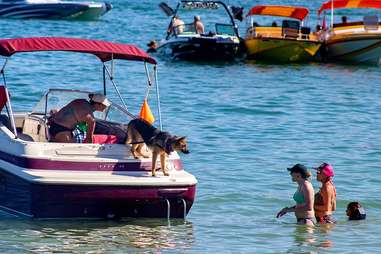 Lake Havasu
Arizona
Twice-featured on MTV's Spring break coverage and dubbed one of the trashiest places to spend the March holiday, Havasu is Sin City, South Padre, and Daytona Beach all rolled into one insane on-the-water smorgasbord. Isn't that why you clicked?
Drop Anchor: Don't miss the Bridgewater Channel. The half-mile stretch from London Bridge to Rotary Park is packed with booze, beer bongs, and a boat-side stripper pole, so you can imagine all the good wholesome fun to be had here. Sandy beaches and restaurants hug the channel, so you can park your boat to grab that drink you held off on while dutifully operating a boat... We recommend Burgers by the Bridge for some cheap takeaway and a full bar.
Lake Washington
Washington
The University of Washington's football stadium sits on the shores of LW, meaning you can expect some intense on-the-water tailgating action well into the Fall.
Drop Anchor: Don't miss the Seafair Logboom, where wayward captains attach whatever floating craft they can find to strategically placed logs. The result? A massive floating party and front-and-center seats to the hydroplane boat race and overhead air show. You can also save your milk cartons to build a boat for next year's Milk Carton Derby. I reckon it'll take a year to build that double-decker dreamboat.
Lake Travis
Texas
Everything is bigger in Texas and that extends to watercraft. Lake Travis sees your party boat and raises you a barge. Did we mention the water slide? This double-decker complete with an iPod stereo system and a propane barbecue pit (it is Texas after all) sinks your average pontoon experience. You can also knock innocent children over at the newly opened Waterloo floating water park, complete with obstacle courses, trampolines, and climbing walls.
Drop Anchor: Devil's Cove (or Hollow depending on who you ask) never fails to deliver a den of debauchery on the lake's northern shore. Check out the clothing-optional Hippie Hollow and set yourself free -- though you might want to bring along a pair of sexy, sketcher-esque wet shoes to pair with your naked body; it's incredibly rocky both on the way down to and at the so-called "beach" destination.
Lake Saint Clair
Michigan
With an average depth of 11 feet, LSC is ripe for boat parties and home to Jobbie Nooner, a water-based Mardi Gras that happens twice a year and boasts its fair share of booze, toplessness, and massive crowds.
Drop Anchor: Big Muscamoot Bay (N 42.55783 and W -82.66071) is your move for an R-rated anchorage with floating parties. Also, an S.S. Pizza Boat delivery service. After a day on the bay you should breach for free music at Lake St. Clair Metropark and a host of other activities, including attempting to beat Lake Cumberland's raft chain world record. Pro tip: buy the on-site Guinness judge a slice of floating pizza.
Lake Cumberland
Kentucky
Current holder of the Guinness World Records' largest boat tie-up title, this lake once floated a snaking line of 1,651 boats, aqua bikes, jet skis, canoes, kayaks, and inflatables -- proving once again that Kentucky doesn't disappoint when it comes to bourbon, thoroughbreds, and boating.
Drop Anchor: Harmon Creek Party Cove is the top action spot. It even says so on its Facebook page, where you'll find an image of a nun kayaking past a group of partying youth. If you're unable to float safely home after a day of witnessing these spectacles, knock out in a cabin at the swanky Lake Cumberland State Park Resort. They're pet friendly, so you can bring your best friend.
Lake Tahoe
California and Nevada
A party oasis for pretty much the entire western half of the US, hit Tahoe on any Summer weekend and you're sure to stumble across plenty of lake-house bonanzas and floating fiestas.
Drop Anchor: Hit up Zephyr Cove in South Lake Tahoe for its beachside bar, sand volleyball, and annual Hot Body Contest (sign your friends up and watch them flounder). The food at Zephyr Cove Restaurant ain't cheap if you're keen on a salmon entree, but if you want a decent burger, you need only a Hamilton.
Lake Minnetonka
Minnesota
This sublime watering hole with 125 miles of shoreline and 42 bays has seen plenty of action. Kim Kardashian paid a visit, as did Demi Lovato during the filming of her "Cool for the Summer" music video.
Drop Anchor: Big Island is your party play in the Land of 10,000 Lakes. It even has its own Twitter feed. You can bring a flotation device, but you can also practically walk from shore to shore via a Connect Four game's worth of tightly packed tubers. Our advice is to get a friend with a motor vehicle so you can escape the masses clustered near the shore and link up with a few friendly passer-boats.
Lake Norman
North Carolina
Before Lake Cumberland stole the top prize for stringing boats together, Norman was the reigning champ with its strategic "V"-shaped anchor formation. Rest assured, though, the party is still going strong, sans the migratory pattern.
Drop anchor: The Sandbar used to be the spot until a big, bad marine commission gave 'em the bump. Now the so-called "loud and profane" music has been moved to Pirate Island, where families with children happily great hundreds of boats and speaker systems from all over NC.
Lake Martin
Alabama
Don't let wet 'Bama bangs and incessant football cheers deter you from soaking in this 41,000-acre lake, a choice destination for the famously wild and massive boat party, Aquapalooza. In the day-to-day, you can spot an eagle's nest, bask on sandy beaches, or hit the camping grounds for a day-to-tomorrow.
Drop Anchor: Hit up Chimney Rock for some serious cliff-jumping and a redneck yacht club. If you don't take a moment to build your courage at the cliff's edge, you're not thinking clearly and should maybe reconsider.
Sign up here for our daily Thrillist email, and get your fix of the best in food/drink/fun.
Ruby Anderson wrote this piece to the rhythm of "Redneck Yacht Club."
Lauren Everitt is a contributing writer at Thrillist. Follow her on twitter @laureneveritt