Lake vacations were once about the blob, your Miller High Life-drinking uncle's legendary Buddha-belly flop, and the awkward muscle-shirt tan. Now, it's all "I'm On A Boat", bikinis, kegs, and debaucherous mayhem.
World-record boat tie-ups, yachts that cost six-figures, and double-decker party barges have turned the lake scene into one Summer-long Spring break. But before you pack the wakeboard and Confederate flag swim floaties, know that not every podunk pond is party central. No, some are wilder than others.
And these 10... well, they're the wildest America has to offer.
Recommended Video
The Most Overlooked Mediterranean Paradise in Europe
Lake Travis -- Texas
Drop Anchor: Devil's Cove (or Hollow depending on who you ask) never fails to deliver a den of debauchery on the lake's northern shore. Check out Hippie Hollow for an old-school nudie spot.
Lake Appeal: Everything is bigger in Texas and that extends to watercraft. Lake Travis sees your party boat and raises you a barge. Did we mention the water slide? This double-decker complete with an iPod stereo system and a propane barbecue pit (it is Texas after all) sinks your average pontoon experience. Although you'll need to bring your own generator for the margarita machine.
Lake of the Ozarks -- Missouri
Drop Anchor: Party Cove is, well, exactly that. Watch out for the "gauntlet", two parallel rows of boats that subject any new seafarers to water balloons, serious Super Soaker action, and a steady stream of insults.
Lake Appeal: This place is so party hardy that even The New York Times deemed it worthy of travel coverage alongside the Hamptons... awkward. From AquaPalooza to ridiculous yachts and lax laws on toplessness, it's a "vast, loud, wet, sexy, joyous, and furious revel", said the Times' "enterprising" reporter.
Lake Havasu -- Arizona
Drop Anchor: Don't miss the Bridgewater Channel. The half-mile stretch from London Bridge to Rotary Park is packed with booze, beer bongs, and a boat-side stripper pole, so you can imagine all the good wholesome fun.
Lake Appeal: Twice-featured on MTV's Spring break coverage and dubbed one of the trashiest places to spend the March holiday, Havasu is Sin City, South Padre, and Daytona Beach all rolled into one insane on-the-water smorgasbord.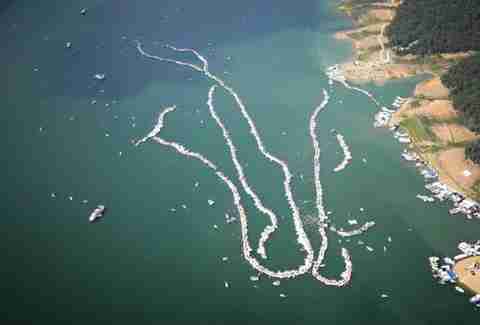 Lake Cumberland -- Kentucky
Drop Anchor: Harmon Creek Party Cove is the top action spot. It even has a Facebook page.
Lake Appeal: Current holder of the Guinness World Records' largest boat tie-up title, this lake floated a snaking line of 1,651 boats, aqua bikes, jet skis, canoes, kayaks, and inflatables -- proving once again that Kentucky doesn't disappoint when it comes to bourbon, thoroughbreds, or boating.
Lake Tahoe -- California and Nevada
Drop Anchor: Hit up Zephr Cove in South Lake Tahoe for its beachside bar, sand volleyball, and annual Hot Body Contest.
Lake Appeal: A party oasis for pretty much the entire western half of the US, hit Tahoe on any Summer weekend and you're sure to stumble across plenty of lake-house bonanzas and floating fiestas.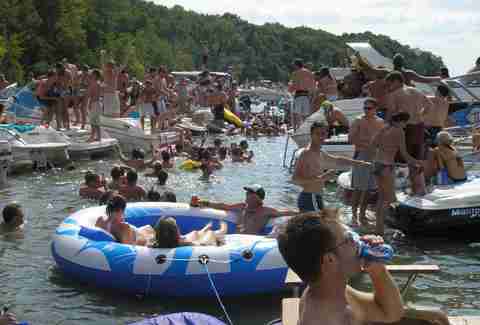 Lake Minnetonka -- Minnesota
Drop Anchor: Big Island is your party play in the Land of 10,000 Lakes, and even has its own Twitter feed.
Lake Appeal: The whole Kim Kardashian-Kris Humphries affair may have lasted about as long as her music career (yep, that happened), but it didn't stop the couple from dropping in on Lake Minnetonka. This sublime watering hole with 125 miles of shoreline and 42 bays has seen plenty of action, including the alleged sex-party scandal involving members of the Vikings football team a few years back.
Lake Saint Clair -- Michigan
Drop Anchor: Big Muscamoot Bay (N 42.55783 and W -82.66071) is your move for an R-rated anchorage with rancorous floating parties. Also, an S.S. Pizza Boat delivery service.
Lake Appeal: Ripe for boat parties with an average depth of 11ft, LSC is also home to Jobbie Nooner, a water-based Mardi Gras that happens twice a year and boasts its share of booze, bare breasts, and big crowds.
Lake Washington -- Washington
Drop Anchor: Don't miss the Seafair Logboom, where wayward captains attach whatever floating craft they can find to strategically placed logs. The result? A massive floating party and front-and-center seats to the hydroplane boat race and overhead air show.
Lake Appeal: The University of Washington's football stadium sits on the shores of LW, meaning you can expect some intense on-the-water tailgating action well into the Fall.
Lake Norman -- North Carolina
Drop Anchor: Don't miss the summertime Social Olympics, which includes your standard fare of drinking games and an awkward/kinky swimsuit swap.
Lake Appeal: Before Lake Cumberland stole the top prize for stringing boats together, Norman was the reigning champ with its strategic "V"-shaped anchor formation. Rest assured, though, the party is still going strong.
Lake Martin -- Alabama
Drop Anchor: Hit up Chimney Rock for some serious cliff-jumping and what one spectator deemed a "floating trailer park party."
Lake Appeal: Don't let wet 'Bama bangs and incessant football cheers deter you from soaking in this 41,000-acre lake, the destination of choice for Aquapalooza's signature 2009 event. Beware of the Alabama-Auburn rivalry though -- the lake scene has been known to produce a few football turncoats.
Sign up here for our daily Thrillist email, and get your fix of the best in food/drink/fun.