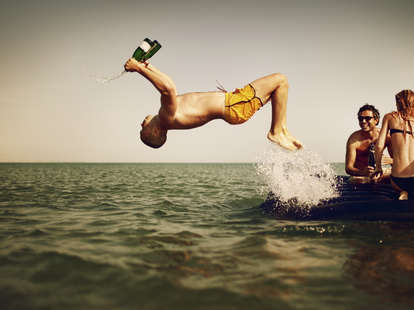 iStock
iStock
Islands are the ultimate escape. You've ditched the mainland, and unless you're an island townie (islandie?), in most cases, you're there to have a good time. Much like party lakes are all about bringing the fun to the water, on a party island, the entire landmass is your playground. But not all islands are created equal -- you'll know a party island when you see one. Which is why we've ranked the best ones in the US for your partying pleasure.
Key West, FL
You go to South Beach in Miami for high-end shops, beautiful people, and the famous scene. You go to Key West for none of these things. The island's overflowing with bars, and if you don't believe it, consider that an entire season of "The Real World" was filmed here. Suffice it to say, they won't be filming "The Real World: Provo" anytime soon.
As for Key West's scene, this is the easiest island on which to party in America. One main street, Duval Street, contains all the debauchery you really need. So whether you wanna drink where Hemingway whiled away his nights at Captain Tony's Saloon, or follow in the footsteps of a "Real World" schlub at Fat Tuesdays, no matter what you're looking for -- so long as it's booze -- you'll find what you want here.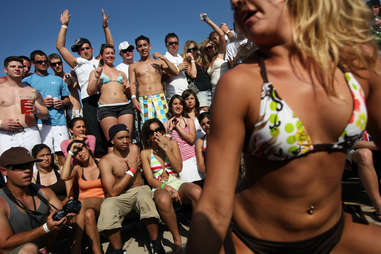 South Padre Island, TX
Sure, there are only six bars and four liquor stores on the island, but drinking is totally legal (so long as you are, too!) on the beach. If you've been here, there's a great chance it's because you came for Spring Break, but this Gulf island off the coast of Texas is known for all the charming, festive joy that comes with Spring Break: wet T-shirt contests, naked body painting, and mornings that smell of light beer and shame. Breathe it in.
Oahu, HI
Oahu is what happens when you challenge the gods of summer to create the perfect party island, and the gods reply, "Challenge accepted." The third-largest of Hawaii's islands and home to the main party beaches of Waikiki, this island was made for bikinis, alcohol served in coconuts, and bikini tops made of coconuts. Which is kind of like boobs served in coconuts.
You'll find most of the party action in Honolulu, and more specifically, in the aforementioned Waikiki. There, you'll find bars ranging from The Hideaway Bar, which has a nightly power hour featuring $1 domestics and wells, to Wai'olu Ocean View Lounge, where you can sip on the World's Best Mai Thai (their words, not ours). But either way you go, just know: Waikiki knows how to party.
South Bass Island, OH
When you think "party," you're probably not thinking "Ohio." Same goes for "island." Well, that's where you're wrong. Off the western side of the Buckeye State in Lake Erie, you'll find South Bass Island and its village of Put-in-Bay, or as it's affectionately known, "Key West of Lake Erie." Though only 150 people live on the island yearlong, in warmer months, the place explodes with bachelor and bachelorette parties, as well as nearby visitors just out for a great time.
Not sold? Well, how does the term "swim-up bar" appeal to you? The myriad golf carts zipping around the island will take you to and fro, including places where you simply sit in the pool all day, prune, and drink. Not necessarily in that order of importance.
Puerto Rico
Yeah, that's right America. The whole damned island. Puerto Rico is 100% American, and 100% island. No passport? No problem! Weather you're looking to soak up culture in Old San Juan, soak up rays in Fajardo, or soak up all the rum literally anywhere throughout the island, Puerto Rico kicks as much ass as any island in this great nation. And it excels at a bunch of other stuff, too.
Are you into the world's biggest, sexiest swimming party? Well, Noche de San Juan, held every June 24th, is the party for you. It's where thousands of people dunk their heads underwater seven times to honor St. John the Baptist. Oh, and then they return to the beach and keep partying for the rest of the night. NBD.
Fire Island, NY
Fire Island's the geographical equivalent of underlining Long Island on a map in response to someone asking, "Where do you party near Long Island?" Throughout the winter months, Fire Island hibernates. But in the same way a grizzly bear hibernates when it's cold. Come Memorial Day, revelers (including plenty of metaphorical bears) take to the sandy beaches for some of the most debaucherous, gay-friendly parties on the Eastern seaboard.
Miami Beach, FL
Perhaps you have heard of a place called South Beach, the sexiest neighborhood in America. Well, the island of Miami Beach (not the city of Miami proper) actually contains this absurd microcosm of wealth, vanity, and flaunting both. There's a reason LeBron James once talked of taking his talents to South Beach. It's because that's where the ballers ball -- or at least people pretending to be ballers ball -- not Coral Gables.
If going to insane pool parties isn't your idea of a good time, well, what the hell are you reading this list for? Then again, there are also strip clubs, regular ole clubs (and by regular ole, we mean some of the most absurd places on Earth), and more beautiful people than you can shake a magnum of Ace of Spades at. Actually, that last part's not really true. Plenty of people do it on a nightly basis. Mostly DJs.
Big Island, MN
What is the single most embarrassing play in Minnesota Vikings history? No, not when Brett Favre threw that ungodly INT against the Saints, or when Gary Anderson missed against the Falcons. No, that'd be the Love Boat, aka a sex scandal on Lake Minnetonka involving 17 Vikings, who allegedly flew in strippers from around the country to participate in a sex party.
NFL hijinks aside, Big Island's been known to bring in massive crowds aside from highly paid jocks. While you probably think Minnesota's some quaint state of 10,000 lakes, frozen half the year, Minnesotans just use the winter months to stock up on ice for their coolers. In fact, there's an entire YouTube channel dedicated to Zapruder-quality footage of people drinking about the Big Island. That speaks for itself.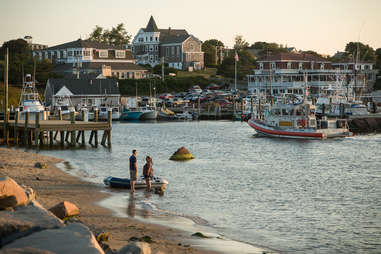 Block Island, RI
Though not quite the "rage" scene that is Key West or even, apparently, islands in Ohio, Block Island still packs enough of a nightlife punch to please partiers. It differentiates itself from other summering islands on the East Coast with its laid-back vibe, but it's not exactly a sleepy archipelago. It just lacks the stuffiness you'll find in a place like Martha's Vineyard. Plus, it's got more beaches than you can shake a magnum of Ace of Spades at. Crap. That joke doesn't work here.
The best times on Block Island often coincide with hanging at Captain Nick's, Ballard's and McGovern's Yellow Kittens. Yes, this is actually the name of a bar, and has nothing to do with a the pet of a failed presidential nominee. Fortunately, most of the bars you'll want to bop around are all located within a 15-min walk of one another, so you can do the Block Island shuffle with ease. That's not actually a thing, but it totally should be.
Party Cove, MO
OK so, strictly speaking, it's not an island, but this is a list about where to party on lands near water. Plus, what's a cove, anyway? By day, this spot goes by Anderson Hollow Cove, tucked in Lake of the Ozarks. But by, well, also by day, it's better known as Party Cove, which the New York Times called the "oldest established permanent floating bacchanal in the country," way back in 2005.

During the summer, this mile-long cove is swarmed by as many as 3,000 boats, all toting a load of bikini-clad babes on the arms of bros, their coolers filled with beers and their hearts filled with bad intentions. Good to know: the Cove has been featured on Playboy TV and Sexcetera, if that paints any sort of helpful picture. If it doesn't, here's a video that's as informative as it is artful.