A lot of what makes a neighborhood noteworthy has to do with the people who live there -- be they hipsters, yuppies, or the sexiest people on Earth. But as much as these interesting citizens influence their environments, some parts of town stand on their own as more aesthetically pleasing, more architecturally interesting, and more drop-dead-gorgeous than the rest of the city.
To that end, we've combed our great nation from coast to coast and ranked 10 'hoods whose curbside appeal is undeniable. From East Coast historic districts to West Coast sea cliffs, these are the most beautiful neighborhoods in America.
Recommended Video
This Massive Swing Drops You 196 Feet Into a Canyon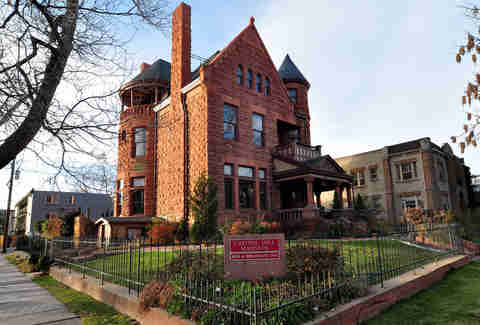 10. Capitol Hill
Denver, CO
Following the construction of the State Capitol Building in the 1870s, many of Denver's wealthiest citizens decided to set up an opulent enclave of mansions in the surrounding neighborhood, building their own "Millionaire's Row". Many of these towering homes were demolished during the Great Depression, but houses like the Fleming-Hanington House and Alfred Butters House still remain -- others, like the Capitol Hill Mansion Bed & Breakfast and the Molly Brown House Museum, have found second lives in the years that followed.
A more recent section of the neighborhood, nicknamed "Poet's Row," features a slew of Art Deco-styled apartment houses that bear the names of famous literary figures, from Mark Twain to Emily Dickinson. Built for the middle class following World War II, these apartments are (unsurprisingly) popular among the city's younger, bohemian crowd.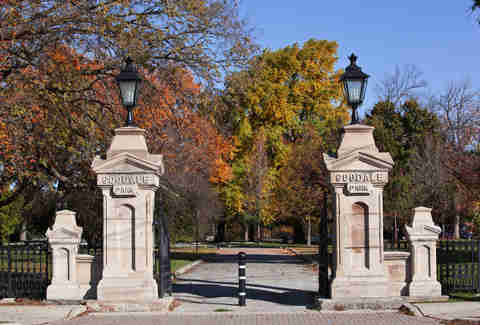 9. Victorian Village
Columbus, OH
With their eclectic mix of architectural styles, ranging from Second Empire and Italianate to Gothic Revival and Queen Anne, the houses that line Victorian Village's streets are anything but cookie-cutter. Standouts like the Sells Mansion, with its Richardsonian Romanesque styling and intricate, Moorish detail work, add further bursts of character to the neighborhood, while the iconic Goodale Park to the south -- donated in 1851 by the first doctor to live in Columbus -- serves as a lush, green anchor to the entire neighborhood.
8. Savannah Historic District
Savannah, GA
As the oldest city in Georgia, it's only fitting that Savannah contains one of the largest historic districts in the nation, spanning from Gwinnett Street to the Savannah River. This landmark 'hood was designed around a grid of 22 individual park squares and has half of Forsyth Park falling within its boundaries, making live oaks decked with Spanish Moss an integral part of the area's allure. The buildings themselves are nothing to sneeze at either (after all, moss and pollen might make you sneeze), sporting a melange of architectural styles from Gothic to Regency, as well as exquisite ornamental ironwork. 
7. Hyde Park
Chicago, IL
The Hyde Park area served as a setting for the 1893 World's Columbian Exposition, and following the event's staggering success, this formerly quaint neighborhood became a prized locale for development. Many of the luxury hotels constructed along the lakefront still stand, although they've since been turned into apartment buildings and condos. Hyde Park's also home to Frank Lloyd Wright's iconic Robie House, probably the finest example of Prairie School architecture in existence. 
Most of the original buildings constructed for the 1893 Exposition were destroyed over the years, and the enormous Palace of Fine Arts (now The Museum of Science and Industry) is actually the only remaining structure from the White City. You can, however, still visit the Wooded Island in Jackson Park -- designed for the Exposition by Frederick Law Olmsted, it was reconstructed after being vandalized during World War II.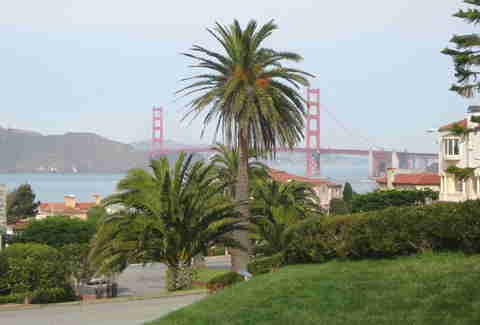 6. Sea Cliff
San Francisco, CA
You might've expected to see the Painted Ladies of Haight-Ashbury here, but beyond those multicolored Victorian houses, there isn't a whole lot of "beauty" to be had in the Haight -- unless you find head shops, hippies, and tourists particularly beautiful. If that's the case, well, stop reading this list and get your eyes checked and your head examined.
Sea Cliff, by comparison, offers incredible views of the Golden Gate and the bay, crammed with striking, million-dollar homes owned by the likes of Sharon Stone, Metallica's Kirk Hammett, and the late Robin Williams.
This pretty, scenic district is private, too: it's essentially off-limits to tour buses and vans, forcing tourists and gawkers to drive themselves (or hoof it) if they wanna see how much house Kirk got for his Master of Puppets money. Answer: it's a lot.
5. Garden District
New Orleans, LA
NOLA's Garden District gets its name from the original design of the neighborhood, with each of its blocks holding only a few houses to allow for large gardens to surround each home. As time went on, and the amount of green space per block was reduced by new construction, the Garden District's opulent Southern architecture increasingly became the star of the show. Featuring intricate wrought-iron façades and fences, the district's large homes and mansions are a marked departure from the atmosphere of the French Quarter -- think fewer beads and revelry, and more buttoned-up dress and charm.
4. College Hill
Providence, RI
The College Hill section of Providence is a living timeline of architectural motifs: from the 18th century Georgian-style Old State House, to the 19th century Greek Revival Providence Athenaeum library, to the modern, boxy design of Brown University's Granoff Center for Creative Arts. It sounds like a lot, because it is. But that's a good thing.
And then there's Thomas Street, a tiny avenue dominated on one side by four colorful, historic structures that collectively house the Providence Art Club, and on the other by the creepy-yet-gorgeous First Baptist Church in America -- so named because it is literally the oldest Baptist church congregation in the country. It's no wonder H.P. Lovecraft was obsessed with this place.
3. Bungalow Heaven
Pasadena, CA
In case the name wasn't a dead giveaway, this 16-block Pasadena neighborhood contains approximately 800 bungalows and exemplifies the early 20th century's Arts & Crafts architectural movement. This style reverberates not only in the area's grand, timeless houses, but in the unified, verdant atmosphere of the neighborhood itself, with shade blanketing its streets thanks to the trees that line them, and immaculately manicured lawns throughout.
2. Central Park West Historic District
New York, NY
New York's Upper West Side isn't a bastion of all that's cool in the Big Apple, but when you've got the kind of money to own real estate here, well, you don't have to care what other people find "cool." Old money is its own kinda cool.
This chunk of Manhattan's UWS is packed to the gills with landmarks, including some of the earliest apartment buildings in the city -- from the neoclassicist towers of the San Remo to the German Renaissance gables of the Dakota. Then there's the imposing and prestigious American Museum of Natural History; founded by Teddy Roosevelt, it's essentially what smaller museums dream of being when they grow up. Finally, if architectural pedigree and cultural education aren't enough (seriously, tough crowd...), consider that the entire neighborhood is bordered on its east side by Central-freaking-Park, the most famous public park in the country. If this doesn't do it for you, nothing will.
1. Beacon Hill
Boston, MA
Between the red brick sidewalks, the classic Georgian architecture, and the gaslights casting their amber glow down the narrow streets, this gorgeous colonial 'hood stands out from the rest of Beantown like a... well, like the most beautiful neighborhood in America. The row houses on Beacon Street overlook the fields of Boston Common (the oldest park in the country), and the whole neighborhood is equally beautiful in winter and summer. Hell, even the birdhouses are beautiful! 
Beacon Hill's filled with little streets and avenues that lend the area a distinctly European atmosphere, and striding down the mossy cobblestones of Acorn Street feels like traveling back in time to the founding of the nation -- until you see someone taking a selfie with an iPad. And in that case, well, you can't totally hate; iPads are so convenient.
Sign up here for our daily Thrillist email, and get your fix of the best in food/drink/fun.
Gianni Jaccoma is an editorial assistant for Thrillist Travel, and and is fluent in more than seven languages that he made up himself. Follow him on Twitter at @gjaccoma.