We've all been there: sitting on a suitcase, exhausted from trying to compress a trip's worth of gear down to carry-on size, and realizing dejectedly that it's not going to happen. Or maybe you're one of those people who have neither the time nor the patience to cram everything into a carry-on and would rather say, "Screw it, I'll just check the bag."
In either scenario, you've had to eat that checked-bag fee -- a $25 expense on most US airlines nowadays. For most travelers, handing over $25 or $20 here and there won't make or break a trip. But for US airlines, those checked-bag fees have added up over the years to one huge source of revenue.
We ran the numbers, in fact, and noticed a surprising fact. Since 2007, when the US Department of Transportation began tracking this statistic, to the first quarter of 2016, all US airlines combined have collected a total of $26.2 billion in checked-bag fees -- rivaling the $27.8 billion worth of Delta Air Lines, the most valuable airline in the country.
Every year since 2007, US airlines have collected more in baggage fees in the second quarter of the year than in the first quarter, which this year brought in $974.5 million. Factor in second-quarter bag fees, plus the tail end of the summer travel season, and we're willing to put our money on this outcome: by now, US airlines cumulatively have collected enough in baggage fees to buy any airline in the United States, in straight cash money.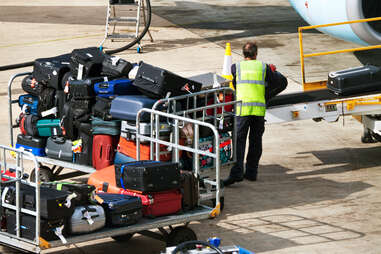 These fees are a continuing bonanza for airlines
What does the success of bag fees mean for you, the nickel-and-dimed air traveler? It means there's not a lot you can do to avoid them, aside from packing light or booking Southwest.
Many US airlines started charging checked-bag fees in 2007 and 2008, under the auspices of covering high fuel costs. American Airlines was the first legacy carrier to start with a $15 fee for the first bag, according to Anne McDermott at FareCompare.com. Other major competitors soon followed suit. As years passed, fees rose. In July 2015 JetBlue, one of the last remaining holdouts, started charging for checked bags unless you bought a premium fare. Southwest, for its part, still allows passengers two free checked bags. (Hey, there's a reason its stock ticker is LUV.)
Last year alone airlines collected $3.8 billion in baggage fees, nearly equal to the city budget of Phoenix.
In every year since 2010, US airlines have collectively raked in more than $3.3 billion in baggage fees. Last year alone airlines collected $3.8 billion in baggage fees, nearly equal to the city budget of Phoenix. Talk about a chunk of change for the likes of American, Delta, and United.
Naturally, those big fat numbers have caught the attention of lawmakers. Two US senators -- Richard Blumenthal (D-Conn.) and Edward J. Markey (D-Mass.) -- wrote a letter to 12 airlines in May, calling for a summer reduction in bag fees to ease abysmal, Samsonite-choked TSA lines. "A recent investigation by the minority staff of the U.S. Senate Commerce, Science and Transportation Committee found that three airlines increased checked baggage fees by 67 percent between 2009 and 2014," they wrote.
The airlines responded by playing a very tiny air violin. The industry group Airlines for America replied with a statement that read, in part: "Not only does the data not support a causal relationship between recent lines and baggage fees, it would be illegal for airlines to jointly agree on any pricing policy, including bag fees." Or, in short: you got a problem with how we run our business? Write new regs or STFU.
Bag fees are here to stay
Believe it or not, aside from the $3.8 billion sucking sound at the luggage carousel, this is a fairly cheap time to get on a plane. Airfares are the cheapest in seven years -- and only expected to drop as we get into autumn. Those fares account for about 75% of airlines' revenue. The other 25% relies largely on "transport-related" incidentals (including in-flight purchases of food, booze, pillows, etc.), reservation change fees, and -- you guessed it -- baggage fees. For publicly traded airlines, that's a huge slab of change they'd have to justify forfeiting for shareholders.
Where does that leave flyers? Vox contributor Joseph Stromberg argues that we should be charged for all bags -- carry-on and checked -- by weight. Bloomberg View columnist Megan McArdle, on the other hand, says that policy would be too much of a pain to enforce. So until someone comes up with a better idea, it looks like budget-conscious flyers will be carrying on as much as possible. And airlines will be pocketing the profits when we shrug and decide $25 is worth not having to schlep a roller bag through that hurried transfer at Hartsfield-Jackson.
Sign up here for our daily Thrillist email, and get your fix of the best in food/drink/fun.
Hannah Bae is a freelance journalist based in Brooklyn. She has worked for organizations such as CNNMoney,
Newsday
, and the US Embassy in Seoul, South Korea. Follow her on Twitter @hanbae, and check out her Korean food project @oelsbaeseasoning on Instagram.