Hipsters are always telling you about something before it's cool, like drinking uncomfortably hoppy beer, or eating Spam, or which neighborhoods are about to get popular. But for whatever reason (you can't ride a fixed speed all the way to Reno?), you never really hear them talk about hot new vacation destinations.
Which is why, since we are always curious about emerging travel spots, we decided to step in for them and channel our inner trendsetter. After talking to the folks at Orbitz.com and airfare-monitoring app Hopper, researching cities with the most new hotel construction, and polling travel experts around the country, we identified eight trending destinations that are poised to be major vacationing hotspots in the next few years.
Boulder, CO
Pot tourism. It's a thing now. Like a full-blown, basing-our-vacations-around-getting-high thing that thousands of Americans are doing. And while Colorado is no stranger to tourism, most of it has been built around mountain sports in places like Vail, Aspen, and Breckenridge. Or city life in Denver. But Boulder? Boulder is a quintessential college town, complete with all the arts, live music, and previously illegal weed built in. It's also home to America's first Paleo restaurant and has an emerging restaurant scene full of places with delicious Neolithic food, as well.
Albuquerque, NM
POT tourism? Psh... what do you know about METH tourism? Not real meth, of course; the fake, baby-blue kind that Walter White cooked up, which has helped spawn a whole tourism industry around Breaking Bad. One show does not a vacation destination make, but in the past year Hopper found a 64% increase in demand for flights to Albuquerque -- and that wasn't all Bugs Bunny trying to correct his wrong turn. The ABQ is also a gateway to hot ski destinations like Ruidoso (another spot to absolutely keep on your radar), and with Phoenix continuing to sprawl into oblivion, Albuquerque is poised to become the next big Southwest destination.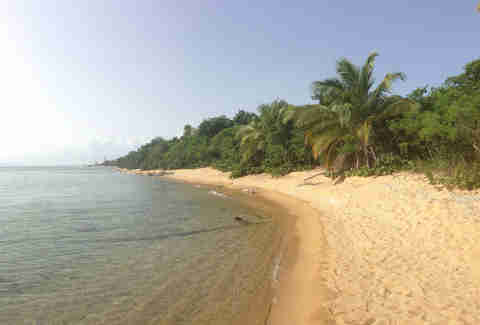 Vieques Island, Puerto Rico
Luis Munoz Marin Airport in San Juan saw almost a 20% increase in demand last year. And since the magic and history of Old San Juan is old news, and Culebra is still mostly an underrated trip for Caribbean locals, that leaves... the beautiful island of Vieques. What was a US Naval bombing range until a few years ago has become the most pristine US destination in the Caribbean. So much so, that the W Hotel set up shop there; which then, of course, led to an influx of boutique hotels all around it. It hasn't quite had time to develop into a Caribbean mega-destination just yet, but thanks to its proximity to the US -- and the fact that we can get there without a passport -- its time is near.
St. Petersburg, FL
When you talk about the best beaches in Florida, names like Siesta Key, Clearwater, and Longboat Key always come up. And what major city is the closest to all three of those? St. Petersburg, the longtime-sleepy neighbor just west of Tampa that's home to the Dali Museum AND the Devil Rays. The Downtown's undergone a major resurgence over the last decade and boasts an entire city block of bars that surround Jannus Live, one of the city's top live-music venues. It's also home to not one, but TWO new breweries, and a new Downtown pier set to host major music festivals. Oh, and about those beaches: St. Pete Beach might be the most underrated on the Gulf Coast, and the one at Ft. De Soto is the most scenic place in Florida.
Houston, TX
Right now, you are pointing to your screen and yelling: "There is ABSOLUTELY no reason to go to Houston. Ever." And we might tend to agree with you. But you know who doesn't? Travel experts. Orbitz.com found a 60% increase in flight and hotel bookings in Houston over the past five years. And which city had the second-most hotel rooms built in 2015 after New York City? No, not Miami, Not Las Vegas. Freaking Houston.
Yes, yes, we get that a lot of that travel is for conventions, conferences, and business, but as Orbitz.com's senior editor Jeanenne Tornatore puts it: "Houston has shown that low gas prices can drive regional tourism and attract travelers hoping to cut costs." So, admittedly, it may be the towns on the Texas coast that are the true up-and-comers, but at least Houston is cool enough to get its own Thrillist edition.
Reno, NV
When we say "Reno" do you picture bumbling cops in tiny shorts or giant piles of dirt? Both are accurate, but both probably mean you haven't been to the biggest little city in the world since that time you overshot Tahoe. While Reno's behind probably only Detroit as a punchline to jokes about awful places, the town has gotten a lot less awful as of late.
Sure, it still maintains its landmark strip of casinos, but the city is also now home to a slew of new breweries including The Depot (which also houses a new distillery) and the Reno Brewing Company, which set up shop in an abandoned glass factory (no, that's not code for a meth lab). American travelers are catching on, as Reno saw the seventh-highest increase in demand for flights in 2015. And it was the only cold-weather city to crack the top 10.
Outer Banks, NC
When Forbes looked at the fastest-growing cities in America a couple of years ago, one state had TWO in the top five: North Carolina. And all those people moving to Raleigh and Charlotte need somewhere to go on weekends and vacations. That place is turning out to be the Outer Banks, a region that's seen an increase of over 12 million annual hotel guests since 2011. While Carolinians have known about the beaches, great fishing, and quaint historic places like Nags Head, Hatteras, and Kitty Hawk for generations, the place will only become more crowded as new transplants flock to the Tar Heel State.
Mesa, AZ
The only way you'd guess Mesa was one of America's top new vacation destinations is if you're a Cubs fan delusional enough to think your team has a chance and that everyone's going to Cubbies spring training. But, indeed, Mesa is on the list: hotel bookings and transportation demand increased 70% over the past five years, according to Orbitz.com. It's a cheaper, less crowded desert getaway than other Phoenix neighbors Scottsdale and Tempe, but still close enough to all the action to take advantage of the golf, mountains, and outdoor recreation in the Valley of the Sun.
Sign up here for our daily Thrillist email, and get your fix of the best in food/drink/fun.
Matt Meltzer is a staff writer for Thrillist who lives in South Florida and remembers the days of Oxy tourism. Follow him on Instagram" @meltrez1.