Chattanooga, Tennessee

| Rob Hainer/Shutterstock (Edited)
Chattanooga, Tennessee

| Rob Hainer/Shutterstock (Edited)
8 American Cities You Should Visit Before They're Too Popular
Usually you can rely on hipster millennials to tell you what's gonna be cool before it's cool. Like, drinking uncomfortably hoppy beer, or eating Spam, or which neighborhood will be the next hip neighborhood. But for whatever reason, you rarely hear talk of the next up-and-coming travel destination (except, like, Mexico City. "I was going to Mexico City waaay before everyone else was going to Mexico City.")
Channeling my inner cool kid, I went searching for under-the-radar cities across the US that are poised to become the new Nashvilles and Portlands -- polling travel experts around the country and looking at data trends like increased hotel construction and tourism infrastructure. And, you know, cities with the cool, calm, collected demeanor of someone who knows something you don't yet. Here are eight cities you should go visit before they get too popular.
Houston, Texas
Right now, you are pointing to your screen and yelling: "There is ABSOLUTELY no reason to go to Houston. Ever." But do you know what US city built more hotel rooms in 2015 than any other city, after New York? Not Orlando. Not Las Vegas. Freaking Houston. Yes, much of that was because they hosted the Super Bowl this year, but a city doesn't add two new 1,000-room hotels in a year just for a one-week celebration.
Turns out H-Town is good for something other than business conventions and sprawl: The city just finished a full restoration of Emancipation Park and turned the area around the convention center, dubbed Avenida Houston, into the largest new shopping and dining destination in the country -- and the food scene here is nothing to sneer at. Houston's built three new sports stadiums in the past decade, expanded its already-renowned museum district, and in anticipation of all the hype, put $150 million in upgrades at Hobby Airport.
Chattanooga, Tennessee
Chattanooga is the kind of place Austin or Nashville was before the entire world decided to move there. It's the only city to receive the revered "Best Town Ever" award from Outdoors Online, twice. Maybe something to do with all the biking and hiking and whitewater rafting and affordable real estate prices.
But even if you aren't moving there, it's one of the most underrated cities to spend a weekend, a clear alternative if you want to escape the elbow-to-elbow bachelorette parties of Nashville while still catching great live music in a much-more-than-adequate entertainment district. The new Chattanooga Choo Choo complex has a 500-seat music venue, guitar museum, and a comedy club joining the already-popular Track 29 venue on Station St, making for a walkable civic center full of restaurants, bars, and public event spaces. Plus, Chattanooga will open three new hotels this year and host the Ironman 70.3 World Championship in September.
Minneapolis-St. Paul, Minnesota
It frequently tops lists of best places to live in the States, but when you want to get away for a weekend, Minneapolis and St. Paul probably aren't top of mind. That's about to change: Just outside the Twin Cities sit more than 50 hiking trailheads, most notably in Interstate State Park and along the Superior Hiking Trail. In under an hour you can paddle on the mighty Mississippi, or the Rum, Root, and Cannon Rivers. Though Prince is gone, Paisley Park lives on, and the Graceland of Minnesota is already seeing mass pilgrimages from fans. And with 1,000 new hotel rooms to accommodate them, the secret will soon be out that the Twin Cities are actually pretty sweet.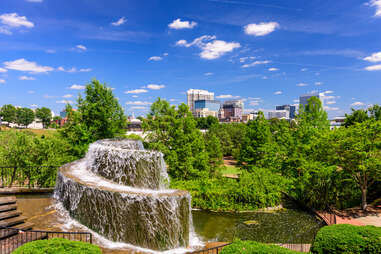 Columbia, South Carolina
Here's one: There may be no better city from which to view the total solar eclipse this August 21 than Columbia. But that's not the only thing SC's capital has going for it. First off, Tim Tebow's playing baseball with the Fireflies this season, a novelty we should all catch while we can, and the spanking-new Spirit Communications Park isn't a bad place to watch. The Vista is a rehabbed warehouse district that's welcoming Columbia's first Aloft hotel this year -- it's also home to restaurants Motor Supply Co. and Cola's, housed in a former Engine Supply shop and RC Plant, respectively. Add in a fashion week, a rosé festival, the multitudes of USC bars at college-friendly prices, and all that old Southern architecture and charm that people go ga-ga for in Charleston, and you've got a city on the rise.
Vieques Island, Puerto Rico
What was a US Naval bombing range until just a few years ago has since become the most pristine US destination in the Caribbean. So much so that the W Hotel set up shop there; which then, of course, led to an influx of boutique hotels all around it. The W then casually added a two-level infinity pool with an underwater sound system -- which may be worth the trip alone. But it's also home to Mosquito Bay, one of the few bioluminescent bays where visitors can kayak through the glowing water at night. Vieques hasn't quite had time to develop into a Caribbean mega-destination just yet, but thanks to its proximity to the US -- and the fact that we can get there without a passport -- its time is drawing near.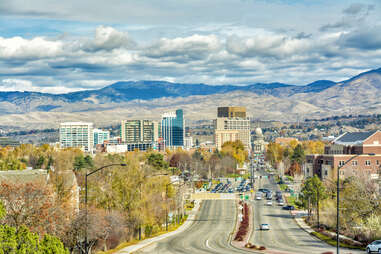 Boise, Idaho
If you want to see Seattle, Portland, or Denver before $14-a-drink bars discovered them, check out Boise. The creative center of Idaho is filling the beer-and-outdoors gaps these cities left when they fell to the mass popularity. Firstly, it boasts 190 miles of single-track trails that start practically in the middle of Downtown and a 30-mile Greenbelt trail that traverses the city. Second, Boise opens brewpubs like Florida builds condos, with four new ones planned for this year, including Bozeman's White Dog. The X-Games will be hosting a qualifier at the city's spanking-new skate park, and Bogus Basin just pumped $4 million into summer-activity improvements. Combine all of this with the walkability and affordability bigger cities lack, and you've got a strong case for Boise as "the new Portland."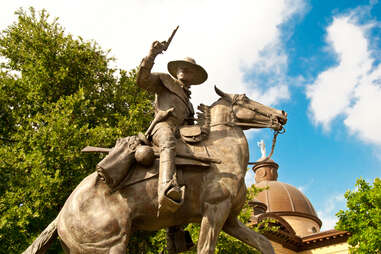 San Marcos, Texas
Last year, an esteemed panel of well-traveled sommeliers declared the Texas Hill Country one of the best wine regions to visit in America. And what city sits smack in the middle of a region with more than 46 wineries between Austin and New Braunfels? San Marcos, a cool hippie enclave and home to Texas State University. Now that tourists and traffic have ruined Austin forever (just kidding ATX, we love you even when you're bloated), many of the old-school Texans who kept it weird have flocked south to this laid-back, artsy alternative that's been pretty much the same since the '60s. And nothing says "vacation" like lying on your back with a beer and floating down a river in the sun, an activity you can pursue on both the San Marcos and Guadalupe Rivers. And San Marcos has all the makings of a great wine-and-adventure region, with breathtaking scenery and proximity to nearly all the large Texas cities.
Charlotte, North Carolina
Outside the big three and Houston, no city in America is building more hotel rooms in 2017 than Charlotte. The city added 3,363 new rooms in 2017, and anticipates an additional 8,000 by 2020. Kimpton is bringing its brand of chic luxury accommodations here with two new properties -- one in Dilworth/South End and the other in Charlotte City Center. The culinary landscape is slowly but surely drawing big names, like Charleston's Steve Palmer and his new Oak Steakhouse. Or just outside town in Lake Norman, Kindred was named one of 2016's best new restaurants. Charlotte is also home to the National Whitewater Center -- sort of a natural theme park where you can whitewater raft, hike, rock climb, and mountain bike right next to the Catawba River. And it's also built the closest thing to a Major League Baseball park in Minor League Baseball at Downtown's BB&T Ballpark.
Sign up here for our daily Thrillist email and subscribe here for our YouTube channel to get your fix of the best in food/drink/fun.
Matt Meltzer is a staff writer for Thrillist who lives in South Florida and remembers the days of Oxy tourism. Follow him on Instagram" @meltrez1.