Americans have the most sex in the world, but Australians last longer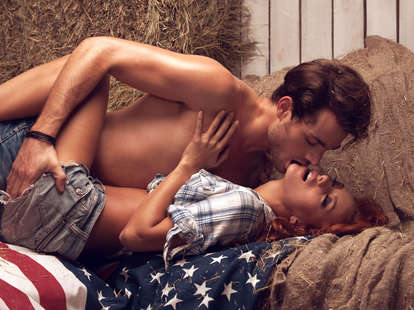 Not only do Australians make pizza better than Italians, they make whoopee longer than most other countries, too, holding out on average for 4 minutes and 3 seconds according to sex tracking app Spreadsheets. The app collected data from 13,000 users in 133 countries, to record the average staying power of the 10 most sexually active nations in the world.
Slightly behind the Aussies, American men last approximately 3 minutes 45 seconds on average, but here's their consolation prize: The United States is getting laid the most, ranking No. 1 in frequency in the survey.
As for the fellas coming up shortest, Chinese men last just 2 minutes 40 seconds, though China ranks second in having sex most frequently. And despite its reputation, Italy, which doesn't even offer the best post-coital pizza, lasts a mere 2 minutes 50 seconds. The French only get three more seconds of action, while those smooth-talking Brits don't have much to brag about either, lasting just 2 minutes 56 seconds. Check out the infographic below, in full screen, to see how the rest of the world's most rampant nations perform: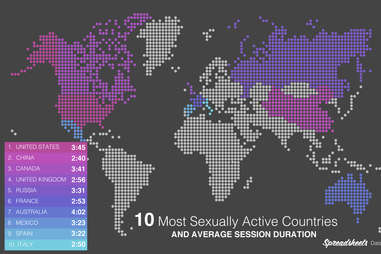 Chloe Pantazi is an editorial assistant on Thrillist's travel team. She's considering a move to Australia... you know, for the pizza. Follow her on Twitter at @ChloePantazi.