America's best nude beaches
Because those stodgy, only-semi-nude beaches are for total squares and the Amish, we've scoured the nation in search of the best places to drop trou and finally give your manhood the much needed attention -- and tan -- it's always... deserved? From being buff in the bluffs of Torrey Pines to spotting some high-beams at Lighthouse Beach, these are the top seven nude beaches in the US.
Baker Beach, San Francisco, CA

Located on the shores of the Pacific Ocean about a half-mile from San Fran's iconic Golden Gate Bridge, Baker Beach was part of the Presidio military base before being given to the National Park Service. Clothing is optional, so expect to see nude sunbathers being totally cool with their bodies whilst silently judging yours.
Perks: You'll get spectacular views of the Golden Gate Bridge.
Pits: The waters are extremely sharky, so you'd be wise to keep your minnow on land.
Black's Beach, San Diego, CA

A popular beach for both surfers and pervy dolphins, and situated off of the gigantic underwater Scripps Canyon, Black's Beach is tough to access with only four entry routes. But with the risk comes reward: the uncrowded beach and opportunity to wear your "surf naked" t-shirt at a place where people'll take heed.
Perks: Uncrowded waves, San Diego babes.
Pits: Landslides are known to occur here, so climbing up a cliff to get a better vantage point will not be to your advantage.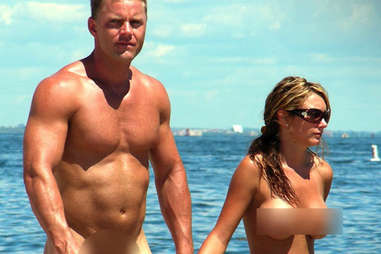 Gunnison Beach, Middletown, NJ

Originally intended to house a fortification that'd serve to protect New York Harbor, Gunnison Beach now serves to protect fornication from prudish ideal harboring New Yorkers. Funny how things change... the beach is located in New Jersey, making this stretch of sand the least offensive thing to come out of the Garden State since Anne Hathaway.
Perks: Expect to see a lot of implants and plastic surgery around intimate areas...
Pits: ... on dudes.
Haulover Beach, Bal Harbour, FL

Part of a 99-acre city park in Miami, Haulover juts out on a shoal between the Atlantic Ocean and Biscayne Bay, and in 2009, held a trial for the world record in skinny-dipping, which really just looked like the nudist version of Normandy... except without all the violence and more breasts. The beach was sanctioned as "clothing-optional" in 1991 by a local naturist organization, and to this day has been going strong on tanning your schlong.
Perks: Miami's beaches are loaded with beautiful and exotic women.
Pits: You're in Miami, and lest you forget, a guy ate someone's face there one time.
Lighthouse Beach, Islip, NY

Part of the Fire Island National Seashore, Lighthouse Beach has long offered New Yorkers a chance to get away from it all (including clothing), as reports of folks rowing out and dropping trou surfaced as early as WWII. To this day, it's Long Island's most famous clothing tops-optional area.
Perks: You can totally catch a Counting Crows show at nearby Jones Beach before catching the train back to Manhattan.
Pits: Lighthouse visitors had the middle section of the beach -- which contains said lighthouse -- made clothing-required in the 90s. Lighthouse tourists are uptight prudes!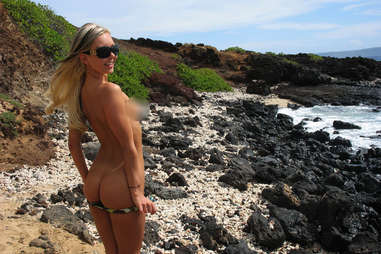 Little Beach, Maui, HI

Hundreds of folks flock to this beach daily and shed their clothes/inhibitions, but it also has top-notch waves and scenery that might make you forget you're surrounded by nudists having their nethers kissed by the warm Hawaiian sun. Also, adult film star Aaliyah Love (pictured above) once visited!
Perks: There's a solid chance you see a naked person riding a surfboard (a.k.a., "hanging eleven").
Pits: Falling face first on volcanic rock hurts.
UFO Beach, South Padre, TX

OK, so South Padre doesn't have any official nude beaches, but they also don't seem to have much of a problem with showing a little skin. Head about 10-12mi north of Beach Access 6 and you'll hit a stretch of self-proclaimed "clothing optional" sand the locals call UFO, demarcated by an emergency evacuation pod that washed up on-shore. Head anywhere during Spring Break and you'll hit a gaggle of self-proclaimed Psychology Majors doing things that might cause you to have an emergency evacuation of your own. Bazing!
Perks: Everything's bigger in Texas.
Pits: You're not from Texas.