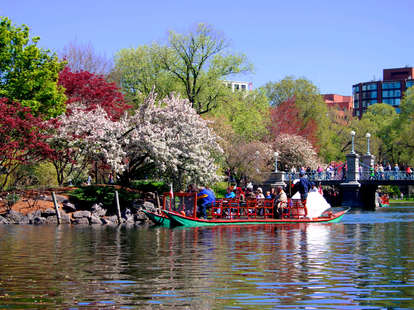 Before you started working, you looked forward to spring for one reason: spring break. Then you got to the real world and, among other horrible realizations, discovered the months of March, April, and May didn't come with an automatic trip to the beach. Subsequently, you realized you had to find other reasons to get excited about the spring, like not having to wear a coat or the return of that thing called the sun. Or, best of all, the chance to soak in said warm-spring-sun coatless in one of those expansive green spaces we humans call parks.
So with that in mind, here are the 15 best city, state, and national parks across America that come alive during the first full season of the year.
Washington Park Arboretum
Seattle, WA
In Seattle, the first sunny day of spring also somehow unleashes a rash of "food poisoning," and many residents choose to nurse their illness in the Washington Park Arboretum, a 230-acre swath that sits between Lake Washington and Downtown Seattle. It's home to some of the most diverse plant life in America, where wetlands give way to woodlands, and oak trees stand next to Japanese maples, rhododendrons, magnolias, and cacti. The crown jewel of the park is the Japanese garden, the largest of its kind outside Japan, that bursts with cherry blossoms.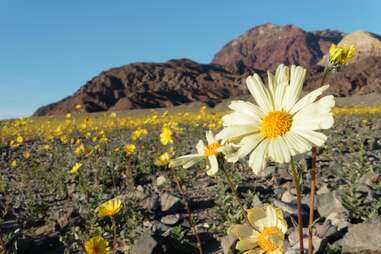 Death Valley National Park
Death Valley, CA
Typically the moniker given to this expanse of desert in Southern California is accurate; you'd be hard-pressed to find signs of life much past scorpions and stranded motorists. But thanks to El Niño, the heavy rains have made this park shine in 2016, with fields of wildflowers spanning the usually dead-looking rocks. That's not to say the desertscapes here aren't as extra-terrestrially impressive as they always are. It's just to say that this spring might be the only season where you get to see it filled with flowers, and the tolerable March weather doesn't hurt either.
Encanto Park
Phoenix, AZ
If you're on a family vacation to Arizona and your kids have already irritated everyone at the hotel pool, head to Encanto Park. This 222-acre urban green space is one of the best city parks in America, and boasts its own amusement park at Enchanted Island. Here, in the tolerable spring months, the kids can enjoy nine rides and stuff their faces with cotton candy while you soak in the sunshine and dry, mid-80-degree temperatures. You can also catch fish in the middle of a desert at the park's man-made lagoon or play a couple rounds of golf on one of two public courses.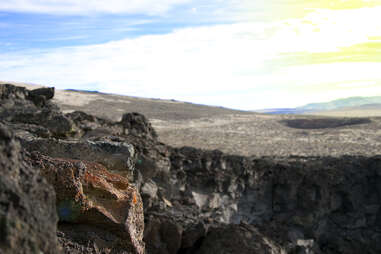 Crater of Diamonds State Park
Murfreesboro, AR
Spring is the season of love, right? And what is more romantic than taking your special lady friend to the middle of a volcanic field, getting down on one knee, and spending the rest of the day digging for a diamond? Make every girl's fantasy come true in this Arkansas crater that's also a diamond mine; the park explains here the complex geologic history behind all of it. Turns out, diamond mining in Arkansas is an activity best done during the mild months of spring, even if you're not planning for your big day. Just be careful not to get too excited when you find a bright-white rock -- the field is also full of amethyst, garnet, jasper, agate, and quartz.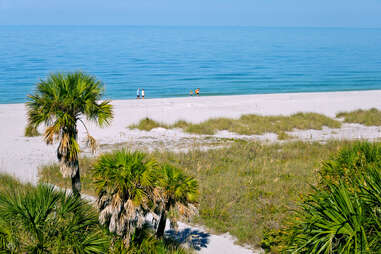 Fort De Soto Park
St. Petersburg, FL
When people start talking about the best beaches in Florida, names like Clearwater, Siesta Key, and Longboat Key get thrown around. But right on that same stretch of sand is Fort De Soto, with all the same white sand and turquoise water as its northern neighbors, but with a fraction of the people. The famous Florida beach might be the big draw, but during spring you can enjoy the rest of the park without the equally famous Florida humidity. Take a kayak through tropical mangroves or between the five islands that make up the park or stroll through the shady palm hammocks and enjoy the scenery. If you're lucky, you might find yourself face to face with a manatee.
Glacier Bay National Park and Preserve
Yakutat City, AK
Though summer is typically when people plan vacations to Alaska, the low-lying sun of spring makes this the most abnormally colorful time to go glacier spotting. Because the angle of the light is far more subtle than summer, the glaciers can look like they're in a perpetual sunrise. But saying this park is remote would be putting it mildly; unless you're on a cruise ship, it's only accessible via a 50-mile air taxi, and there is absolutely no cellphone coverage. To play it safe, don't plan to go before May (just in case the weather gets a little too inhospitable) but do make it before June and the summer rush of tourists.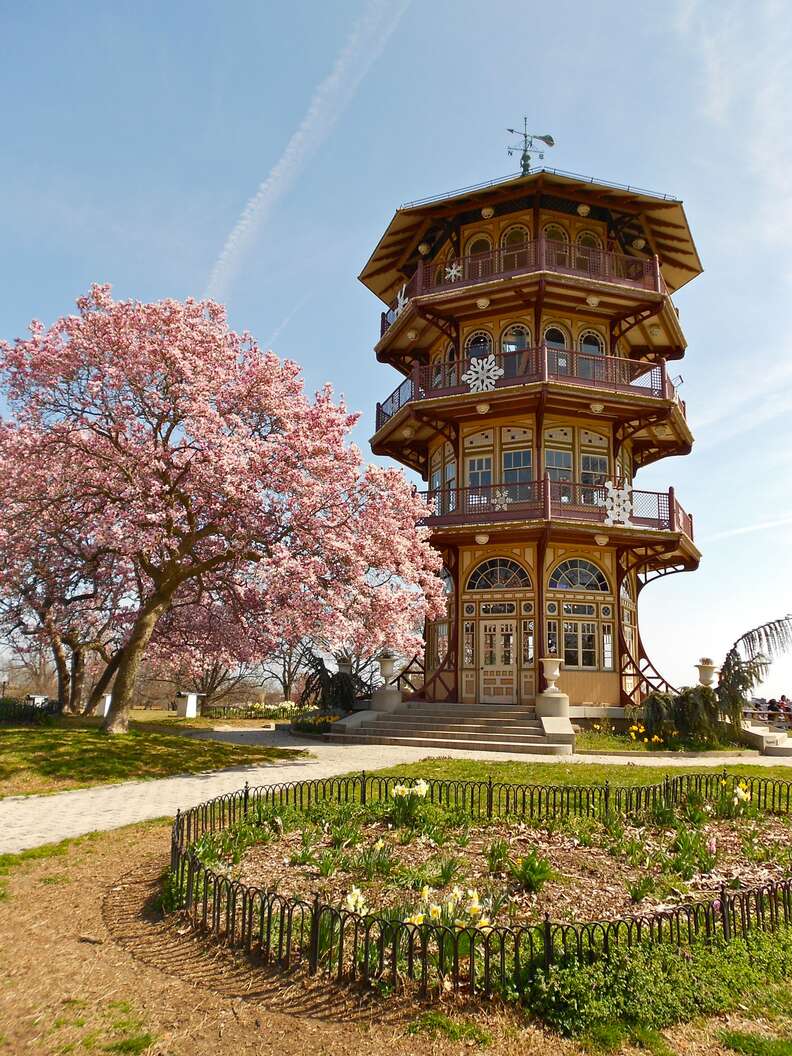 Patterson Park
Baltimore, MD
The cherry blossoms on the National Mall get all the Mid-Atlantic spring hype, but the trees on Hampstead Hill are every bit as beautiful. The bright-pink petals perfectly complement the design features of the hilltop pagoda, a four-story observation tower that offers perfect views of the Baltimore skyline and harbor on clear days. Trips to the park also mark the official beginning of warm weather in this city, where residents flock to the public pool or take boats out on the serene lake to commune with egrets and blue herons.
Pedernales Falls State Park
Johnson City, TX
While this state park might not be one of the best party rivers in America, it's still a spectacular place to visit. About 30 miles west of Austin, the Pedernales River carves its way though limestone until it arrives at the "falls," a gradual 50ft drop over about 3/5 of a mile. You can't float that part, of course, but if you want to go for a relaxing tubing ride that doesn't include the revelers you'll find at San Marcos and Guadalupe, this park might be the best in Texas.
Santa Monica Mountains National Recreation Area
Calabasas, CA
This mountainous region north of Santa Monica isn't a clear-cut national park like Glacier or Yellowstone. It's a collection of smaller protected areas running from Runyon Canyon all the way to Point Mugu, winding its way through Malibu, Pacific Palisades, and lots of other insanely expensive places. After the winter rains, the bright greens here contrast perfectly with the California sky and the Pacific Ocean, making this the most scenic time of year to visit. The water will still be cold at the beaches of Malibu, but hikes through the 500 miles of trails will make you realize Southern California is about a lot more than traffic and movie stars. You can also visit the operative movie set at Paramount Ranch, which was used to film Dr. Quinn, Medicine Woman!
Everglades National Park
Miami, FL
Contrary to what movies might tell you, this swamp just west of Miami isn't full of colorful drug informants, computer hackers, and retired master criminals living in run-down shacks. Though, thank you, Carl Hiaasen. What you will find is a magical river of grass giving way to a canopy of cypress trees that is one of the most unique and fragile ecosystems in the world. Here, you'll just as likely see an alligator crossing the road in front of you as you will a blue heron flying next to your car, and the cooler temperatures make spring the best time to visit. That way you can enjoy an airboat ride without a second-degree sunburn, or bike through Shark Valley without losing your body weight in sweat. And while Miami is full of things that will make you shake your head and say, "Only in Florida," the Everglades might be the only one you actually like.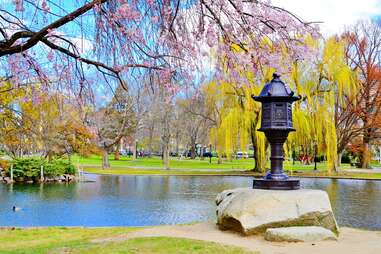 Boston Common and Public Garden
Boston, MA
The pair of parks in the middle of Boston is the starting point for the 2.5-mile historical Freedom Trail (walk it!) and has hosted everything from British troops to public hangings in its 382 years. But the oldest city park in America is especially enjoyable during spring, when the Frog Pond turns from skating rink into wading pool and the carousel starts a spinning. Blooming flowers also make a walk through Boston Public Garden about much more than just old buildings; for a combination of history and scenery, there's no better spot in the spring.
National Mall and Memorial Parks
Washington, DC
If you're American, we really don't need to explain to you why, at least once, you need to go see the cherry blossoms in DC. The white flowers that blanket the National Mall in March and April are literally famous all over the world, and give a sense of serenity in a city filled with conflict. Of course, there's much more to the Mall than just cherry trees; between taking in the natural sights, you can visit the Smithsonian museums, the famous national monuments, and all those other places you saw during the 20-minute opening credits to House of Cards.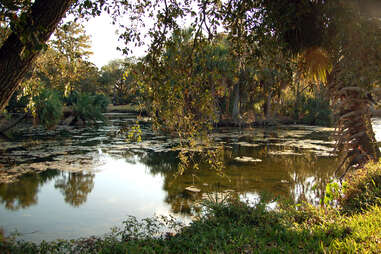 Audubon Park
New Orleans, LA
Your average weekend visitor to New Orleans rarely comes back talking about the clean air and natural smells. Unless part of their trip included some time at this park about six miles from Downtown. The live oaks and Spanish moss that fill this calm spot on the Mississippi are like a little slice of the bayou without the crazy swamp people, and the New Orleans weather in spring makes this one of the few times you can enjoy it without stifling humidity. But if biking, running, or walking through this impressive southern foliage isn't your idea of fun, there's also a par-three executive golf course and a zoo.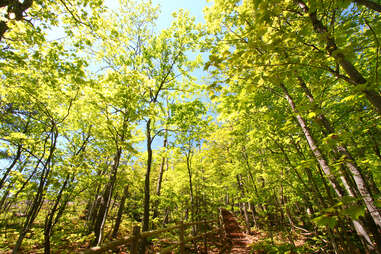 Porcupine Mountains Wilderness State Park
Ontonagon MI
Michigan's Upper Peninsula has long been known as a place for people who don't much care to be around anybody else. And nowhere can this be better accomplished than in "the Porkies," a 60,000-acre wilderness area that is as remote as it is intimidating. The dizzyingly tall hemlock and pines that fill the forest make a visitor seem insignificant, and because the park gets further from civilization the longer one hikes, completely disconnecting here isn't just a choice -- it's a necessity. Though there is a visitor lodge, the wilderness is best experienced by backpacking to one of its rustic cabins or yurts, or just setting up camp in the middle of nowhere. Summer is its busiest season and while it's not exactly Times Square, it's not as much of an "into the wild" experience as you'll get in spring. Just make sure you check the weather forecast, as winter in the UP has been known to last into April.
Diamond Head State Monument
Oahu, Hawaii
Though there's really never a BAD time to visit Hawaii (unless there's a dengue fever outbreak), spring brings cooling breezes and clearer skies. So if you're going to hike to the top of Oahu's most recognizable peak, this is the season to do it. Just southeast of Waikiki, this 300,000-year-old volcanic crater offers one of the more challenging hikes in Hawaii, ascending nearly 560ft in the .8 miles from trailhead to summit. On the trail you'll traverse switchbacks and climb through a tunnel before arriving at the glorious peak that was once used as a station from which to direct artillery fire for military exercises on the beaches of Waikiki. The panoramic view of the tourist beaches in the distance will make for a great selfie.
Sign up here for our daily Thrillist email, and get your fix of the best in food/drink/fun.
Matt Meltzer is a staff writer at Thrillist who's glad you couldn't follow him on Instagram (@meltrez1) during all those keg parties he definitely never went to at the Arboretum.