America's most hipster cities
While New Yorkers like to think of Williamsburg, Brooklyn, as the epicenter of the American hipster, it's hardly the only place in the country where vegan, handlebar-mustachioed trustafarians ride their single-speeds to nanobreweries inside organic farm-to-table restaurants inside abandoned artist lofts tricked out with rooftop gardens where they grow only kale. Pretty much any US city, short of maybe Birmingham, AL, has some elements/neighborhoods of hipster culture at this point (you really just need a fixed-gear bike shop, right?), but these 10 cities are vying for the title of hipster-est. Behind Williamsburg, of course.
10) Baltimore, MD
This underrated blue-collar port town everybody knows and loves from The Wire is a wild mix of art freaks, misfits, and young, Rayban-donning couples toting their infants in those hip, carry-on-your-chest baby bjorns. Hampden's the 'hood to hit, with its quirky personality, "edgy atmosphere", and mix of boutiques and cafes.
9) Louisville, KY
Louisville's all about bourbon, BBQ, and bands that play indie rock. Oh, and beer. It's home to rockers My Morning Jacket and VHS or Beta (who, ironically, now live in Brooklyn), is the birthplace of Hunter S. Thompson, and actually has restaurants that don't require staff uniforms (!!!) -- so don't even think about complimenting the waitress on her flair. The city's best hotel, 21C, is a "boutique-cum-contemporary art museum".
8) Venice Beach, CA
Just enough rough-and-tumble without being too dangerous, Venice is chock full of bohemians, skateboarders, and street performers, not to mention any and everyone who wants to live on a beach that's not Santa Monica. Abbot Kinney's the town's hipster strip, and is stocked with tons of restaurants, bars, and boutiques.
7) Savannah, GA
Known more for its epic St. Paddy's Day celebration than its free-trade coffee, this sleepy Southern town from which Forest Gump narrates his awesome life gets its edge primarily from the artsy students at SCAD (Savannah College of Art and Design). Dive bars, non-deep-fried organic food, bare feet when it gets muggy -- like a box of chocolates, you've got your choice of it all in Savannah. Also, some art stores sell real alligator heads, although that's probably just more cool than it is actually hipster.
6) Boulder, CO
More Phish fanatic than Passion Pit aficionado, the local hipster in Boulder's of the Birk-wearing, green-friendly, outdoor-enthusing variety. Who wants to go slacklining??? No? Wanna toss the disc, then? Come on, man.Every year on April 20th (4/20) at 4:20p, thousands gather on the CU Boulder campus to smoke a bunch of pot. Boulder is home to the famed Naropa Institute, where Allen Ginsberg himself was professor emeritus, spreading beatnik joy/ ennui. If there's a fine line between hipster and hippie, it merges in Boulder.
5) Oakland, CA
Having been priced out of San Fran, "real" hippies flocked to Oakland and turned it into a destination for pot-smoking, Zen-seeking libertarians and bad NFL football. Ok, that last part's actually Al Davis' fault. In the '90s though, Oakland's beatnik mayor encouraged all sorts of out-there, organic-themed mandates like biodynamic gardening, yoga, and ecologically-sensitive urban planning. The city even boasts a place where you can "float" in a tank of warm saltwater to "remove external physical stimuli and create a state of 'sensory' relaxation". And if that doesn't prove our point, nothing Terrelle Pryor does on the field will.
4) Asheville, NC
If you're not one of the Mumford & Sons-inspired buskers jamming on the street, you're likely taking a long hike in the mountains to "find yourself" or sitting on your front porch in a handmade rocking chair you whittled while watching Girls on your iPad. You could also be drinking a delicious pint of local craft suds, as Asheville's got a solid beer scene. Farm-to-table eateries are standard, outdoor riverfront bars are the rage, and everyone is apparently an artist.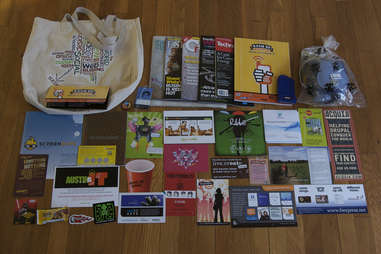 3) Austin, TX
Basically Williamsburg, but in Texas. And bigger, as are all things in the Lone Star State. Or maybe, just maybe… Williamsburg is actually Austin, but in New York City. Hmmm…
2) Eugene, OR
This college town and home of the Oregon Ducks is all about radical movements, no-huddle offense, and organic farming -- but not necessarily in that order. Every year in July, close to 50,000 locals suit up/ dress down for the Oregon County Fair like it's Burning Man, donning costumes heavy on the bandanas, flowy skirts, and rolled-up jeans (but, thankfully, light on women's shirts!) for this three-day hippy arts festival. If you can't make it, fear not: a mini-version goes down weekly at the Eugene Saturday Market.
1) Seattle, WA
It's hard not to roll your eyes when someone from Seattle starts in about the music scene, the Churchkey beer, and the awesome coffee bars. We get it -- Seattle's cool. This headquarters of tech before tech was even cool brought America the HTML-fluent, start-up savvy hipster who already has tickets to next year's Bumbershoot.