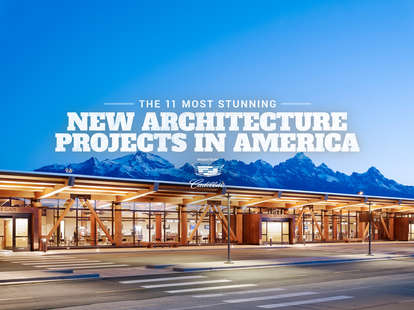 Image courtesy of Gensler
Image courtesy of Gensler
The 11 Most Stunning New Architecture Projects in America
Remember that mild economic downturn we had a few years ago? Yeah, that was not good. Not good at all. But somehow, "too big to fail" failed to stop some big, beautiful architectural masterpieces from coming to fruition. We rounded up 11 of the most innovative structures to rise from the ground or undergo massive renovation over the past six years, from the biggest construction project in US history, to a not-so-lowly scout hut, to an airport so sweet you'll pray for delays.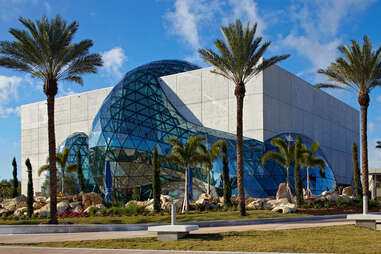 Salvador Dali Museum, 2011
St. Petersburg, Florida

Firm: HOK

The Dali, located on the downtown waterfront, is home to 2,000 pieces by the mustachioed surrealist -- the largest collection outside his native Spain -- and boasts a giant tear, snake, or god-knows-what bursting forth from its façade (it's called "Enigma," so there are no wrong answers). The 75-foot- and 45-foot-tall forms comprise 1,062 undulating glass panes, bringing daylight and bay views inside without compromising the building's very necessary Category 5 hurricane rating.

Fun fact: They may look alike, but no two of the atrium's glass panes are dimensionally equal.
Skydance Bridge, 2012
Oklahoma City, Oklahoma

Firm: S-X-L (Spatial Experiments Lab), a Butzer-Carroll-(Ken) Fitzsimmons-Gardner-Massenat-Ramseyer Consortium

One-upping Portland, Oklahoma City put a $5.8 million bird on it, the state bird to be precise, with the Skydance Bridge -- a dramatic homage to the scissor-tailed flycatcher. The 197-foot-tall sculpture spans I-40 south of downtown, and, similar to the real thing, its frame comprises hollow "bones" (600 of them), which are clad in 19 tons of stainless steel and LED lighting. It is presented in mid-mating dance, sure to lead to hundreds of "What is that weird bird doing?" questions from upward-gazing kids.

Fun fact: The flycatcher's illuminations are set by a single iPlayer 3 digital controller, in accordance with events and holidays.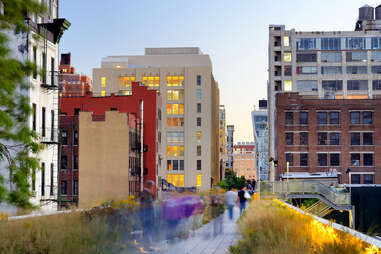 Highline Park, 2009-2014
New York City

Firm: James Corner Field Operations

From eyesore to a destination for almost 5 million visitors per year, few architectural redemption stories beat the Highline Park's. The last train on the elevated West Side Line ran in 1980, three cars of frozen turkeys in tow, after which the track fell into disrepair and was partially demolished. Executive landscape architect James Corner Field Operations created a 1.45-mile urban park, which now extends from Gansevoort Street to 34th Street, on top of the remaining bones. As you stroll, look for 210 species of plants, temporary art installations, and the "urban theater" that overlooks the intersection of 10th Ave and 17th Street.

Fun fact: An unofficial High Line attraction is the frequent nudity on display in the Standard Hotel's floor-to-ceiling windows. Look up…
CityCenter, 2009
Las Vegas, Nevada

Firms: Gensler, Kohn Pederson Fox, Pelli Clark Pelli Architects, Studio Daniel Libeskind, Murphy/Jahn Architects, Rafael Vinoly Architects, Office of James Burnett

Not only is MGM Resorts' mammoth "City Within a City" the largest privately funded construction project in the history of the United States at $9.2 billion, but it also defied all conceivable odds, from gravity to the most devastating global economic crisis since the Great Depression. Now best known by its constituent high-rise parts -- Aria Resort & Casino, Mandarin Oriental, Crystals retail and entertainment district, Vdara Hotel & Spa, and Veer Towers -- CityCenter transformed the last 67 acres of prime real estate on the Las Vegas Strip with a master plan that was directly inspired by NYC's Soho district, and possibly by that mean dude who ships glitter to people. It was the country's single biggest hiring effort in 2009 and continues to employ 12,000 people.

Fun fact: CityCenter contains more than 1 million cubic yards of concrete. That's enough to build a 4-foot-wide sidewalk from Las Vegas to New York… and back.
Pavilion at Lincoln Park Zoo, 2010
Chicago, Illinois

Firm: Studio Gang Architects

Part alien presence, part next-level bus shelter, the Pavilion is one component of a larger revitalization project that has naturalized the shoreline with 100 new trees, a self-sustaining ecosystem of native plants, and a nature boardwalk. The 17-foot-high, laminated wood-and-fiberglass wonder is an on-axis visual counterpoint to the Structural Expressionist-style John Hancock Center, and you should definitely sign your name really big on it. And then run really fast.

Fun fact: The pavilion's interconnected shapes were inspired by the teardrop-shaped form and structural resilience of milkweed pods. Not that you wouldn't have deduced that on your own.
A New Design That Really Moves
Buildings aren't the only things reshaping the American aesthetic. Century-old, iconic auto company Cadillac has just completely reimagined itself, changing the way you'll think about the car you could be cruising in to each and every one of the sites in this story. Get a behind the scenes look at what they're up to here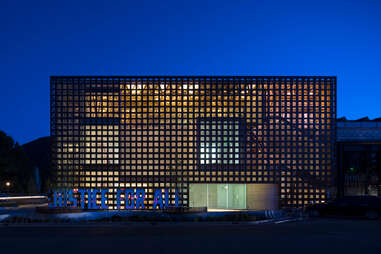 Aspen Art Museum, 2014
Aspen, Colorado

Firm: Shigeru Ban Architects

For his first permanent US museum, Japanese architect Shigeru Ban designed a $45 million, 33,000-square-foot wicker basket that operates like a ski mountain. Guests make their way to the rooftop, and then take in the museum's international contemporary art over a four-floor descent -- or stay in the bar and admire the pretty mountains. In keeping with his trademark "invisible structures," Ban designed the building with transparency and open plain views, giving equal reverence to its setting and contents.

Fun fact: The museum's opening exhibition, by Chinese architect Cai Guo-Qiang, featured live turtles with tablets attached to their shells, which sucked for the turtles when people picked them up to Google critical interpretations of what the hell this all meant.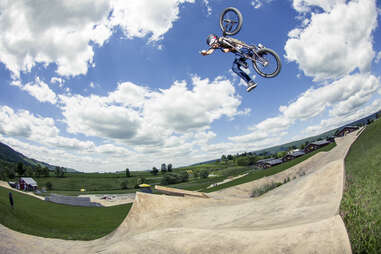 Snake Run Skatepark, 2012
Woodward, Pennsylvania

Firm: California Skateparks

Camp Woodward, the northeastern go-to for skaters and BMX riders, got Nic Cage levels of daredevil with the addition of the "snake run." The winding, 1,000-foot-long, poured-concrete stretch is punctuated by quarter pipes, long rails, three-step drops and a variety of other esoteric obstacles -- which will increase in number each year, so best get on that learning curve now. On the other hand, the course's lower portion is pitched for riding in either direction, and should prove slightly more attainable for novices.

Fun fact: The snake run was designed and built entirely without drawings and, aside from the base and quarter pipes (which are supported by rebar and wooden supports), its forms were hand sculpted from the very earth beneath us.
Margaret Hunt Hill Bridge, 2012
Dallas, Texas

Firm: Santiago Calatrava

Dallas's reputation as a center for modern architectural excellence is well deserved, with so many recent contenders -- Perot Museum of Nature and Science, Winspear Opera House, the Cowboys' Stadium (okay that's technically Arlington, but whatever) -- that it's almost unfair. But none have transformed the skyline like the Margaret Hunt Hill. Named after a prominent oil heiress and philanthropist, the bridge links Woodall Rodgers Freeway and Singleton Boulevard across the Trinity River, where it peaks in a 400-foot-high arch. It was constructed of Italian-made steel, from a factory favored by the architect, at a total cost of $182 million.

Fun fact: The bridge features in the opening credits of the 2012 update of Dallas, which co-starred Jordana Brewster, who also starred in Fast & Furious, which is probably not how you should drive over this bridge.
Lions Park Scout Hut, 2012
Greensboro, Alabama

Firm: Rural Studio

The shortlist for "most stunning scout hut" must be extra short, but Scout Troop 13 and Cub Pack 13's lantern-like new home brings the log cabin into the 21st century -- and is a significant upgrade from their former meeting spot, an office at the Alabama Fish Farming Center. Besides various meetings and events, the 2,000-square-foot space accommodates two travel trailers, a 48-foot elevated track for the Pinewood Derby Cub Scout model car race, and a small kitchen for fundraisers like the catfish fry. Oh and boys, who are known to break stuff, hence the sturdy construction.

Fun fact: Rural Studio's team included four fifth-year Auburn University architecture students, who stayed on as project "leftovers" post-graduation. So, be prepared… to hear "War Eagle!"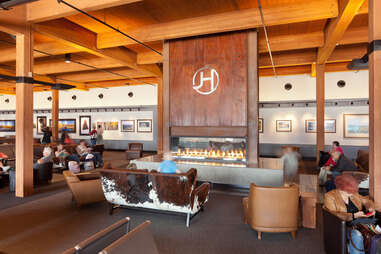 Jackson Hole Airport, 2014
Grand Teton National Park, Wyoming
Firm: Gensler
The JHA served as the gateway to the pristine expanses of Yellowstone and the Teton mountain range for 313,000 people last year. Gensler's $30.6 million renovation and expansion almost doubled the passenger terminal's size to 116,000 square feet, within a Pioneer-style wood lodge accented with weathered steel and concrete. A new glass curtain wall floods the ticketing area with natural light and jaw-dropping views, making those lines significantly more bearable.

Fun fact: Jackson Hole is the only US airport situated within a National Park, unless you count the secret helicopter launch pad at the base of the Grand Canyon.

Wild Turkey Visitors Center, 2013
Lawrenceburg, Kentucky

Firm: De Leon & Primmer Architecture Workshop

Wild Turkey recently added a mesmerizingly cathedral-like interpretation of the area's traditional agrarian tobacco barns to its distillery complex, one of seven original locations along the historic Kentucky Bourbon Trail. Perched on a bluff overlooking the Kentucky River 275 feet below, the two-story, 9,140-square-feet visitors' center (and Angel's Share tasting room) is clad in a chevron pattern of stained-wood plank siding and latticed zones, making for some seriously dramatic light filtering -- like, at some point, the climactic standoff of an action movie will be filmed here.

Fun fact: The site is home to a population of all-too-real wild turkeys. They are quite terrifying.