America's seven best Beercations
You love beer. You love vacations. You love cleverly combining two words into one and then trying to get it to catch fire. So it's only natural you'll like this rundown of the country's seven hottest hubs of barley and hops that you should hit on your next "beercation".
Greater Milwaukee, WI
Despite what you think you know about Milwaukee from watching reruns of Happy Days while Mom was out with her new boyfriend, this city of 1.5m on Lake Michigan has a storied beer history. As in, it was once known as the "Beer Capital of the World" and housed four of the world's largest breweries -- Miller, Blatz, Schlitz, and Pabst. Their baseball team is named the Brewers for God sakes. It's like a beer mecca. Stay at the new Brewhouse Inn & Suites (formerly part of the massive Pabst brewery complex), tour and taste your way through Sprecher, Lakefront, and Milwaukee Brewing, and then cab it to Sugar Maple or Palm Tavern in Bay View after dinner at a beer-focused eatery like Hinterland. If you make it out of bed before happy hour the next day, check out Pabst Mansion to see what beer money could get you in 1892. Also, there's a bronze statue of the Fonz, just so you know.
Seacoast, NH
Located halfway between Boston and Portland, ME, Portsmouth has a beer scene that would rival a city twice its size. Start by visiting the trio of breweries south of town (Blue Lobster, Smuttynose, and Throwback) before checking into the Ale House Inn. Formerly a warehouse for Arthur Harris's Portsmouth Brewing Company, this boutique hotel is within stumbling distance of the Thirsty Moose Taphouse, Coat of Arms (for fans of cask ales), and The Portsmouth Brewery, the Granite State's oldest brewpub.
Leatherstocking Region, NY
To most people, Cooperstown is synonymous with the baseball Hall of Fame. Lucky for you, it's also the center of a beverage trail in upstate New York. Brewery Ommegang is the heavy hitter in the lineup (see what we just did there?), and its spacious property and European-inspired design are bound to impress. Spend a night at the Inn at Cooperstown (which offers bed and brew packages), and you'll be able to drink your way to four nearby breweries, including Butternuts Beer & Ale, Council Rock, and Cooperstown Brewing. The only catch is that you'll need a designated driver.
Hill Country, TX
While Austin's rep is obviously built on the music scene, craft breweries have been bubbling up in and around the Texas state capital for a while now. Which makes sense, as few things go better with the area's legendary barbecue than good beer. Seek out Live Oak, Jester King, Independence, and Uncle Billy's Brew & Cue; once you're good and buzzed, maybe splurge on a pair of cowboy boots? Or perhaps not.
Beervana, OR
Thanks to IFC's satirical sketch comedy and cult fave, Portlandia, the city between the Columbia and Wilamette Rivers has learned to laugh at their hipster musicians, bearded hippies, and holier-than-thou locavores. One thing they don't joke about, though, is their beer; at the forefront of the ongoing craft beer craze, the Portland metro area boasts 71 breweries (that's NOT a typo), the most of any city in the world. In case you're wondering, Oregon as a state currently has 153 breweries in operation. Drop by Breakside, Cascade, Hair of the Dog, or Upright to start, and then knock off a few more the following afternoon. When you're ready to pass out, head to the 57-room Kennedy School hotel, which has a brewery on site.
Napa Valley of Beer, CO
Few places demonstrate a beer devotion like Denver; you almost have to go out of your way to avoid it. And since you'll never make it to all of the Mile High City's breweries in one trip, concentrate on those you can reach by foot or public transportation; namely, Wynkoop, Great Divide, River North, Denver Beer Company, and Prost. Better yet, time your trip with the annual Great American Beer Festival, an epic three-day, four-session, 2,700-beer extravaganza held in October. Finally, if touring breweries by yourself starts to get lonesome, there are five gentleman's clubs in the Denver area. Just throwing it out there.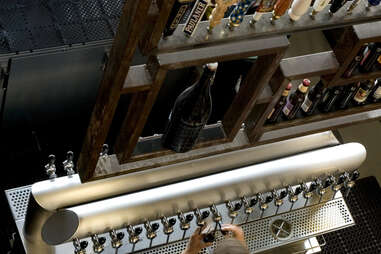 San Diego, CA
New York, New England, and the Pacific Northwest are fine places to enjoy a tasty pint, but here's a better idea: drink beer on the the beach! Southern California has been pushing the hoppy envelope lately, helping define what the world now refers to as a West Coast IPA, and ensuring it's only a matter of time before West Coast and East Coast IPAs start killing each other with strands of barley. While you should try to hit AleSmith, Green Flash, and Ballast Point, don't even think about skipping town without experiencing Stone Brewing World Bistro and Gardens -- one of the country's most acclaimed breweries, and the masterminds behind such faves as Stone Levitation Ale and Arrogant Bastard. Plan your visit for next year, and you can even stay in the new hotel they're opening.