15 airports that make you want to punch someone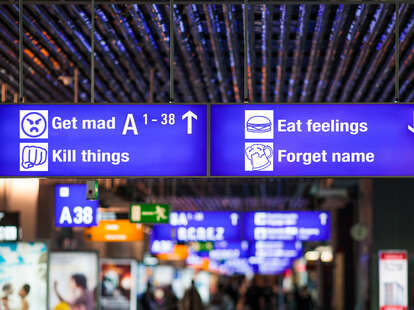 Photo: Angelo DeSantis
By Hopper.com
Air travel is a waking nightmare, mainly because airports are an unholy hybrid of every man's two least favorite places: prisons and shopping malls
In a perfect world, you'd teleport directly to the slopes of Aspen or the beaches of Hawaii, instead of getting athlete's foot at airport security. Until that day comes, your best chance at stress-free travel is avoiding the airports most likely to leave you stranded, stressed out, or in an actual prison for aggravated assault
Our friends at Hopper.com ran the numbers to find out which 15 airports are most likely to inspire you to slug a stranger in the jaw. As a special bonus to help contain your rage, we've also recommended some decent restaurants and bars to keep you fueled up and calmed down (or at least adequately buzzed)
15. Atlanta, GA: Hartsfield-Jackson Atlanta International (ATL)
Photo: Brady Wahl
It's not much of a surprise to find ATL on a "worst airports" list. But it is a bit of a surprise to find out it's the best of the worst. Of course, that's like winning a thumb war against a child with syndactyly.Fist grist: Atlanta's 84 percent on-time rate isn't great, but it could be worse. That said, Atlanta does rank pretty high on the "canceled" list, with 1,038 nixed flights in 2011 alone. If you get stuck: Check out One Flew South, a restaurant/bar that bills its cuisine as Southernational (pushing it, guys), but makes up for it by serving a mean cocktail and pork belly sliders with sweet and sour pickles
14. Knoxville, TN: McGhee Tyson (TYS)
Photo: flickr/joelk75
With an average departure delay of 13-plus minutes, this small airport's not doing Knoxville any favors.Fist grist: Battling 3,535 weather delays in 2011, TYS had an on-time rate of just 81 percent, well below the industry average. Despite that, travelers give the airport a pass for at least being clean. So you can holster your Purell in Knoxville as long as you don't touch anyone.If you get stuck: Unfortunately, there aren't a whole lot of options at McGhee Tyson. So if it's gonna be a while, truck it into town for some proper libations at the much-loved Public House. Rumor has it that their truffle-salted popcorn is borderline illegal
13. Houston, TX: William P. Hobby (HOU)
Photo: Ryan Basilio
Everything's bigger in Texas... except for the on-time departure rate at Hobby. Fist grist: At just over 75 percent, the on-time rate at H-Town's secondary airport is way below the industry average. It's above the industry mean in one category, though: cancellations. HOU had 1.19 of them for every 100 flights in 2011.If you get stuck: Hopper recommends popping into Pappadeaux's for some Gulf-style gumbo and a full-service bar. Grab a Dos Equis and kick up your boots; no point crying over missed flights
12. New York, NY: John F. Kennedy International (JFK)
Photo: Seamus Murray
The 43,124 weather delays that JFK suffered in 2011 land this airport squarely in the dirty dozen -- its weather delay batting average is actually worse than hurricane-battered Miami's, if you can believe it. Still better than the Yankees' October lineup, though!Fist grist: An 83 percent on-time take-off rate is neither great nor especially horrible, but you'd better hope you're not on one of the 400 or so flights that get canceled each year. The good news is this airport sees tons of traffic every day, so you should be able to hop a new flight without too much trouble. If you get stuck: Make sure to check out La Vie. It's a French bistro-style restaurant that travelers have described as "shockingly good". Their authentically gooey croque monsieur ought to make you forget your troubles, at least for a few crunchy, hammy bites
11. Miami, FL: Miami International (MIA)
Photo: Lee Coursey
With tropical storms blowing through this sweltering southern city on the regular, it's no surprise Miami had to contend with 38,705 weather delays in 2011. Fist grist: MIA also faced an average departure delay of over 12 minutes, plus 287 outright canceled flights in 2011. There's a good chance your plane will be lazing on the runway for a while here.If you get stuck: Grab a muddled-mint beverage at the Bacardi Mojito Bar. The rum company is actually based in Miami, so you can pretend to squeeze in some local culture while the bartender squeezes you some limes.
10. Fayetteville, AR: Northwest Arkansas Regional (XNA)
Photo: Northwest Arkansas Regional Airport
Sharpen your knuckles for the only regional airport to make our "worst" list. Soooie!Fist grist: Fayetteville posted an on-time takeoff rate less than 84 percent in 2011. It also featured an exceptionally high cancellation rate of 2.13 percent. The real bad news in Fayetteville, however, is that -- unlike JFK or ATL -- there aren't too many other flights to choose from.If you get stuck: At least you have Pop's Old Time Bar-B-Que for some spectacular chicken fried steak. A nice, thick layer of Southern-style gravy will have you grinning maniacally in no time
9. San Francisco, CA: San Francisco International (SFO)
Photo: Pawel Loj
If you have to spend a day or two in the Bay Area due to a canceled flight, as passengers of 2,283 flights did in 2011, BusinessWeek recently named it America's Best City, so there are worse layovers.Fist grist: With an on-time departure rate less than 75 percent in 2011, SFO ranks near the bottom of the barrel at getting planes off the ground.If you get stuck: Check out Napa Farms Market, where you can not only enjoy a fresh sandwich made with local ingredients, but also pick up some last-minute gourmet gifts
8. Denver, CO: Denver International (DEN)
Photo: Inha Leex Hale
If you intend to fly through the Mile High City during the snowy season which, according to our sources, is approximately October to September, expect to want to punch some faces.Fist grist: Though it boasts a relatively low departure delay average, DEN also faced 1,246 canceled flights in 2011. Furthermore, the city scored 36,700 weather delays last year, largely due to its incessant snow storms.If you get stuck: Head over to Lounge 5280 for tapas, a wide selection of wine, and great people-watching from its balcony over the terminal. They even have outlets at every table, so you can get some work done dick around on the Internet while you sip your Merlot
7. Savannah, GA: Savannah/Hilton Head International (SAV)
Photo: Matt & Nayoung
With just 5,560 total flights taking off in 2011, you'd think Savannah wouldn't have any trouble getting them off the stupid ground on time. And you'd be wronger than John Candy speeding down an icy Midwestern street.Fist grist: SAV contends with less than 80 percent on-time departures, while nearly two percent of flights were outright canceled in 2011, often due to turdy weather.If you get stuck: Samuel Adams Toasts Savannah (yes, sigh, that's the actual name of the bar) is probably your best bet until the thunder cools off. If you end up spending the night in Savannah, however, high-tail it over to The Olde Pink House: authentic shrimp and grits, fried green tomatoes and a boozy Planter's Punch are best enjoyed in the dark and moody piano bar downstairs
6. Greensboro/High Point, NC: Piedmont Triad International (GSO)
Punchability is nearly off the charts in North Carolina's third-largest city. Then you get to the airport!Fist grist: GSO offers a meh 80 percent on-time departure average. With delays averaging nearly 16 minutes each, you might as well make yourself comfortable. If you get stuck: Like Savannah, the Sam Adams pub may be your best bet in the airport. But if your plane blows up, it's just a 10-mile jaunt over to Leblon Brazilian Steakhouse, where servers harass you with delectable hunks of meat ready for the slicing. Make sure you grab a pineapple mint caipirinha on your descent into food coma. It'll make your layover 70.2% (it's science) better
5. Dallas/Fort Worth, TX: Dallas/Fort Worth International (DFW)
Photo: Todd MacDonald
This caricature of an airport is larger than the island of Manhattan. At 26.9 square miles, DFW just goes right ahead and makes the "always bigger in Texas" joke for us.Fist grist: With a pathetic 72 percent on-time departure rate (due in large part to its 220,249 weather delays, the most of any airport), you might as well pack a pop-up tent in your luggage.If you get stuck: You'll probably want to score a meal or two from Cousins' BBQ while you're waiting. Just make sure to give yourself plenty of time to terminal hop, or you could easily miss your flight while you're lickin' the barbecue sauce off your elbows
4. Newark, NJ: Newark Liberty International (EWR)
Photo: Alex Rock
You're in already in New Jersey. Things can only get better from here, right? That's when things get Newark. Hope you're not going to Singapore which, from EWR, is the world's longest flight at nearly 19 hours.Fist grist: With an on-time rate around 80 percent and a whopping 17-plus-minute departure delay average, the odds are solid that you'll spend more time in this notorious airport than you bargained for.If you get stuck: Head to Vino Volo, a hip (no, really) little wine bar tucked into Terminal C. They serve wine flights, beers, and light dinner fare, plus you can buy a bottle of sauv blanc to take with you, if, for example, you're keeping someone special waiting
3. Houston, TX: George Bush Intercontinental/Houston (IAH)
Photo: Josh Hallett
Propping up the "worst" list with three separate airports, Texas is almost as well-represented on here as it is in Congress.Fist grist: If you're flying out of this particular Houston airport, you have a greater than 25 percent chance of taking off late. It doesn't help that the airport also faces an average departure delay of 15 minutes -- a number that in many cases climbs much higher.If you get stuck: Grab a margarita and some tacos from Pappasito's (a small chain run by the owners of Pappadeaux, and a legit favorite with locals). If you're gonna be in town for the night, it's a 30-minute cab downtown, where you can enjoy a meal at Reef, recently named the best seafood joint in America by Bon Appetit
2. Washington, DC: Washington Dulles International (IAD)
Photo: David Jones
Hey, at least the airport is the most maddening, divisive, punch-provoking thing about Washington, DC, right?Fist grist: With an average departure delay over 14 minutes, Dulles clocks in as the second-worst airport in the nation by our calculations. They also suffered 28,485 weather delays in 2011 and faced an average on-time departure rate of just 77.82%.If you get stuck: Like Newark, IAD is graced with a Vino Volo, and it's a safe bet if you're looking for a decent glass of grape juice away from the bustle of the terminal. If you're looking for something a little more laid-back, The Firkin and Fox is a dependable British/American pub-style spot with plenty of fried food, beers on tap, and comfy booths that are a great alternative to the plastic buckets, or "seats", at your gate
1. Chicago, IL: Chicago O'Hare International (ORD)
Photo: Cliffords Photography
Great town, awful airport. The Pilgrims could have gotten you to your destination faster.Fist grist: O'Hare tops the list of the "worst airports" with over 160,000 weather delays every year, second only to Dallas-Fort Worth. Not surprisingly, its on-time departure rate is a paltry 77.15 percent. With its 3,771 flight cancellations in 2011 and an average departure delay of nearly 14 minutes, the over/under's not looking too good on getting out of here on time.If you get stuck: Chicago's famous for one thing that we are powerless to resist. Sample some of the city's famous deep-dish pizza at Giordano's, a short cab ride from the airport. By the time you get through a couple cheesetastic slices, you'll probably forget what your final destination even was.