Amsterdam's Red Light District is About to Change. Here's How Sex Workers Feel About It
Amsterdam's famed red light district will be soon ban tours. Here's what that means for the city and its sex tourism industry.
"The red light district represents Dutch liberalism and this is something I'm quite proud of."

| s4svisuals/shutterstock
"The red light district represents Dutch liberalism and this is something I'm quite proud of."

| s4svisuals/shutterstock
It's a sunny afternoon in Amsterdam, and I'm traipsing past scantily-clad sex workers standing in red- and blue-lit windows with a motley crew of tourists: American and British couples, young and old, plus a Spanish couple with their teenage son and daughter in tow.
The Spanish teens are, impressively, much less awkward talking about sex than I was at their age: "Are there women who are bisexual?" "How many hours a day do they work?"
Our tour canvassed the world's first condom shop, a €2-a-pop peep show (coins only!), medieval architecture, and the city's very first coffee shop, tucked between all those famous canals, slanty houses, and glass windows revealing strategically-placed leather, lace, and body piercings.
"The red light district represents Dutch liberalism and this is something I'm quite proud of," says Elard Tissot van Patot, the tour guide and founder of Amsterdam Red Light District Tours. "You see how people live next to brothels, which are next to a church, which is next to a cannabis shop, next to a kindergarten."
That all changes on January 1, 2020, when a ban on all guided tours of Amsterdam's red light district, De Wallen, will take effect. Future travelers might need better travel books to learn the area's long and fascinating history -- like where Rembrandt's wife is buried, or a hidden Catholic church -- or how one comes to be a prostitute working in a window in Amsterdam.
City council says the decision is to curb overcrowding in the historic medieval area, but also because, "It is not respectful towards sex workers. It is no longer of this time to see sex workers as a tourist attraction," said the deputy mayor in a press statement. But Amsterdam's sex workers don't necessarily agree.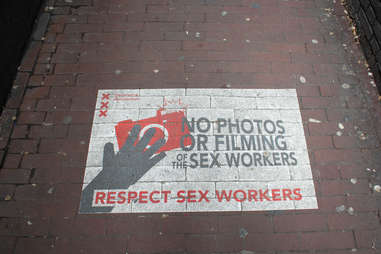 Window prostitution has been practiced throughout the Netherlands since the end of the 19th century, but such a kibosh is the first of its kind.
"[The ban] is really stupid," says Felicia Anne, a Romanian sex worker who's been working in Amsterdam's windows over the last nine years. "We were always a tourist attraction. If you mind that, then you should go work for an escort agency. Honestly, the majority of the girls work with tourists. Most girls want more tourists, not less."
Sunny, a 35-year-old Dutch transgender sex worker who works for My Red Light, a sex worker collective running its own brothels, told me it's "divided a lot of girls."
"Personally, I don't mind the tours -- I think [banning them] will just make things worse because if you have really good guided tours, they explain how to behave," she explains. "At least you have a possibility to educate people on life in the red light district."
Sex workers were, more than anything, surprised by the announcement. "The city made the decision without speaking to anyone," says Karin, who guides walking tours for the Prostitution Information Center (PIC).
As we're chatting on mismatched chairs, Karin breaks away often to welcome visitors into the cozy retro space plastered with historic archives. She sells some memorabilia, helps an Irish documentarian looking for the district's first sex shop, and has to turn down several tourists looking to join today's tour. It's already full.
Out the front window, I can see tourists' heads swinging, taking in the iconic Oude Kerk (Old Church, and Amsterdam's oldest building), PIC's showy signage, and the Latin American sex workers' quarter, all around the same bend.
Karin mentions the city's report on the ban, which surveyed 101 representatives of De Wallen -- among them only 10 sex workers when around 400 do business in the windows between day and night shifts. "It's hardly representative," she says.
"It's a bad decision," agrees a Dutch sex worker spending time at the center on her day off. "This is just a part of Amsterdam."
Why is the ban going into effect?
The city's decision is two-fold -- not merely a moral objection, but also an attempt to address over-tourism. Tourism in Amsterdam has steadily grown over the recent years, jumping 11 per cent in 2018 to 18.5 million visitors.
In the red light district, drinking alcohol on the streets is rampant, albeit illegal, while marijuana, space cakes, and magic mushrooms are tolerated and plentifully available. Sloppy intoxication ­-- public urination, vomiting, accidents, and unruly behavior -- are commonplace.
Residents are complaining, a fair number of them in De Wallen, which has seen a growth in private housing and new entrepreneurship over recent years. Officials hope that the ban will rein in criminality and boost the economy by revamping the erotic district as an entertainment district.
"Amsterdam has this image of the city where you can do everything, you can use drugs, shout, go to a prostitute, all there out in the open," says Vera Al, the deputy mayor's spokeswoman, in a phone interview. "But the city board said we don't want that image anymore. Tourists are welcome ... but they have to behave and obey the rules. We are going to be stricter."
The ban on tour groups is just the latest measure on curbing tourism numbers
That's no understatement. In 2016, hundreds of windows were shuttered to ease the number of tourists squeezing into narrow streets. Starting in April, tours have also been curbed, now only allowed to operate until 7 pm. (They were allowed to operate until 11 pm. previously.) The maximum size of tour groups has also been cut from 20 to 15. Al says more measures are still to come, particularly to continue addressing overcrowding and problems like human trafficking.
The ban does nothing to protect sex workers' privacy
Even though there's a division on what the new ban means for them, many sex workers agree on developing a law on taking photos of those working in windows. One stray social media post and a prostitute who keeps her work a secret from friends and family can watch her life unravel. Right now, rule breakers get off with a warning from law enforcement -- that is, if they're even caught.
"It's a massive problem," says Sunny. "I'm arguing with people every night, sometimes 10 to 15 times."
Even so, Sunny and Felicia are both worried about how the ban might affect business. Felicia also leads a daytime tour for Red Light District Amsterdam Tours starting in a window room. Each woman has also had a number of instances where eye contact with a tour group member turned into well-compensated coitus.
Regulated tour groups are not the problem
"I can tell you all the persons who are with the tour are very polite, because when you are with a group you will not be rude," says Justine le Clercq, a former sex worker in The Hague and chairwoman of My Red Light from 2017 to 2019. The worst offenders, she claims, tend to be a certain type of tourist: "18 years old, drunk, and really insecure."
Tour guide Van Patot agrees, indicating that in his eyes, the real problem is self-guided tours fueled by alcohol. Of 1,600 permit holding tour guides in Amsterdam, just 12 were fined for misconduct since April 2018 -- half of them pub crawls. But according to Al, creating regulations to differentiate the good tours from the bad would just be too difficult.
While the decision is being contended, in the district itself, it's business as usual. A guy in a wedding dress has gotten his veil stolen by a sex worker. His stag buddies, tightly huddled behind him like a single nucleus, start to holler. Two British guys are insisting on their sobriety to a skeptic-looking bouncer. A bachelorette party in pink tutus and matching tees saying "Bride Squad" passes by, dropping just as many mayo frites on the ground as into their mouths.
Felicia, unperturbed, starts her window shift at midnight, just as she does five days a week. It's ironic, she says, that the city is now trying to cut down on these kinds of tourists, when initiatives to gentrify the red light district have only allowed them to proliferate.
"Perhaps this has nothing to do with saving the girls," she says. "Maybe they're just trying to get rid of us."
Barbara Woolsey is a Canadian journalist whose travels span over 40 countries and five continents by plane, train, and motorbike. Based in Berlin, formerly Bangkok, she's worked in TV for Reuters, CBC, and Thailand's TrueVisions network, and writes for Thrillist and other publications such as The Guardian, Vice, and The Telegraph. See more of her adventures and storytelling on Facebook and Instagram.