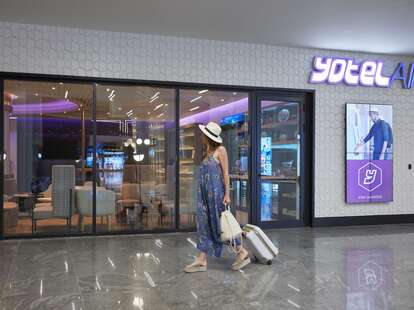 Sure beats spending the night on a food court floor.

| YOTELAIR
Sure beats spending the night on a food court floor.

| YOTELAIR
Turn Your Layover Frown Upside Down at This Futuristic Airport Transit Hotel
Check into YOTELAIR Amsterdam Schiphol for the best night's sleep you'll ever get past security.
Picture it: You're on the second leg of a multi-stop air travel itinerary. You're sweaty, you're tired, your butt has most likely molded into the shape of a standard economy seat, and you're gearing up to weather a lengthy layover in an airport terminal that's been dark and gated up for hours. The cards have been dealt, and whether it's due to poor planning or unexpected delays, your hand leaves much to be desired.
That's exactly the predicament I found myself in as my flight from Tenerife touched down at Amsterdam's Schiphol Airport around midnight on a dreary winter evening in late February. We taxied to the gate slowly, passengers shifting in their seats, anxious to deboard. I, for one, did not share their eagerness. Thanks to scheduling issues, my connecting flight to the States didn't depart until noon the next day, so I was staring down a cool 12-hour graveyard shift confined to the airport. It was too late to justify heading into the city—even if I didn't happen to land on the first day of a month-long transit strike—as anything worth doing or seeing had already closed for the night.
But all hope wasn't lost. Faced with the option to either book a room at a nearby hotel or camp out on the food court carpet for the foreseeable miserable future, I opted for the former. But this time, I wouldn't be flagging down a late-night shuttle bound for the closest generic hospitality chain. Instead, I had reserved my very own pod at YOTELAIR, a futuristic in-airport hotel offering plush adjustable beds, walk-in rain showers, Smart TVs, suitcase storage, and speedy WiFi—all meticulously crammed into a "First Class-inspired" 100-square-foot cabin that doesn't even necessitate passing through security.
YOTEL sprung to life back in 2002, when Simon Woodroffe, the London-based entrepreneur behind the popular YO! Sushi restaurant chain, got upgraded to First Class on a British Airways flight. Charmed by the premium seating's compact, streamlined design and upmarket amenities, Woodroffe didn't simply sit back, relax, and enjoy the flight. Instead, he started brainstorming ways to replicate the experience on the ground as an alternative to the expensive yet drab and outdated hotels that so often serve as a frequent flier's only respite.
Back on land, Woodroffe teamed up with fellow business guru and future YOTEL CEO Gerard Greene to drum up a prototype for their new concept with assistance from aircraft interior design firm Priestman Goode. By that time, Japanese capsule hotels had been providing last-minute guests with hyper-efficient, bunk-sized lodgings for decades. But while these hotels were known to be clean and convenient, they lacked any notion of luxury, and standard perks like televisions and private bathrooms were scarce. The pair wanted to harness the advantages of a capsule hotel while still treating guests to a taste of the good life, even if only for a few hours between flights.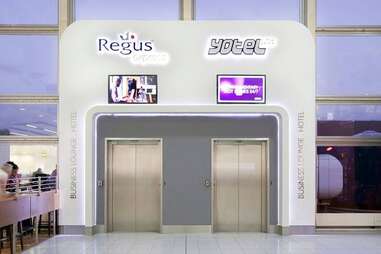 The first YOTELAIR touched down five years later inside London's Gatwick Airport. The second edition set up shop in Heathrow's Terminal 4 later that year, while Schiphol joined the fast-growing pack in 2009, all offering both overnight and by-the-hour accommodations. The company now operates three brands spanning varying scopes and sizes—YOTELAIR, YOTEL, and YOTEL Pad—with 20 properties across Asia, Europe, and the US. In the works are plans to expand that number to 50 by 2025, potentially by flipping office buildings left vacant during the pandemic.
Once off the plane, I set about tracking down my promised Adjustable SmartBed™. It was just past 1 am and the airport was dim and eerily quiet. Maintenance staff ambled by as I made my way through the terminal, passing a family of four who confidently strode up to the KLM Crown Lounge's sliding glass doors only to realize that it, too, was closed. I followed arrows pointing me along corridors and around clusters of couches cradling sleeping (or, more likely, scrolling) travelers until I reached an escalator crowned by a sign proclaiming YOTEL.
A few more steps and I was slipping through a neon-lit doorway tucked off to the side of a darkened McDonalds. A very nice woman sat behind the small desk and, after navigating a quick snafu wherein we both realized I had mistakenly booked my stay for the night before the night I actually arrived (landing after midnight is tricky business), offered me a hot Cup of Noodles and a bottle of water and showed me down a violet-hued hallway to my Premium Queen room.
The compact space, which starts at around $158 USD per night, was perfectly appointed, every item occupying its own neatly constructed nook or cranny. The bed was adjustable, as promised, and I spent some time fiddling with the buttons and pretending I was in a Sleep Number commercial. The bathroom was bigger than anticipated, with a large walk-in rain shower, a toilet, and separate vanity, while the main living area was stocked with underbed luggage storage and even a small closet for hanging clothes. A small desk slid out from beneath the mounted flatscreen TV, paired with a similarly hidden folding chair that was affixed to the wall. There was no natural light source, but a window into the hallway alleviated any claustrophobia and gave the impression of slumbering aboard a cruise ship.
After getting my fill of alternative bed positions, I settled in with my soup and flipped on the television, pleased to see a long list of channels including a bunch of international options spanning England, France, Germany, Russia, China, and the US. I'm a sucker for just about any awful British reality series, and toggling between the day's Premier League scores and First Dates made for a very pleasant wind-down period. Tucked into the soft, downy covers, I eventually clicked off the lights and drifted off to sleep peacefully.
I thought the lack of natural light would mess with my morning routine, but I woke up feeling rested and very ready for a shower. Said shower delivered, and before I knew it, I was packed up and ready to hit the KLM Crown Lounge (now open, thankfully) for a quick coffee and breakfast before heading off to my gate. Latte in hand, I later strode down Schiphol's corridors, now very much alive with footsteps, chatter, and PA announcements, dodging travelers trailing roller-bags with furrowed brows. And while I might have been facing yet another full day wedged into an Economy seat, I found myself feeling cheerful and very refreshed—thanks to my 12-hour overnight layover's First Class upgrade.