An all-inclusive adventure vacay that saves both money AND the planet
All-inclusive vacays are great, but what with all the money we spend on beer in our totally non-all-inclusive real lives, who can afford them? The correct answer is you, thanks to Volunteer Vacations: a new program from the American Conservation Experience, wherin peeps of any age can take an all-inclusive (food, lodging, recreation, ground transport) 11-day jaunt to one of four natural vistas for only $600. Of course, there is one small hitch: while you'll have insider access to places like SoCal's Catalina Island or Utah's Bryce Canyon, you get it because they're putting your ass to work.
American Conservation Experience
When we say ACE will put you to work on their vacays, we mean it, as during the weekdays you're required to do 8hrs of physical labor like this dude shoveling stuff on a cliff. The good news is, come eves and weekends, should you not be dead tired (or like, literally dead) you'll have unprecedented access and use of whatever National Park/project site you've chosen.
Here's the breakdown of this year's trips: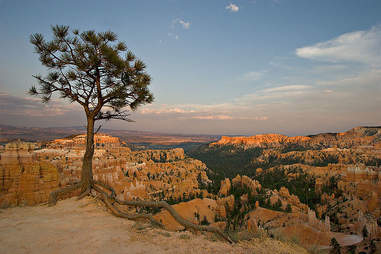 Wikimedia Commons
Bryce Canyon National Park, Utah [Start Dates July 15th, July 29th, and Aug 12th]:
You'll be setting up camp in the Ponderosa Pine habitat of the surreal limestone canyons in southwest Utah, and doing whatever task the Forest Service sees fit -- be it removal of invasive species, light trail work, or repairing fences. When you're not working, Bryce is your playground and, on the weekend, you can even take a 3hr side trip to Zion National Park.
Wikimedia Commons
Grand Canyon National Park, Arizona [Start Dates July 15th and Aug 26th]:
More Ponderosa Pine camping at the GC, as you'll be tenting it near Grand Canyon Village on the South rim, and you'll be doing the same type of light-duty manual labor by day & enjoying the canyon by night. On the weekend, you can either stick around and do stuff like whitewater rafting, or head to Flagstaff and eat at an actual resto (!).
Wikimedia Commons
Catalina Island, California [Start Dates: July 22nd, Aug 5th, Aug 19th, and Sept 2nd]:
Turns out the volcanic island off the coast of Southern California needs all sorts of work, so ACE doesn't know where exactly you'll be camping yet, but the island's pretty teeny, so you'll likely have an ocean vista. While the chores on Catalina are generally the same, there's also a chance you could be working on revegetation projects or planting organic gardens. When you're not earning your keep, there'll be kayaks and snorkeling gear at your disposal. Or you can stay on land and look for the buffalo because, yes, there are buffalo on Catalina.
Wikimedia Commons
Lake Mead, Nevada [Registration Closed]:
The lake created by the Hoover Dam (which almost no longer exists thanks to Chevy Chase in Vegas Vacation) was also on the docket this year, but closed reservations early (don't worry, there's always next year!), most likely due to confused college kids who thought they were scoring a $600 all-inclusive vacation... to Vegas.