If you have a list of places you need to visit before you die and Ecuador isn't on it -- you better sit down and prioritize.  Because we know you're always up for a good time, we went ahead and spoke to some Quito locals to make sure you have an amazing time. 
We used their insight and rounded up the coolest places you need to visit while you're in town to give you the best possible experience as an American abroad. Get ready to sample cuisine like fresh ceviche and comforting stews, hike trails up active volcanoes, and party with locals and tourists alike. You'll be warmly welcomed. 

It's all about the Mariscal district for the best partying in Quito, and more specifically, Plaza Foch. From wine bars to salsatecas, pub crawls to live jazz, the nightlife in the Mariscal district is varied and wild, and hey, who knows, you might even pick up some Spanish while chatting up the bartender. 
Cafe Mosaico may seem a bit touristy at first, but this is the place where locals will treat their friend to dinner for their birthday, or just kick back with a few drinks on the patio while the live band brings the vibes home. The view of the city against the mountain range is a big selling point, but so is the hot canelazo, a drink made of aguardiente (and that's made of sugar cane), fruit juice, and cloves, which goes down just right on a chilly night. People generalize a lot about Americans, but this one's pretty true: we love drinking outside.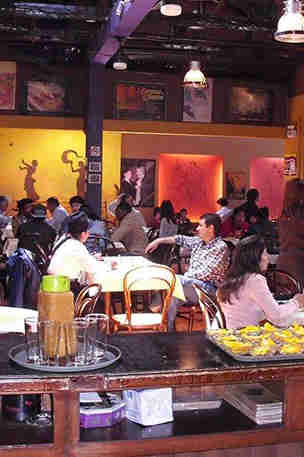 Cafelibro is admittedly a pretty chi-chi artsy haunt inspired by the bohemian lifestyle and is loved for its tango, salsa, and jazz dance sessions and lessons. They have a solid cocktail selection, and you can pull up a chair and play chess while listening to live music and sipping on your drink of choice.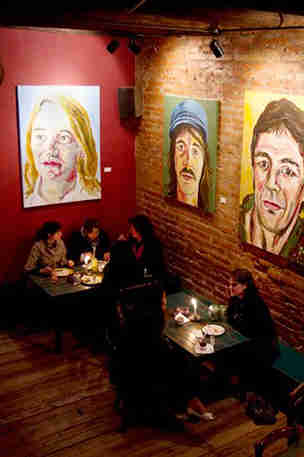 At this eclectic jazz bar cafe, it's worth wondering whether tourists from the birthplace of jazz will get any special treatment. El Pobre Diablo impresses with its eclectic decor and cozy "look-at-this-exposed-brick" kind of vibe. The people in charge know how to put a decent cocktail together, but it's the live music in this ambient, intimate setting that's keeping people interested.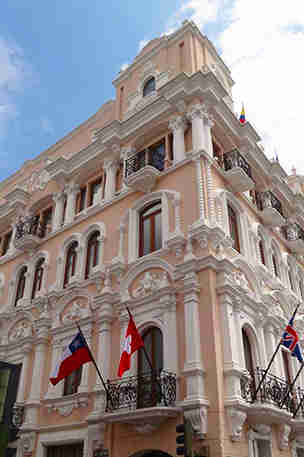 Granted, this is a pretty touristy thing to do, but it's one of those experiences that help round out your perspective of the city -- kind of like visiting the White House, or walking through Central Park. The Plaza Grande is a five-star hotel on the Plaza de la Independencia, located in the same colonial district that brought Quito the title of UNESCO's first World Heritage Site. The baroque columns of this hotel's facade might be imposing, but go right in and ask to have a drink in their restaurant bar overlooking the square, where you might even catch a live opera down below.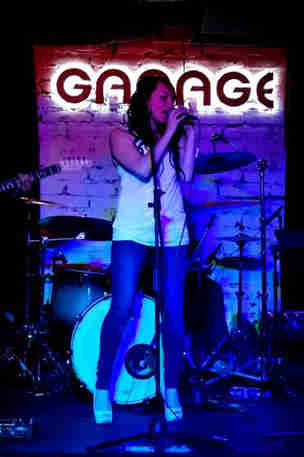 One of the locations recommended by a local, Garage is a small music venue that features face-melting rock and pop-rock -- always live -- and occasionally some reggaeton/club music. It's a cool spot to meet like-minded locals who are into the music scene, and if you're inclined to chat, it's more than likely they'll want to know what your hometown's vibes are like -- a good jumping off point to get even more recommendations for music joints.
Aura is a straight up nightclub/discoteca. Blacklights, bottle service, and locals dancing to thumping music is to be expected. Our Quito local told us she loves this haunt for its on-point music and ambiance. Do report back if "building up the beat" looks different south of the equator.
How to get to Quito
So how does one get to this paradise of good times and deliciousness? You could embark on a journey that involves a beat up old bus and an alpaca, or you can just fly nonstop to Quito from Fort Lauderdale with JetBlue. Simple.
If you're going to cut corners somewhere during your vacation, you better not touch that food budget. Quito is home to hearty stews served over rice, roasted clams, pernil sandwiches, and the classic shrimp ceviches. This is the city's version of down-home cooking, and you need to get all up in that. Oh, and don't forget the fresh juice bars all over the city. Get some guava in ya or go home.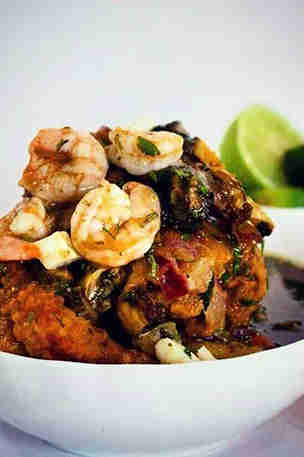 If you're a fan of American food market legends like Pike Place, Quito's Central Market should definitely be a stop on your list, with its fresh fruit and local stands. Make a beeline for the famed Corvinas De Gloria in the cafeteria. Gloria herself has the eats at this seafood stand ready by 6am, and her family's been cooking these staples since her mother started the family business nearly 50 years ago. Show up and get the fried sea bass or possibly one of Gloria's fish stews, made with conch and squid. Potatoes are extra.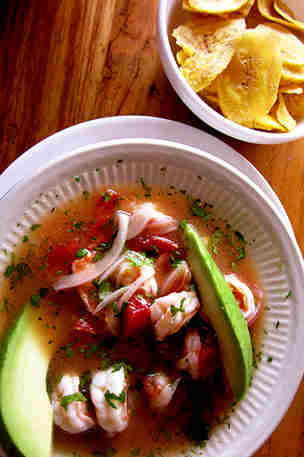 If atmosphere is all you're looking for, don't bother with the bare-bones joint La Colmena. But if you're hunting for locally endorsed authenticity in the form of tripe and potatoes simmered in a peanut sauce, welcome home. La Colmena's guatita is not only their specialty but is sought out as the best around in Quito. And if you're not a fan of tripe, peanut sauce be damned, then get one of their ceviches instead.
With that view, the waiter could slap a cold bowl of oatmeal in front of you and tell you it's Ecuador's finest delicacy, and you probably wouldn't notice. Yeah, it's called Vista Hermosa for a reason, and it's (unsurprisingly) perfect around sunset. If there's one thing Americans love more than eating and drinking outside, it's eating and drinking outside on a roof. Watch the sky change colors over the colonial quarter from the outside patio, which is heated during chillier times.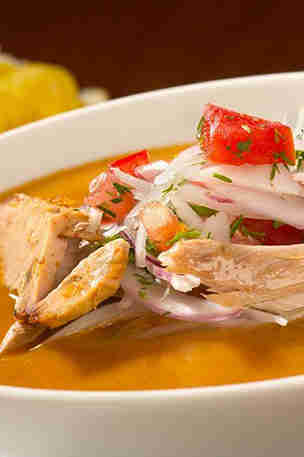 If you leave Quito without reaching enlightenment via perfect ceviche, you definitely missed something. Cevicheria Manolo is your answer to avoiding that regret. This place isn't particularly flashy, but it's frequented by locals and the big helpings of their killer clam ceviche paired with the green-plantain empanadas will take up all of your attention anyway.
With the floor-to-ceiling tapestries, paintings, and figurines, you're basically eating in a museum. The house is owned by a husband-and-wife team, he'll greet you at the door while she cooks up your grub. Even better, the owner is an avid collector of wine with one of the most impressive cellars in the city. You really can't fail if you pair one of his selections with a steak.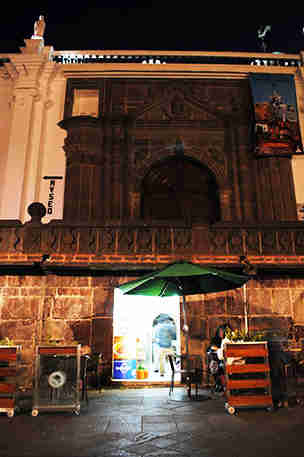 If the cronut craze didn't fill you in on this, there's a good chunk of Americans who love waiting in line for stuff that's only available for a set time per day. And if you're one of them, you're in luck -- this 40-year-old hole-in-the-wall at Plaza Grande is only open in the mornings, 9 to 11am. Their seco de chivo, a goat stew, is unmatched in the city, but if a bowl of warm, liquid happiness is not your ideal vacation food, they make great ham sandwiches too. And that's the slow-roasted, pork shoulder type of ham -- not sad deli slices. Eat it on the terrace for some quality people-watching.
Once you've been fed and watered (and watered and fed) get your best waterproof jacket and head to some of the sights you can't miss if you've got a single adventuring bone in your currently ceviche-filled body. You can't go back having done nothing but stuff your face, after all. (You totally could, and who are we to judge.)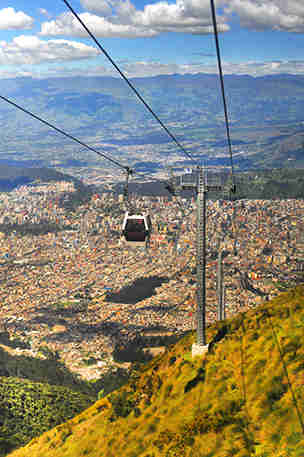 If you're afraid of heights, do it anyway. This gondola is one of the highest in the world, and drops you off right at the east side of the Pichincha Volcano. The cable car is one of the biggest attractions in Quito and has helped rejuvenate the city's tourism after it opened in 2005.
After you get dropped off by the Teléferico, consider one of the trails leading up to the active volcano, and take a two or three hour hike to the top. Why? Because how many mainland volcanoes does the 'ol US of A have? Thought so. The air is thinner, so you might want to wait until you're a few days into your trip to make the excursion, and even then you will experience some sensitivity. 
Calle La Ronda is as touristy as touristy gets, but you can't just NOT walk down this beautifully restored colonial street, one of the oldest in the city. Would you miss Bourbon Street in New Orleans? Or Fifth Avenue in New York? Take a stroll and you'll pass bars, restaurants, and cafes, many of which feature live traditional music. The artisan workshops are also a big selling point, and you can find handmade toys, musical instruments, and hat makers. It's nice to have a list of places you'll want to hit, but in reality, walking La Ronda will throw you off-course in the best way.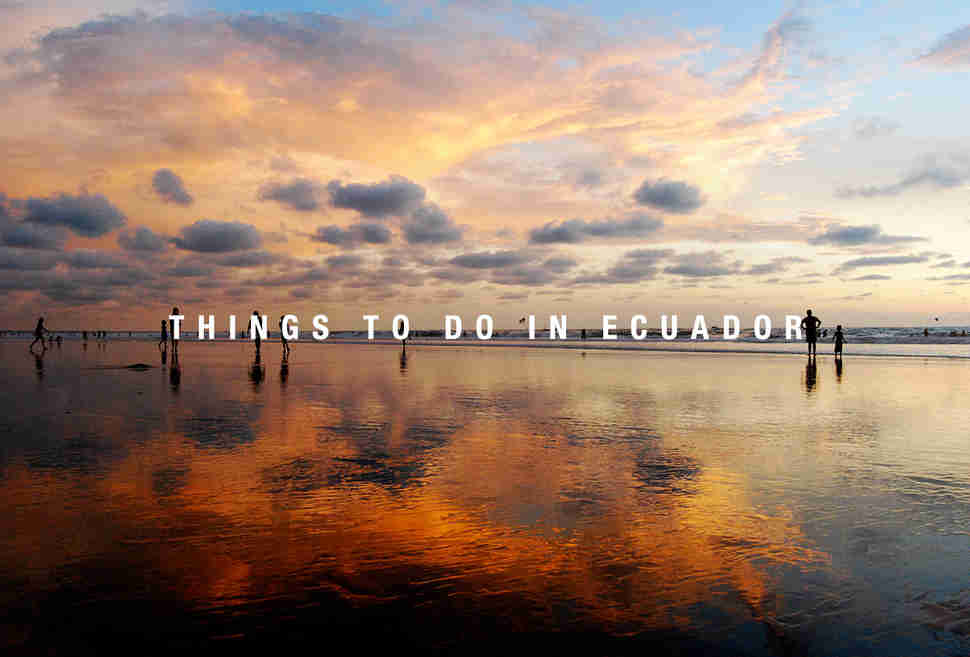 Though Quito is a great introduction to the rest of the country, there's more to Ecuador than this one city. The marshes of the Amazon, the perfect tubing waves of the Pacific Coast, the biodiversity of the Galapagos, and the terrifyingly awesome glaciers of the Andes each have to be experienced for their scope to be understood. Get your galoshes on -- you're not in Quito anymore.