You know how Scrooge McDuck has so much gold he actually swims in it? Well, the peeps in Naftalan, Azerbaijan basically have that exact scenario, only with black gold -- and thanks to places like the Chinar Hotel & Spa, you don't have to be a billionaire waterfowl to do it.
Recommended Video
Drink This Winter Bourbon Smash and Conquer Cold Weather Forever
Welcome to the Chinar Hotel & Spa: slick on the outside, and the inside.
Crude oil baths, which basically just involve hopping in a tub full of oil up to your neck, are roughly $250 and are officially called Naftalan therapy, taking their name from the type of oil native to the region.
Naftalan crude oil is pretty freaking goopy and too heavy for traditional export uses like gasoline, which's actually swell news for petro-bathers, as it's comprised of 50% naphthalene (a hydrocarbon used in soaps that treat skin conditions like psoriasis) and is therefore believed to be extremely therapeutic.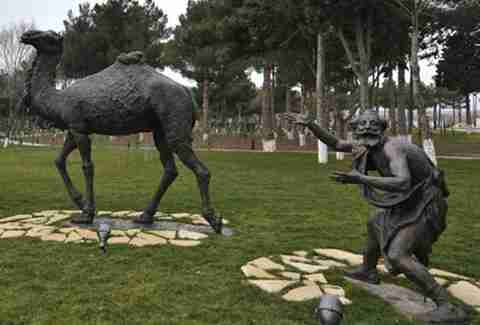 By no means a new invention, Naftalan therapy is rumored to have first been discovered in the 6th century BC when a sick camel accidentally wandered into a pond full of the crude and was cured. This radical monument in front of the Chinar Hotel depicts the scene.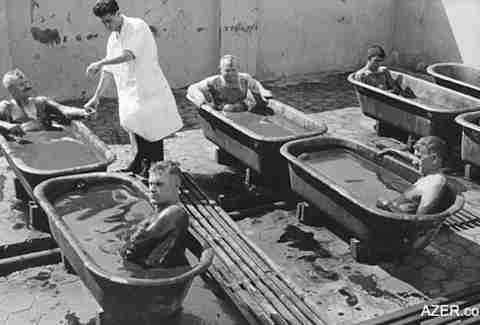 Here're some chaps at the turn of the century doing a bit of Naftalan bathing. Side note: whoever told that orderly to wear his white smock was truly an evil prankster.
Chinar's also got really luxurious normal pools which you can totally use... try to go in covered in oil though, and you'll probably get ducked.
Previous Venue
Next Venue
Venue Description
1. Chinar Hotel & Spa
Shirvan Ave 12, Naftalan,
Located in the Azerbaijanian city of Naftalan, Chinar Hotel & Spa is the ideal spot for some R&R, especially if you've been jonesin' for a nice, luxurious bath in crude oil. Officially dubbed Naftalan Therapy, these spa treatments use oil native to the region which is believed to pack tons of wellness benefits.