50 creepy mummies were just unearthed in Egypt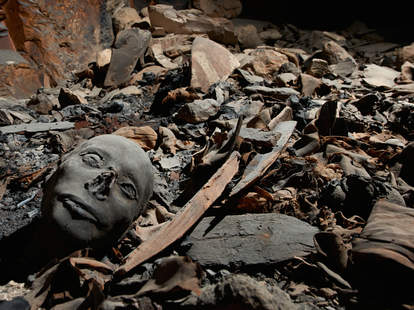 Matjaz Kacicnik/University of Basel, Egyptology
The most exciting discovery most guys make involves some variation of the back shed and dad's vintage Playboy stash. But a team from Switzerland's University of Basel has unearthed real treasure in KV 40, a mass tomb in Egypt -- digging up 50 ancient mummies, including a few royals in Luxor's Valley of Kings.
Following an announcement Monday from Egypt's Antiquities Minister that suggested princes, princesses and even newborn babies were among the excavated bodies, archaeologists found hieroglyphic text confirming the identity of pharaohs Thutmose IV and Amenhotep III from 14th century B.C. along with four princes, eight princesses, and other infants.
Death masks, textiles, and bones were among objects found alongside the human remains, with soot thought to be from a 19th-century fire covering the relics.

Matjaz Kacicnik/University of Basel, Egyptology
But while the tomb was the final resting place of a number of royals, they'd probably roll over in their grave to know their gold treasure was likely stolen in antiquity, with any other valuable goods looted in more recent centuries, as archaeologists speculate in LiveScience.
Bringing down the sanctity of the tomb further, the presence of cartonnage, a material similar to papier-mâché, suggests the burial site was actually used on another occasion to inter priests' families during the ninth century B.C., according to Fox News. 
So much for it being a final resting place.
Chloe Pantazi is an editorial assistant on Thrillist's travel team. She used to work at the British Museum, where she spent too much time with the mummies. Follow her on Twitter at @ChloePantazi.