The idea of sticking prisoners into the ring with vicious beasts to fight it out to the bloody end purely for the entertainment of others might seem like something only the Romans would do… but the Louisiana State Penitentiary is here to prove you wrong! For the past 40yrs, they've been proudly using their Angola facility for exactly that, in the form of its bi-annual Prison Rodeo.
The only thing different from normal rodeos is that the people riding the bucking broncos & bulls are convicted felons.
And because of the fact that they're professional, uh, criminals, and not pro rodeo-ers... when they fall, they fall a tad bit harder.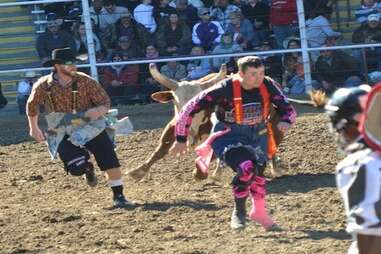 But before you get all "exploitation of prisoners" on them, know that prisoners actually elect to participate (booo!), and there are trained professionals on-hand, like these clearly-in-control rodeo cowboys running the show.
Now that we've got that out of the way, back to exploiting prisoners the show. The highlight of the rodeo is something called Convict Poker wherein a quartet of jailbirds sit and pretend to be playing cards...
... at which point a bull is let loose on them and the last man seated wins (unless that man has been gored to death).
The professionals think this is all pretty hilarious... the convicts? Not so much.
Could you get the poker chip off of that bull's head?
Another fun game is try not to get crushed by the bucking bronco Wild Horse Racing, wherein teams of three try to capture a wild horse, mount it, and race it to the finish line.
Wild Horse Racing is also good practice for convicts planning super old-timey breakouts.
Believe it or not, this is actually very nearly the intended outcome of Bull-Dogging, wherein a pair of prisoners attempt to tackle a bull released from a pen directly at them.
It's unclear what event these guys are participating in, but it's likely that the fellow on the left is wishing he'd never left the cell block this morning.
Totally not stealing that horse...
In the event that you're beginning to think this whole thing really is a little too gladiator-esque, they've also included monkeys riding dogs to lighten the mood... just don't ask what they did to end up in Angola.