Ever checked into a resort and found the hot tub brimming with a family of six? Congratulations: you've just met one of the most annoying types of travelers ever. From the guy who still takes off his shoes at TSA Precheck to the "Instabragger" who's constantly clogging your feed with flying-in-first-class-again photos, here's a rundown of the most annoying travelers on the planet.

1. The guy who complains about everything to get free stuff
They say the customer is always right, but some ambitious travelers take it way too far. The guy at the customer service desk insisting on a travel voucher for his delayed flight. The hotel guest who "couldn't get a wink of sleep" (wink, wink) due to "loud" neighbors. These cheaters use every trick in the book (see: LIE) to scam their way to top perks.
2. The pool and hot tub hoggers
These notorious guests camp out for hours in the hotel swimming pool and hot tub, drinking, carousing, and generally acting as if there're no other guests in the joint. The sign says it's dangerous to stay in the tub longer than 20 minutes. Get out. Oh yea, this group also includes the afternoon drinkers who lock down the swim-up bar, the dude doing laps, and pool-chair saver.
3. The embarrassingly underdressed traveler
Sure, who isn't okay with short skirts and flashing a little skin, but being wildly underdressed (both men and women) is another story. Nobody wants to sit next to your sweaty armpit hair because you thought an Ed Hardy mesh tank top was the right fashion play for your flight to Ft. Lauderdale.
4. The backpacker going to "find himself" in Southeast Asia
We highly endorse "find thyself" trips to Southeast Asia as long as guys don't get super extreme about it (see: spiritual quest blogs). If you've ever embraced a Buddhist name while ditching your given one or gotten a tattoo of Chinese characters you can't translate, we're talking to you.
5. The Instabragger
According to Instagram, this traveler is flying in first class. Again. Just like last week, and the week before that. Apparently, he also just checked into the presidential suite of that hard-to-book hotel, a week after posting, like, a million photos of his overwater-bungalow in Tahiti. Good thing you can follow all of his adventures from your cubicle.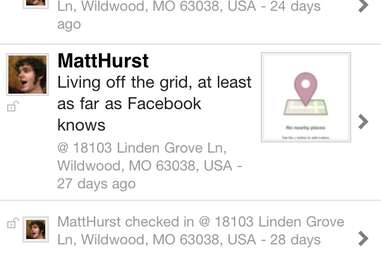 6. The Facebooker who checks in everywhere
Similarly, this annoying traveler literally checks in everywhere. Airports, restaurants, beaches, pay toilets, random streets in Kuala Lampur, basically anywhere he gets cell service and has battery power.
7. The infrequent flier
The Infrequent Flier in Group 5 loves to crowd the boarding gate when they call for children and people needing assistance. At security, he ignores huge signs reminding him to take off his metal belt buckle, while looking around bewildered as he approaches the X-ray machine with five huge rollerbags. Even newbie TSA Precheck travelers never seemed to get the memo that you can leave your laptop in the carry-on.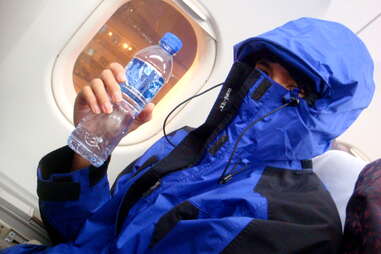 8. Problem passengers
A full flight is like a box of chocolates: you never know which high-maintenance passenger you'll sit next to. The dude with whooping cough and terrible B.O. The window-seat grandma with the bird's bladder. The chatty Cathy. The recliner. The overhead-bin stealer. The list goes on, and on, and on...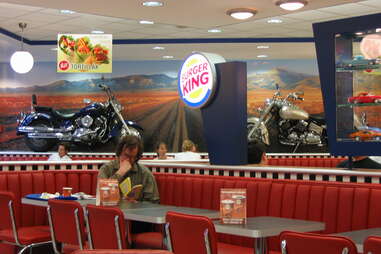 9. The unappreciative diner
Eating your way through a destination is part of the cultural journey, right? Apparently not so for some tourists, who make a beeline to every Burger King and Blimpie within 10 blocks of the Eiffel Tower. Whether they lack a sense of adventure, suffer from food allergies, or just miss Springfield, they make all Americans look bad.
10. The European non-tippers
Tipping in America is like not drinking tap water in Mexico. It's understood. So there's something to be said about international visitors who come to the US and pretend to be unaware of the tipping protocol. Maybe it's our responsibility to remind/inform them.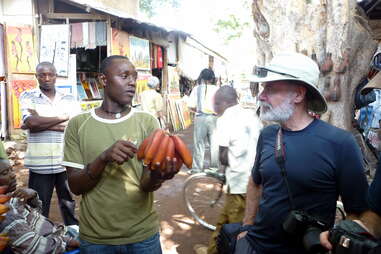 11. The hyper-haggler
In some countries, haggling at the market is an expected and common ritual that borders on an art form. Everyone does it. And then there are those who embrace it a little too much, negotiating with a crazed fierceness not generally associated with a dude who wants a pair of authentic hand-carved clogs.
12. The boring traveler
The importance of choosing a travel partner wisely cannot be stressed enough, especially if you end up on vacation with The Boring Traveler. He/she never wants to see anything. Hanging out at a hotel pool all day is perfectly fine. And when you finally get him to that new restaurant, he's like "whatever" -- but he actually says "whatevs" which makes you want to punch him even more.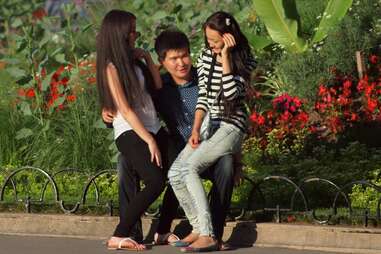 13. The newbie traveler who suddenly knows EVERYTHING
The Newbie Know-It-All has exhaustively researched his trip and knows the destination like the back of his hand. He's eager to tell you everything about Angkor Wat's history and what to expect when you arrive at the Vatican. The only problem: more often than not, he gets his facts totally wrong.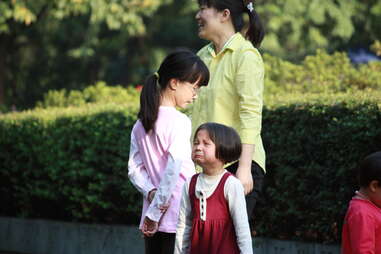 14. The children draggers
On your many travels, you may cross children slumped over in their restaurant chairs at 10pm on a Tuesday. Or screaming kids with no appreciation for Van Gogh. Or little ones passed out in the stroller at a late-night concert in the square. We'd like to think they should be in bed but, ultimately, we aren't the parents. Apparently, neither are the selfish adults dragging them around.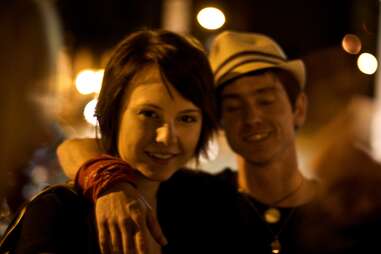 15. The overtly overly-friendly couple
Is there such thing as weirdly friendly? In travel, yes. To be specific, The Overtly Overly-Friendly Couple is the sociable pair who interrupts your personal space, suspiciously eager to learn your life story and expecting you to inquire about theirs. Their natural habitat includes cruise ships, hotel bars, and the breakfast table at any B&B.