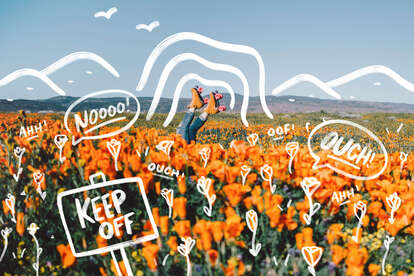 We can be better than this.

| Photo: Shutterstock; Illustration: Emily Carpenter for Thrillist
We can be better than this.

| Photo: Shutterstock; Illustration: Emily Carpenter/Thrillist
We do love a good floral bloom in this country. Each spring, the Antelope Valley California Poppy Reserve re-emerges as a national treasure, carpeting the horizon in orange poppies sprinkled with fiddlenecks and forget-me-nots. It's an explosive display of nature's more painterly instincts, elevating a beige-ish desert landscape—coyotes, dirt, tumbleweeds—into technicolor.
It would be nice if we could simply collectively enjoy one of nature's most spectacular displays without endeavoring to kill it, but unfortunately, there is something about the pollen and saturated colors and lure of Instagram clout that makes people forget how to act. For the past several years, Instagram influencers, in particular, have prompted tens of thousands to seek whimsical profile pics of drowning in poppies. Just out of the frame: the mangled swaths of all the flowers they've uprooted and crushed, and the hordes of other tourists doing the exact same thing.
In 2019, two enterprising and depraved visitors landed an actual helicopter in the fields, but don't think it takes something that extreme to cause serious damage. Flowers are delicate! The damage you—just you, one single individual person—inflict from not sticking to the trail can mar the growth for years.
Antelope Valley is home to Southern California's most consistent, vibrant, concentrated wildflower blooms, and therefore perhaps the most concentrated incidents of tourists being jerks. As early as 2008, the reserve was the site of a brawl between tourists going off-trail and tourists trying to stop them. Since 2017, it's been under increasing threat from hordes of visitors under the influence of social media, who hamstring the poppies' growth for years by going off-trail and trampling them. While the road of vigilante justice is perhaps not for everyone, at the very least make sure that you yourself are not contributing to the reserve's destruction when you visit.
This should go without saying, but it apparently bears repeating over and over: Stay on the trails. Don't pick flowers. Don't smush them with your tripod. Don't hop fences to get in (we know the line can be long! It's worth it!). Please don't lie down on top of them to make poppy angels. Please do not re-enact The Wizard of Oz. Why are you letting your dog off-leash here??
"People are idiots. It's such a fragile and fleeting ecosystem. If you're not gentle, you ruin it for everybody else."
Frustrated with the increased traffic and clogged parking options, many visitors have taken to simply abandoning their cars in the middle of the road to stop for pictures. This creates further traffic jams and can block, you know, emergency services for locals whose emergencies stem beyond "gotta get that selfie."
"People are idiots," said one LA resident who owns a ranch a few miles from the bloom. "They see the bloom and it's like drivers in LA when it rains. They have no idea what's going on. Remember your manners. I see people out there doing these photoshoots for Instagram… It's such a fragile and fleeting ecosystem. If you're not gentle, you ruin it for everybody else."
It's a happier approach to know that by abstaining from being an asshole this season, you're part of the movement that will let the most people—including you—enjoy the flowers the longest. And keep in mind that stepping off the trails can get you a fine of several hundred dollars and that extra park rangers post up during peak season to ensure you are on your best behavior.
It's not you, reader, whom we don't trust; it's everyone else. Now that that's out of the way, here are some handy tips for how to see this corner of the world properly.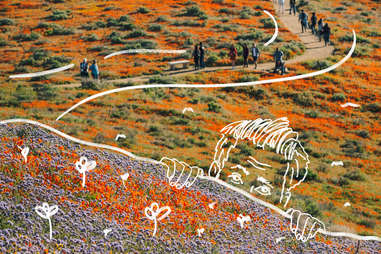 Where to go to experience the bloom
Antelope Valley California Poppy Reserve is in northeast Los Angeles County, located about 70 miles north of LA (it's a huge county) in the peacefully desolate countryside outside of Lancaster. In the reserve, you'll find about eight miles of trails, the most popular parts of which are the North and South Loop trails.
Your first stop should be the visitor center, where you can get the latest updates about which parts of the reserve should be putting on the best show that day. You can download a trail map of the reserve here. You can also get updates from the Poppy Reserve Wildflower Hotline (661-724-1180) or get notifications—along with all the text and audio features of a good walking tour—on your smartphone from PoppyReserve.oncell.com. It's easy to join a free walking tour IRL, too, though if you're going with a big group you might want to reserve in advance by calling (661) 946-6092.
FYI, there's a $10 dollar day-use fee, and thanks to COVID, parking and restrooms are limited.
When to visit the Antelope Valley Poppy Reserve
The first of this season's poppies started blooming in February around the North Loop Trail. Peak season varies but should fall sometime between the middle of March and the beginning of May. This year looks to be a modest bloom—there hasn't been a ton of rain (thanks, climate change), and future precipitation and heat will determine just how much orange will blanket the fields this spring, and for how long.
Sometimes the peak blooms are there and gone in just two weeks before the valley begins reverting to its standard color palette (brown). The safest bet is to aim for early April—but, if you're gonna make the trip, you do have to accept that whether it'll be timed right or not is slightly out of your hands. Embrace nature's inability to be governed by the desires of man (and yet so affected). That said, you can monitor the blooms on the reserve's live stream, and you'll probably have a good time regardless at the annual California Poppy Festival, which this year runs April 22–24. You might try to avoid St. Patrick's Day weekend, which in the past has seen up to 100,000 people competing to get in.
Time of day is just as important as time of year. Poppies close up when it's not sufficiently sunny and warm, or when the breeze gets too strong, so late morning is generally the window that gives you the best odds of the best blooms. By late afternoon, they'll be starting to hunker back down for the night. Let them rest. They've had a long day of being sat on.