Rather than piss off café owners as you sip on cold tea -- and hack away at your werewolf novel -- for seven hours, head to the anti-café café Ziferblat, a popular Russian/ Ukranian chain that just debuted in London. There, you're free to scarf down as many coffees, teas, and biscuits as you want/ can. The twist? Patrons pay by the minute (about five cents per sixty seconds). There's also unlimited Wi-Fi, and a BYO ethos (using the kitchen to make your own grub's encouraged). All for up to five hours ($15 is the cap). Plus, with workshops and movie screenings, it sounds like a prime place to hit on some local talent.
Recommended Video
This Stretchy Ice Cream Is Made With Wine & Cheese
Every table is outfitted with a clock (and each clock has a name). We're sensing a theme here...
Eclectic furniture from a variety of eras makes wherever you sit your butt down an exciting new adventure and source of inspiration. How's that novel coming along?
You can use this high-quality coffee machine and grinder as much as you want.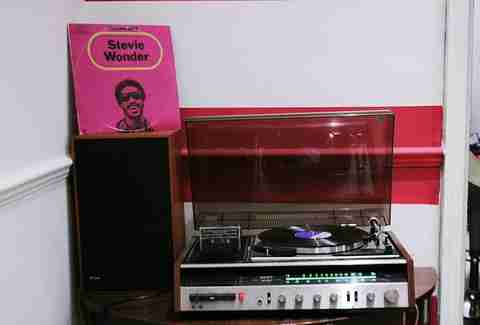 And of course, no hipster joint would be complete without vinyl -- mustache not included.
Sophie-Claire Hoeller is the associate travel editor for Thrillist Travel. She's also attempting to challenge the reigning champion for the title of "ate the most biscuits in five hours". Follow her on Twitter @Sohostyle.