After crawling into a hammock tethered between two pine trees, I'm tucked in under a warm, cozy blanket that shields me from the surrounding freezing temps. The only thing exposed to the weather is my face, which I quickly hide under the blanket to keep warm. I'm given a gentle push and begin swaying beneath the towering trees. It's the perfect time for an Arctic nap, or if you're like me and can't sleep, a perfect time to relax and reflect, while the only sounds around are my own breath and a soft wind whooshing through the trees.
For about half an hour, I lay in winter's silence, watching the trees above dance under a blue sky dotted with cotton candy clouds. As I breathe in, the smell of the campfire a short distance away fills my nostrils. I'm at HaliPuu, a pine and birch forest in Veitservasa in the Arctic Circle, where this hammock activity—called arctic cocooning—is an alternative form of forest bathing.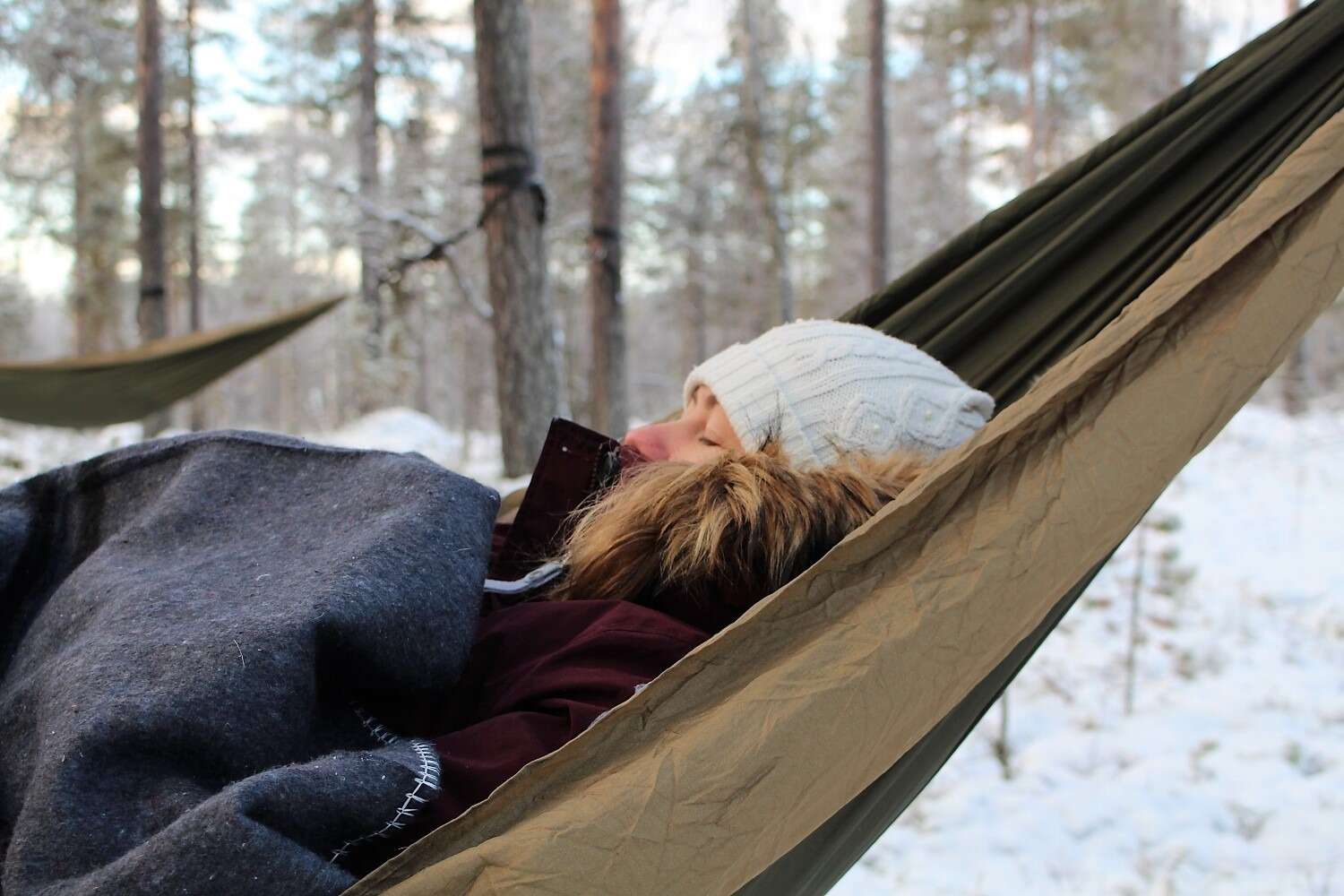 It's actually not uncommon in Finland for parents to put their babies outside in cold weather to sleep in sub-zero temps. They say the fresh air helps improve sleep. Why not give it a try for adults?
This most gentle of Arctic adventures is far more accessible to your average person. No hard core ice spikes needed here, despite the far-north journey to get to HaliPuu, near the remote Lappish town of Levi. It's a two-flight kind of destination. After taking the main flight to Finland, visitors will want to get on a second, shorter domestic flight.
Finnair offers nonstop tickets to Helsinki from Dallas, Chicago, New York, Miami, and Los Angeles. From Helsinki, another Finnair flight whisks passengers to Kittilä in the Arctic Circle. Upon landing, you can rent a car or arrange a car service for a short 20 minute drive to HaliPuu. There, the arctic cocooning activity awaits, along with cozy campfire treats and warm drinks.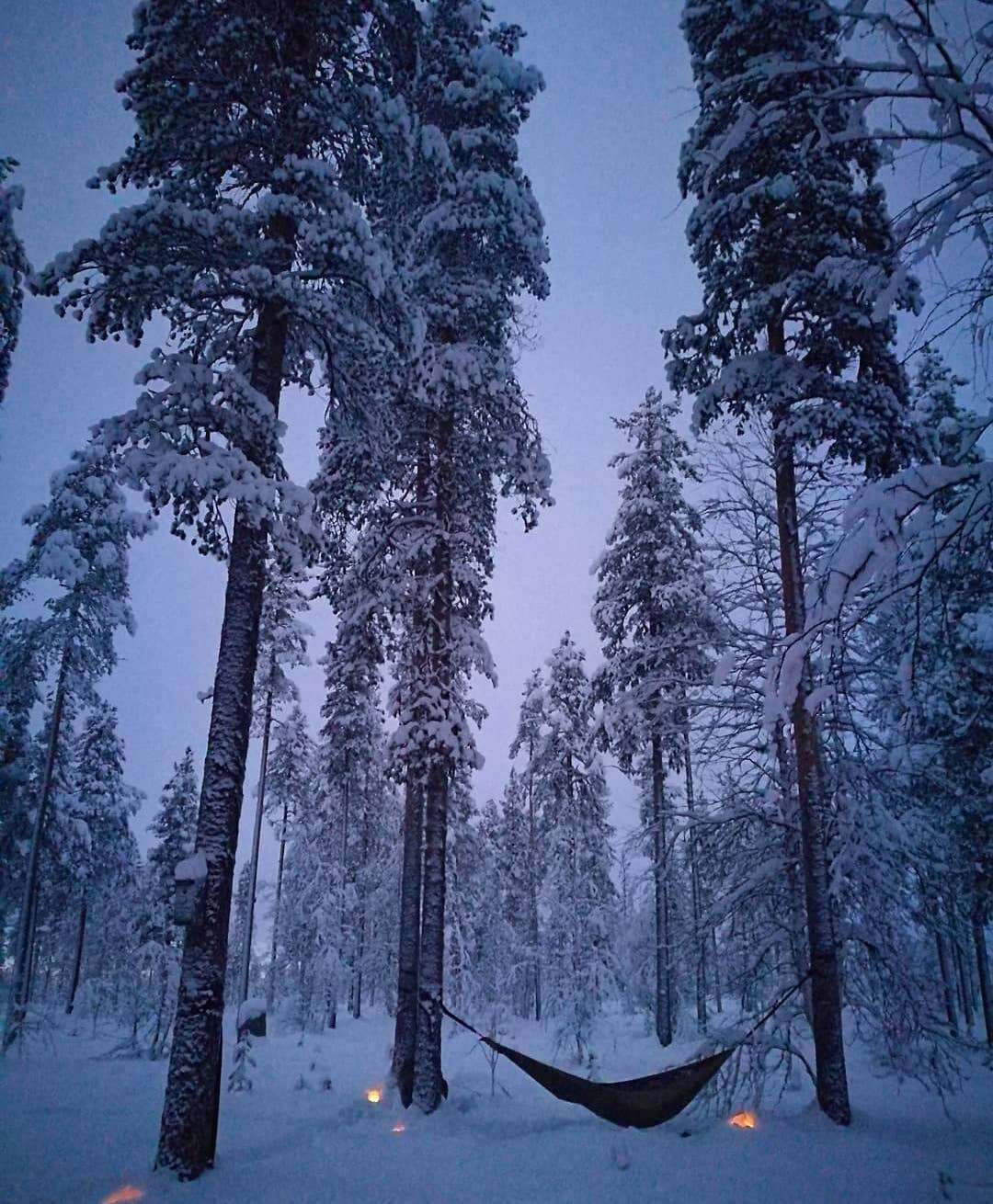 HaliPuu, a 25-acre forest that's been in the same family for generations, wasn't always a place for arctic fun. At first, the goal was to cut these trees down, since it began as a forest for harvesting lumber.
In 1948, forced to flee the battles of WWII, Kaarle Raekallio moved here as a child with his family from Petsamo, Finland—now known as Pechenga, Russia—near the Barents Sea. The family fled the area when Russia invaded and ended up in the forest in Veitservasa. Selling lumber from the forest provided an income for the family, and Kaarle spent his life in these woods, collecting pinecones for seeds and later working as a lumberjack while simultaneously striving to help the forest grow healthy.
In 2014, Kaarle and his family decided they wanted to preserve the forest and keep the trees standing instead of cutting them down. It was Easter, and Kaarle and the family were sitting in the woods, grilling sausages and drinking coffee, when Kaarle noted that the forest was ripe for felling, but he didn't want to cut it down.
"He was kind of joking, but he said 'let's adopt the trees to people of the world as hugging trees,'" says Riitta Raekallio-Wunderink, Kaarle's daughter. "I immediately felt it was a brilliant idea and started developing the thought further."
Tree hugging, an element of forest bathing, is known for its health benefits, including reduced stress levels, boosted immunity, and lowered heart rate and blood pressure.
First, HaliPuu came to life as a place where visitors could "adopt" a tree, where they purchase a tree from the forest and then visit it to experience the healing power of nature and tree hugging. But Riitta wanted to do more, so she came up with the idea of arctic cocooning. "I had a vision of hammocks hanging between the trees, and it immediately made sense to me," she says. And as I rock back and forth in my hammock, bundled up like a baby as I soak in the beauty of the forest, it makes sense to me, too.
Of course, many visitors try to catch a glimpse of the Northern Lights while in the Arctic Circle. The glass-domed igloos at Levin Iglut are perfect for this, as you can rest from the warmth of your bed while staring up at the sky, watching the Lights dance in shades of green, blue, and purple. Levin Iglut has a restaurant on site for a three- or five-course menu that changes with the season, but often features local produce like berries, fish, and lichen. The hotel can also arrange activities such as snowshoeing and reindeer farm visits.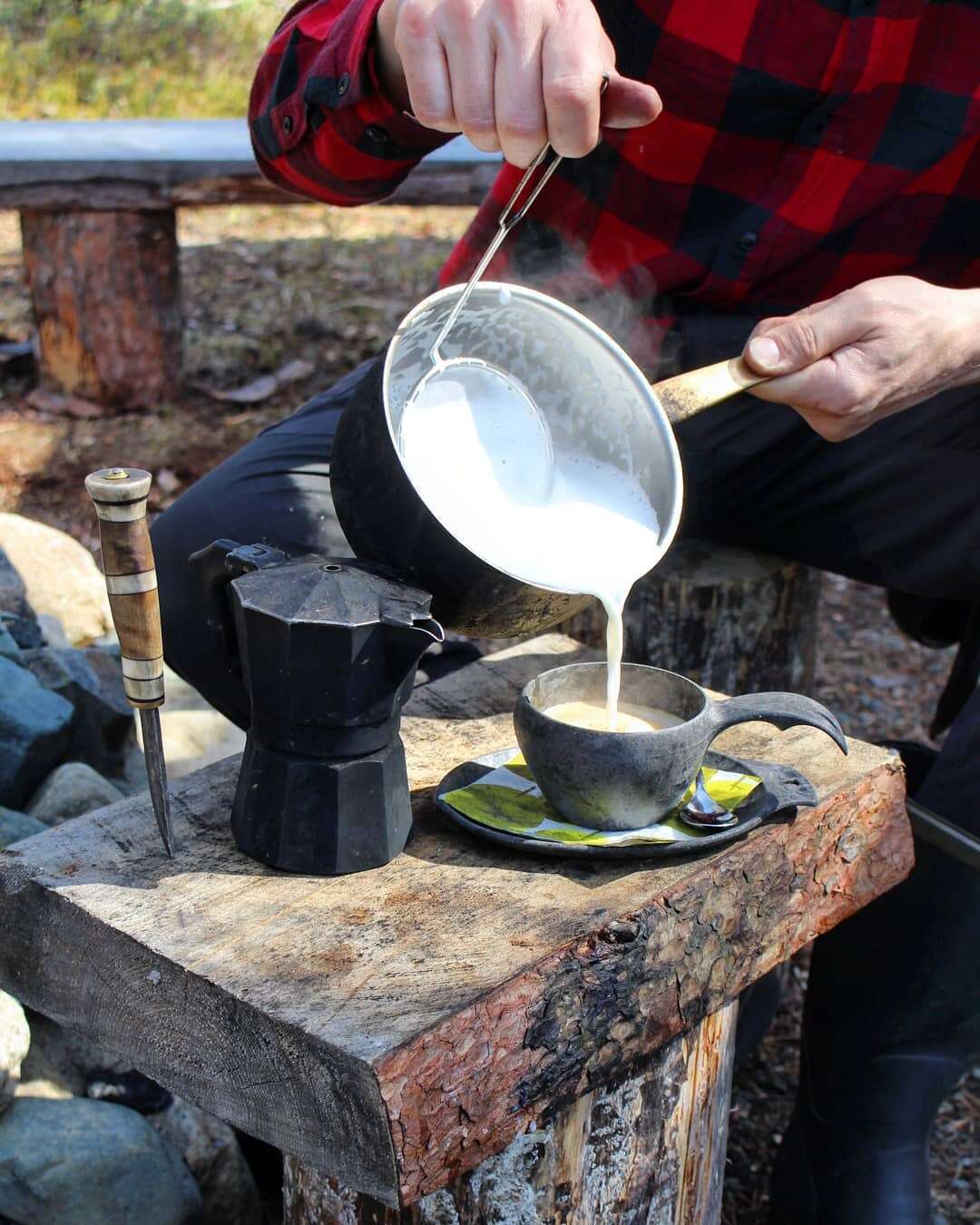 Back at HaliPuu, eyes closed and in an Arctic oasis, I feel a gentle nudge on my shoulder. It's Riitta, who whispers that I'm welcome to continue cocooning or make my way to the campfire where her husband, Steffan Wunderink, is whipping up warm drinks and treats. Of course, the stomach wins and I head to the campfire a short distance away.
Pots, kettles, and coffee makers warm over the open fire, and Steffan recommends I try his dirty chai latte, made with Lappish chaga syrup, juniper berries, and birch leaves, which add an Arctic twist to an already stellar latte. As I sip my warm drink and roast a homemade lingonberry marshmallow over the fire, Steffan tells me he thinks he might be the world's first campfire barista, a title he's proud to claim as he makes hot chocolates and passes out lingonberry-chocolate chunk cookies. Sure, there have been people prior to Steffan who have made coffees over a campfire, but how many of them are harvesting chaga mushrooms from birch trees to boil down into their own homemade syrup for specialty Arctic lattes? Campfire barista, indeed.
After warming up, Riitta and Steffan encourage me to head out into the forest and choose a tree that speaks to me. Riitta tells me it can be any tree; I just need to give it a good hug to reap in those tree-hugging benefits. I choose a towering pine, wrap my arms around it, and give it a squeeze. Riitta demonstrates pressing her cheek against the bark, which I emulate. It feels silly at first, but soon enough, I feel at peace in the forest. It's almost like hugging a loved one—a loved one with a rough, scratchy face.
I gaze around the forest, looking back at my hammock strung between two trees, the smoky campfire, and rows of trees standing in the forest, waiting for a hammock or a hug. This place was never meant to be cut down. It was meant to bring joy and relaxation to those who don't get to see magic like this too often. It was meant for Arctic cocooning. I say goodbye to my tree and make my way through the snow, hoping to return one day for a bit more Finnish solace.