Dude Calls Flight Attendants "Fat," Gets Completely Owned by Airline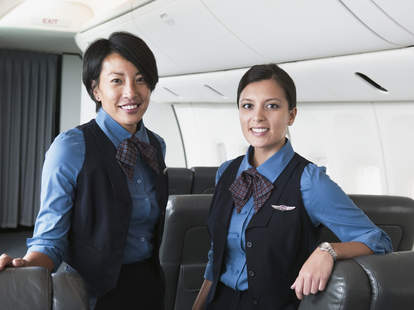 Airing your gripes about rude flight attendants -- especially if you're a Spirit customer -- is well within bounds. But you're opening yourself up to ridicule by publicly ragging on them because you don't think they're hot enough. One douchebag found out the hard way last week.
Andres Horacio Pignataro, an apparent jerk, posted a rant on Argentina Airlines's Facebook page last Tuesday, disparaging his flight attendants' physical appearances. "Before they were tall and nice, now they only take short, fat girls," he wrote.
The airline responded in turn to Pignataro with its requirements for flight attendants: you must be an Argentine citizen older than 18, between 5'4'' and 5'7'' (if you're female) or 5'7'' and 6'1'' (if you're a dude), hold a high school diploma, a TCP license, and be able to swim and speak English. A high tolerance for a-hole passengers also helps.
The carrier signed its reply with "xoxo." OK, not really. It actually went with something better: "Prejudice doesn't fly, we leave it on the ground." And soon enough, the hashtag #prejuiciosnovuelan (#PrejudicesDoNotFly) took off on Twitter and Instagram, where cabin crew members posted selfies.
So far, no further response has come from Pignataro, who coincidentally disappeared from Facebook. He's probably in the ICU, dealing with that sick burn.

Chloe Pantazi is an editorial assistant on Thrillist's travel team. Yes, that's a British accent. No, she doesn't watch Doctor Who. Follow her on Twitter at @ChloePantazi.