The 14 Most Hipster Hotels in America
<a href="https://www.flickr.com/photos/stuckincustoms/5718587305" target="_blank">FLICKR/TREY RATCLIFF</a>
Despite the appearance of being homeless (a carefully curated look that probably cost them a fortune), hipsters work hard and need a vacation, too -- just like the rest of us. Except when they tire of pickling beets and shaping their facial hair to look like international skylines, they don't check into the Fitzroy Marriott. Oh, no. They pack their skinny jeans into dusty suitcases (WITHOUT WHEELS) and head to one of these 14 hotels.
Ruschmeyer's
Montauk, NY
Remember when you were a budding hipster and your mom sent you to summer camp, and everyone played baseball and drank commercial sodas at the canteen (not even ironically), and you were sooooo over it? Well, if mom were still in charge today, she'd be shipping you off to Ruschmeyer's, since it's pretty much an adult hipster's summer camp. This "nautical-style" getaway was originally built in 1952 and its (recently renovated) cabin-inspired guest rooms circle a central lawn known as The Magic Garden. And if that's not over-the-top enough for you, there is also cycling, Ping-Pong, yoga, and lawn games. 

El Tres Inn Silver Lake
Los Angeles, CA
If Williamsburg is NYC's hipster hotbed, then Silver Lake is the West Coast equivalent. This ultra-intimate boutique hotel rocks a Mexican theme and rents only THREE rooms, which means you'll have plenty of privacy to spin your 45s. And no, we're not even trying to be funny -- all suites come with turntables!!!
<a href="https://www.flickr.com/photos/brooksjordan/2411608046" target="_blank">FLICKR/BROOKS JORDAN</a>
Ace Hotel
Seattle, WA
The Ace brand is the granddaddy of hipster hotels, and while it has properties in several US cities, Seattle is where it all started. This spot, which is built into a former Salvation Army halfway house (of course it is), offers everything a self-respecting hipster requires in dog-friendly room decor: lofted ceilings, hardwood floors, and vintage/re-purposed furniture. Plus, it's actually in a great location near top attractions like the Space Needle and Pike Place Market. Although, now that we think about it, that's probably a strike against.
<a href="https://www.flickr.com/photos/50568517@N00/2641985033" target="_blank">FLICKR/(CARRIE SLOAN)</a>
21c Museum Hotel
Louisville, KY
This 91-room boutique hotel -- one of four 21c properties east of the Mississippi -- maintains its own art museum, and features a rotating lineup of contemporary exhibits alongside larger-than-life red penguins that are scattered throughout the guest room hallways.
POST RANCH INN/KODIAK GREENWOOD
REFINERY HOTEL
New York, NY
These days, if it's west of the East River in New York, it's definitely NOT hipster -- unless it's built inside an early 20th-century hat factory. Yea, this luxury boutique hotel is located inside the iconic Colony Arcade Building, and hipsters forgive its Manhattan address thanks to its Prohibition-style tea lounge, industrial aesthetic, and rooftop bar with views of the Empire State Building.
ACME HOTEL
ACME Hotel
Chicago, IL
For the tech-savvy hipster, ACME Hotel in Chicago has all the plugs while still retaining that "vintage" feel. It's where Internet-ready TVs meet barrel-finished cocktails. It even offers a free coffee delivery service, where they'll bring your morning joe up to the room -- in a Thermos, no less.
Loft 523
New Orleans, LA
Located two blocks from the French Quarter (even though we know you're better than Bourbon St), Loft 523 is what happens when SoHo meets NOLA and they have a child, and it's all clean lines and blank white spaces and weird mod furniture. Plus, the French Quarter is like... right there. We mentioned that already, right?
<a href="http://commons.wikimedia.org/wiki/File:Kennedy_School,_restaurant_interior.jpg" target="_blank">WIKIMEDIA</a>
McMenamins Kennedy School
Portland, OR
Yes, a stay at McMenamins is exactly like the time in fourth grade when your teacher handed you a craft beer after art class. Best. Day. Ever. Opened in 1915, this historic elementary school has been transformed into a 57-room boutique hotel with its own brewery (!!) and movie theater. And there's no need to fret about getting picked last for dodgeball here -- the gym now hosts dance parties.
<a href="https://www.flickr.com/photos/nanpalmero/13548953893" target="_blank">FLICKR/NAN PALMERO</a>
Thunderbird Hotel
Marfa, TX
A renovated 1950s roadside motel, this mod spot reopened in 2005 with glorious hipster fanfare. Rooms, which are a blend of light wood and concrete, feature native plants and cacti and the pool area rocks a latticework of salvaged (salvaged!) piping from local oil fields.
<a href="https://www.flickr.com/photos/chinkerfly/7869899558/" target="_blank">FLICKR/CHINKERFLY</a>
Clift
San Francisco, CA
At this historic San Fran spot, the furniture is the art; it includes chairs from Ray and Charles Eames, a coffee table by Salvador Dali, and a stool by René Marguerite. And the Redwood Room features an enormous bar rumored to be carved from a single redwood tree.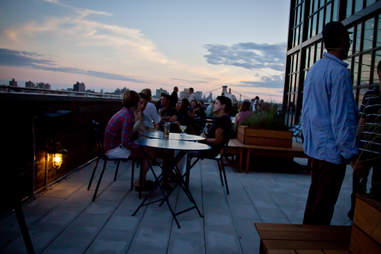 <a href="https://www.flickr.com/photos/chrisgold/7655925018/" target="_blank">FLICKR/CHRIS GOLDBERG</a>
Wythe Hotel
Brooklyn, NY
The Wythe Hotel in Brooklyn is to hipsters what The Plaza is to the people who are, well, the exact opposite of hipsters. Its prime location puts it near the craftiest of restaurants and bars, as well as close to two of NYC's least pretentious clubs (they exist!) -- Verboten and Output -- with arguably superlative sound systems and a rotating roster of awesome DJs.
<a href="https://www.flickr.com/photos/agizienski/5682195447" target="_blank">FLICKR/AMY GIZIENSKI</a>
Hotel San Jose
Austin, TX
What was once a "motor court" in 1936, HSJ has been reinvented as a modern, bungalow-style urban hotel in Austin. The property skews minimalist but doesn't skimp on the luxe amenities, like Malin + Goetz bath treats and kimono robes. The hotel also takes drive-thru to cool new level with Jo's, its takeout coffee, beer, breakfast taco, and pulled pork window in the parking lot.
THE COMMODORE HOTEL
The Commodore Hotel
Astoria, OR
Even if this renovated hotel wasn't decidedly hipster on its own (spoiler alert: it is), its history is enough to push it well into the category. The Commodore was originally built in 1924 as a spot for Portland train travelers to rest their weary bones. Until one day in 1964, that is, when it mysteriously closed with everything inside still perfectly intact, as if everyone just vanished! It remained shuttered until 2007, when it was purchased and renovations commenced. Today, refurbished (and sanitized), there's a lobby display of artifacts that were left behind, offering travelers a glimpse into the building's eerie past.