A Pretty Legit Mars Training Program is Now Open to the Public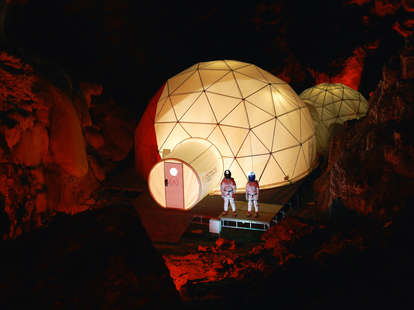 This is the real deal -- total isolation for three days, wearing specialized equipment and eating that cool dehydrated food.

| Astroland
This is the real deal -- total isolation for three days, wearing specialized equipment and eating that cool dehydrated food.

| Astroland
So you wanna be an astronaut. Don't be shy, we are all friends here.
There are a handful of places scattered across the planet that approximate conditions on the Red Planet sufficiently for astronauts to train there, but none that are accessible to civilians. Now, one is: a coastal cave in Arradondo, a small city in the Cantabrian mountains of northern Spain.
A new travel package from TripAdvisor, the first of its kind, lets non-astronauts get a taste of what actual astronauts experience during their training -- and, ultimately, of what life might be like on Mars. At 30 days all together and just over $6,750 per person, this is not a casual endeavor, but you're doing more than just astronaut cosplay here. TripAdvisor is partnering with Astroland, a relatively new private agency dedicated to testing and innovating technologies for eventual life on Mars.
"Investing in space technology is investing in innovation," Astroland CEO David Ceballos said in a statement issued to media. "This project was born with the objective of testing replicable technologies on Earth, as has already happened with other products of daily use derived from space research such as GPS or different medical application technologies."
MORE: If you're more into Spain than Mars, check out these underrated Spanish cities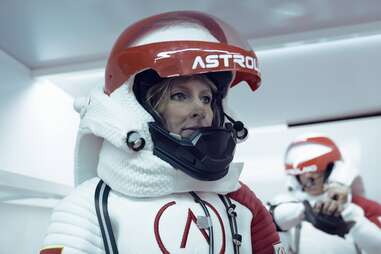 There are five expeditions scheduled so far, beginning later this month and continuing through the end of November 2019. You can look at a full itinerary here. If you're in reasonably good enough physical and mental health to be accepted into the program, you'll first spend three weeks training remotely, communicating online with real astronaut instructors from the European Space Agency, plus aerospace psychologists. Then, three days of physical and psychological testing at Astroland facilities at the Science and Technology Park of Cantabria, where you'll practice caving expeditions, buoyancy tests, and emergency protocols as if you were training for spacewalks.
Finally -- if you've made it through -- you'll don technical apparel, including specially designed astronaut suits, to spend three days in Ares Station, a scientific space station Astroland has spent years developing, inside a cave chosen because it most closely approximates conditions on Mars. The cave itself measures around one mile long and 200 feet in height. Your group of 10 adventurous participants will be in total seclusion, just like on Mars, all the better to contemplate just what exactly it might be like to live on a Martian colony. There will be self-sustaining water and power systems. A gym. A hydroponics lab where you'll experiment with growing food (though there's also a kitchen). Speaking of, remember that freeze-dried food you ate on your fifth-grade field trip to NASA? Hope you liked it.
Sign up here for our daily Thrillist email, and subscribe here for our YouTube channel to get your fix of the best in food/drink/fun.