At just 8ft wide, this is the world's smallest hotel
Originally built in 1728 Amberg, Germany, the Eh'haeusl is the world's smallest hotel at just 8ft wide (or two Oprah Winfreys), and was erected because a couple had to abide by a law dictating that lovers could only get hitched if they were home owners -- and so with just 53sq meters, they sure showed them German legislators who's boss.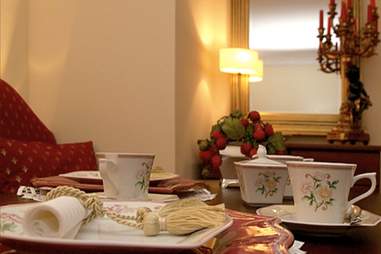 The place has 6 floors, a 5-star rating, and needs to be booked about 4 months out.
Take a bit of tea in the red saloon, and tell your significant other about how the house was sold and re-sold every few years to different couples that just wanted to get married.
Just out of sight is the glass-covered fireplace and flat screen TV -- you guessed it, it's not a big screen.
The rather large bathroom comes with bathrobes, a hair-dryer, and something called a "toweling-slipper."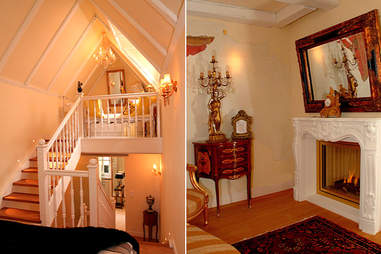 Just below the top floor is where the magic happens, and according to legend the magic is that couples that stay in the house never get divorced... Which would have been NICE TO KNOW 12 YEARS AGO.
Images: http://www.ehehaeusl.de/index3.html
At the top is the mini spa floor, with a nice soaking tub fit for you and your lover... unless you're making love to two Oprahs.