Anyone who's ever stayed in a hotel (so, everyone) knows that hotel Internet usually sucks: streaming Netflix is a nightmare, uploading to Instagram takes as long as the elevator, and Skype, well, you can forget about Skype. 
But thanks to a new report from the folks at Hotel WiFi Test -- a company that (surprise!) analyzes hotel Wi-Fi data -- we finally know which cities have the most hotels offering crappy coverage.
Got any guesses? Hint: think South. Yea, after testing/ranking WiFi speeds at hotels in 20 major US cities, Atlanta is your best of the worst. Only 22.5% of the city's hotels that offer free in-room Wi-Fi provide a base level of "adequate" connectivity, or download speeds of 3 Mbps and upload speeds of 500 Kbps. Hotels in San Antonio came in second (only 25.6% offered a steady connection), while those in New Orleans rounded out the top three at 27%. On the plus side, 68% of Atlanta hotels at least offer free in-room Wi-Fi, so that's gotta count for something, right?
As for the top cities, the Pacific Northwest leads the pack: Portland (66.7%) and Seattle (56.7%) boast almost three times as many hotels as Atlanta that provide the same level of "adequate" connectivity. Meanwhile, exactly half the hotels in Albuquerque are keeping you well connected, so if only your company would send you to New Mexico more often -- ahhh, dare to dream.
Anyway, how'd your city's hotels do? Take a look here...
Recommended Video
This Vintage Cocktail Lounge Is in a Rare Airplane From the 1960s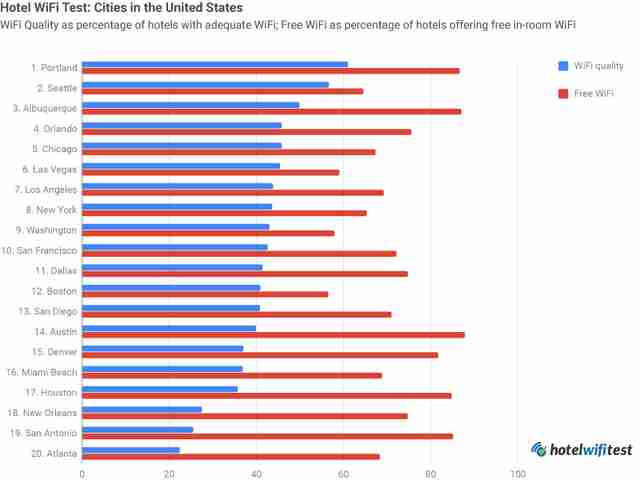 Or, to see how the US fares against the rest of the world in the dangerous game of adequate-speed hotel Wi-Fi, check out this map...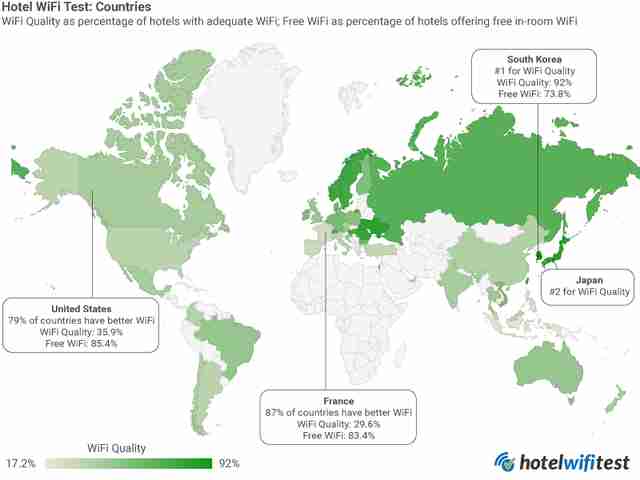 The 10 best countries (and the percentage of hotels offering adequate Wi-Fi): 
1. South Korea - 92%
2. Japan - 84.9% 
3. Ukraine - 82.1% 
4. Switzerland - 79.8% 
5. Romania - 78.0%
6. Hong Kong - 77.3%
7. Sweden - 76.7%
8. Norway - 76% 
9. Taiwan - 75.7% 
10. Hungary - 74.4% 
The 10 worst countries (and the percentage of hotels offering adequate Wi-Fi):
1. Cambodia - 20.7%
2. Greece - 20.8%
3. Indonesia - 21.7%
4. Philippines - 23.3%
5. Portugal - 25.8% 
6. Dominican Republic - 28%
7. France - 29.6%
8. Spain - 32.1% 
9. Turkey - 32.7%
10. Malaysia - 34.2% 
Head here for the full report.

Chloe Pantazi is an editorial assistant on Thrillist's travel team. Yes, that's a British accent. No, she doesn't watch Doctor Who. Follow her on Twitter at @ChloePantazi.