The 10 Most Sex-Obsessed Cities in America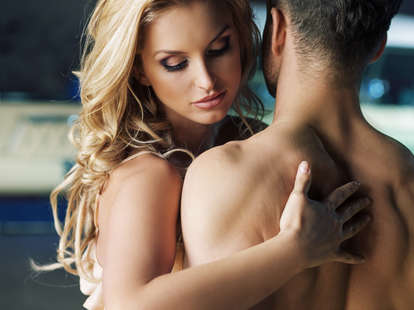 It's not just the guys you shared a locker room with in high school who like to humblebrag about how often they're having sex. These days, entire cities are in on the action, too.
But which US city really gets laid the most?
That'd be Austin, TX, which has been named the most "sex-happy" city in a recent ranking by Men's Health. The magazine crunched data for condom sales, sex toy sales, birth rates, and sexually transmitted disease rates (in this case, for gonorrhea, chlamydia, and syphilis) in 100 large US cities to rank the nation's most banging-mad metros. It's worth noting: there's nothing sexy about syphilis, but for the purpose of this study, a higher STD rate suggests more people are having sex.
Of course, Austin leads the way to the bedroom as the country's no. 1 buyer of condoms, while ranking 15th for baby-making, and 23rd for STDs, which means either those Trojans are breaking too often, or simply aren't being used. Dallas claims second place, ranking fifth for rubber sales, sixth for getting pregnant, and -- itching slightly less than Austin -- 25th for STDs. Columbus, OH, came in third place, because what else is there to do in Columbus, OH? But really, the city ranked 13th for condom purchases, 22nd for births, and 15th for STDs. Ouch.
There are worse places to be for contracting unwanted diseases, though; namely, Indianapolis, IN (no. 6) which has the crappiest (crabbiest?) STD ranking on the list, with the country's 12th highest rate. As for babies, Bakersfield, CA (no. 9) puts the most buns in the oven, pushing out the 3rd highest birth rate in the US.
Ultimately, the Lone Star State wins Men's Health's national sex contest, with two out of the top three cities -- and, with Arlington (no. 7) and Houston (no. 10) also on the list, four of the 10 most sexed-up cities.
While you're still here (and not moving to Texas), here are the 10 most "sex-happy" cities where folks are getting it on like rabbits, followed by the least "sex-happy" cities, where residents... aren't.
The 10 Most "Sex-Happy" Cities:
10. Houston, TX
9. Bakersfield, CA
8. Oklahoma City, OK
7. Arlington, TX
6. Indianapolis, IN
5. Denver, CO
4. Durham, NC
3. Columbus, OH
2. Dallas, TX
1. Austin, TX
The 10 Least "Sex-Happy" Cities:
10. Billings, MT
9. Reno, NV
8. Buffalo, NY
7. Hartford, CT
6. St. Petersburg, FL
5. Manchester, NH
4. Charleston, WV
3. Yonkers, NY
2. Burlington, VT
1. Portland, ME
Undress more of the findings in detail here.

Chloe Pantazi is an editorial assistant on Thrillist's travel team. Yes, that's a British accent. No, she doesn't watch Doctor Who. Follow her on Twitter at @ChloePantazi.