Don't Let the Fires Stop You From Taking Your Dream Trip to Australia
For the past five months, Australia has battled one of the worst bushfire seasons in living memory. More than 12 million acres have burned and more than 1 billion animals have died. Amid the harrowing news reports, it's natural to wonder whether traveling to Australia right now is the best idea, both in terms of safety and in terms of being an extra burden on resources and facilities that are currently at capacity.
The answer, however, is yes. Yes it is a good idea to continue planning that big Australia trip you were finally gonna take. For one thing, the fires are primarily affecting rural areas, while chances are your destination is somewhere like Sydney or Melbourne or Cairns. While New South Wales, the state containing Sydney, is bearing the worst of the damage, Australia remains a very large country and the places you're planning to visit are probably still pretty far removed from the flames. At the time of this writing, several municipalities in South and Southeast Australia were classified as "partially impacted" by the fires, but all were still welcoming visitors. You can check for travel alerts related to the fires here.
MORE: Technically, this Australian beach is the most perfect beach in the world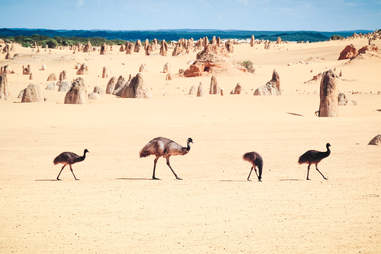 Nambung National Park, Australia

| Ulrich Hollmann/Moment/Getty Images
Beyond that, tourism is still a significant contributor to Australia's GDP. Feeding that industry -- i.e. spending your money at local businesses during your trip -- is one of the most direct ways you can support Australians during this time of crisis. There's even a song out now called "Canberra Come Back," encouraging residents of Australia's capital city to come back out to the coast around Batemann's Bay, which has been emptier of late due to the fires.
MORE:Here's an Australian golf course with 300 resident kangaroos
Canberra is located in New South Wales about an hour and a half inland from Batemann's Bay, a beach getaway town known for the Clyde River National Park (you can check New South Wales national park travel advisories here). There you'll find a dreamy setting for kayaking, swimming, fishing, and wildlife watching. To see koalas and wombats up close, visit Birdland Animal Park. It's just one of the many rural, wildlife-rich areas of the continent that could use some love. 
"It is more important than ever to support Australian tourism providers and encourage people to book a holiday in Australia, whether in unaffected regions or those that will recover from these bushfires in the months and years to come," Tourism Australia told Thrillist by email. "The best way to support Australia, Australian communities, and the tourism sector is to keep visiting."
About 99% of NSW's Blue Mountains hiking trails are currently open for visitors, and the popular Hunter County wine region has remained unaffected by the fires. Sydney is clear of smoke and very much ready to receive tourists.
"It's important for us to spread the message that fires are no longer a threat in New South Wales," Tane Evans, international sales manager at AEA Luxury Tours & Sydney Princess Cruises, stated to Thrillist by email. "The recent rain has helped tremendously, and our focus has since shifted to encouraging travelers to come down and experience everything this region has to offer. One in 12 Australians are employed by tourism, so we need visitors now more than ever... There has been so much misinformation and we want to reassure people that the Australian experience is still here waiting for them."
You can adopt one! Figuratively.

| Jamie Lamb/Moment/Getty Images
If you're looking for something more immediate, or for ways to help in addition to taking that trip, consider making a donation to an on-the-ground organization involved in fire suppression and especially in recovery. And remember, even if you're within range of a physical donation, cash is always better than supplies or services. Consider donating to any of the following (all of which have been vetted -- lotta scams out there, as there always are during public emergencies):
One caveat: These fires are being exacerbated by climate change, and flights like the one you'd be taking down under create carbon emissions that exacerbate climate change. Traveling as sustainably as you can means rethinking how and when we use planes, but this doesn't necessarily mean you should avoid Australia entirely for that reason. Rather, where possible consider avoiding short-haul domestic routes, like that flight from New York City to Washington D.C. that you could have done by train for a few bucks more. Save the planes for trips you absolutely couldn't make any other way -- like that once-in-a-lifetime trip to Australia you should still be planning. 
MORE: The American cities getting an 'A' in climate action