As an American living in Australia, there are a few things you quickly realize: 1) nobody drinks Foster's, they drink VB. 2) Vegemite sucks, meat pies are quite possibly the crowning achievement of human civilization. And 3) despite its fabled Outback bushman reputation, everyone lives in cities (or 89% of the people, if you want to be nitpicky).
So what's the best way to express the complicated experience of living Down Under from an impartial American perspective? By rankings, of course! And when you're talking about Australia, that means ranking its cities.
Recommended Video
Please Don't Hang Up: The Best Things to See, Eat, and Do in Seattle, WA
10. Gold Coast
Queensland
As the closest thing Australia has to Miami, Gold Coast is a glitzy strip of modern high-rises built on 90 miles of sunshine-soaked coastline. It's a playground for watersports and hosts its fair share of yacht parties, complete with all the corresponding lewd behavior that comes with them. And if Gold Coast is Miami, nearby suburb Surfer's Paradise is Miami Beach -- but with its own force of bikini-clad "Meter Maids" (only in this case they help you avoid getting parking tickets, bless their bare-skinned little hearts.)
Despite the fact that you pretty much can't go anywhere without running into "schoolies" on the Australian equivalent of spring break, the beaches are surprisingly clean and the town backs into some chilled-out rainforest when you need a break from the madness. A bit further up the coast, be sure to set up camp on Fraser Island, where you can cruise the beaches of the world's largest sand island in a Land Rover and let the howls of dingoes lull you to sleep at night.
9. Alice Springs
Northern Territory
While there are certainly more beautiful cities in Australia, this dusty outpost in the middle of the country's red desert center is where the true Australian Outback experience finally unfolds. Located a mere 17-hour drive from Darwin to the north and 18 hours from Adelaide in the south, Alice Springs is your spot for dodging 'roos, riding camels, and desert motorcycling. Hiking in the nearby Arizona-ish MacDonell Ranges is a nice way to see the sights, but the main reason you're here is Uluru: the iconic massive rock (also known as Ayers Rock) in the middle of the country can be climbed or simply admired from afar.
Alice Springs also has a high concentration of indigenous aboriginal Australians, who've only lived here in the area for about... 50,000 years. On your way into town, be sure to check out the opal mining town of Coober Pedy, where it's so hot people live in underground "dugouts" that have been carved into the scorched landscape. Parts of the original Mad Max were filmed here -- it'll freak you out.
8. Cairns
Queensland
Everything is the opposite Down Under. Winter is summer and the further north you go, the hotter it gets. The well-worn backpacker route from Sydney up the east coast finds its main terminus in Cairns, a tropical base from which to explore the Great Barrier Reef and knock back a few VBs with fellow travelers on The Esplanade. Its reputation as a party town is well earned, so keep that in mind before you foolishly book a 6am scuba dive. If, however, you're still chomping at the bit, Cairns offers a ridiculous number of adrenaline activities ranging from skydiving and bungee jumping to hang gliding and white-water rafting. In other words, you might want to confirm your health insurance premiums have been paid before paying this city a visit. On your way into a town, a stopover at the beautiful Whitsunday Islands is an absolute must.
7. Darwin
Northern Territory
The most laid-back city in a famously laid-back country, Darwin's far northern location has it closer to Indonesia and Papua New Guinea than Sydney or Melbourne. The average temperature is a stifling 90 degrees and of all the Australian cities where things are out to kill you (most notably crocs and jellies), Darwin is easily the most dangerous. But its tropical location also makes it a nature lover's paradise, with the nearby Kakadu National Park a national treasure and the surrounding Outback (with its large indigenous population) making the seaside Darwin a city like no other in Australia. Hey, there are worse things in life than grabbing a quiet dinner or picnic takeaway at Stokes Hill Wharf and watching the world go by.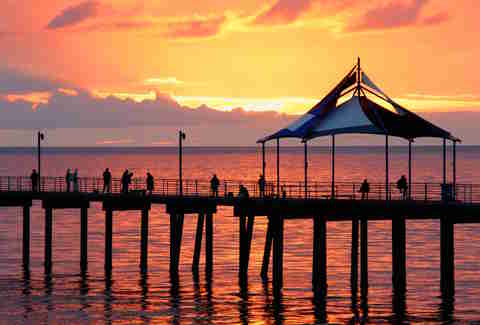 6. Adelaide
South Australia
Probably Australia's most overlooked of the country's five cities with populations over one million, Adelaide is more like a big country town than a bustling metropolis. This outlaw Texas vibe is paired with a "Midwestern nice" aesthetic in one of Australia's few capital cities that wasn't founded as a convict settlement. It's not a huge party town, with its residents a bit older than those in other Oz cities, but does include a casino, firing range, and the massive club HQ.
Stop by during the Adelaide Fringe Festival for one of the world's largest celebrations of weirdness or chill out drinking bottle-conditioned ales at Cooper's Brewery, the only remaining large-scale family-owned brewery in Australia. The Adelaide Oval is also big with locals if you're into footy (Aussie Rules football) and cricket. Not to be overlooked is Adelaide's close proximity to the pristine Kangaroo Island, where koalas outnumber cars and dunes are waiting to be sandboarded just a ferry ride away.
5. Hobart
Tasmania
Here's the thing about Hobart: You are pretty much guaranteed to get into a pint chugging contest with a wild-eyed, VB-swilling local singing Australian drinking toasts ("here's to…, he's true blue, he's a wanker through and through, he's a bastard so they say, tried to go to heaven but he went the other way!"). Or maybe that was just our experience.
But seriously, Hobart is a beautiful and underrated city in the equally overlooked and misunderstood island of Tasmania (where no, Tasmanian devils do not run rampant… although yes, they do exist.) Check out the former convict settlement of Port Arthur to see beautiful seaside colonial buildings where the British once housed their prisoners (i.e., Australia's founding fathers.) With the majestic Mount Wellington dominating the city's coastal landscape, the former penal colony wouldn't be the worst place to do some time. Do yourself a favor and check out one of the world's best beaches, Wineglass Bay, in nearby Freycinet National Park.
4. Perth
Western Australia
With its nearest major city over 1,300 miles away, Perth is about as isolated as it gets. This makes people in the friendly, laid-back capital of Western Australia REALLY proud of their city… to the point where they've even erected a statue of favorite son Bon Scott of AC/DC. While Australia's fastest-growing city has become more multicultural and cosmopolitan in recent years, it's kind of like LA in that no one is really from there and not like LA in that it is the antithesis of flashy.
That's not to say it isn't nice. It is. And CLEAN. Holy shit is it clean. Nearby Fremantle is pretty much the place to be in Perth, where you can hit up former Tame Impala (also from Perth) haunts like Fly By Night and Mojo's, slam craft beers at welcoming joints like Little Creatures and Sail & Anchor, or stroll its "cappuccino strip" of cafes. You can also get lost in one of the world's biggest inner-city parks (the near 1,000-acre King's Park), hit up wineries along the Margaret River, or swim naked at Swanbourne Clothing Optional Beach. Australians do say "no worries" a lot, but in Perth they mean it literally.
3. Byron Bay
New South Wales
If I could pick any place to live in Australia, it would be Byron Bay (okay, so maybe I'm not that impartial). How the hell I would support myself I have no idea, but I wouldn't care. I'd be too busy surfing with dolphins (having, of course, learned to surf first) and partying at the Beach Hotel (or Top Pub, as the locals call it) to give a shit. The laid-back beachside community on Australia's eastern edge has everything you need in a cool surfer town including pristine beaches and topless sunbathing (although this is common throughout the country) plus a ridiculous number of music festivals (including Byron Bay Bluesfest, Splendour in the Grass, Falls Fest, etc.) for a town of 30,000. Depending on your scene, you can either take a trip inland to the smoke-filled hippie town of Nimbin (where you can visit the Hemp Embassy), dance on tables with spring breakers during "schoolies", or explore the surrounding nature and rainforests. But most likely, you won't leave the beach. And that's okay too.
2. Melbourne
Victoria
No discussion of Melbourne is complete without the mandatory comparisons to Sydney, which together make up 40% of the country's population. Melbourne is more like the up-and-coming indie band to Sydney's major-label status, with a well-earned reputation as the cultural and food capital of Australia. Its thriving arts scene showcases a more European feel with some of the country's best music clubs (Cherry Bar, The Corner), bars (Heartbreaker, 1806) and its largest arena for Aussie Rules football… which is WAY more important than it should be.
Bottom line, if you're more of an indoor cat, Melbourne is probably more your scene compared to the more outdoorsy Sydney. With cheaper prices and better public transport than Sydney, there are worse ways to spend your days than strolling amidst Melbourne's Victorian architecture while hitting up funky hipster shops and coffee bars along the way. Engendering comparisons to many American cities from NYC and Chicago to Boston and Austin, there's no doubt Melbourne is a great city. But sometimes you need a little more…
1. Sydney
New South Wales
With all due respect to the folks at The Economist who have ranked Melbourne the world's most livable city for the past five years, Sydney is more than just a city. The country's biggest population center and beating heart has it all: world-class beaches, a bumping nightlife, and one of planet Earth's most picturesque skylines. While Melbourne is well known for its architecture and culture, Sydney is surrounded by beauty and nature that you can easily explore by ferry or on foot.
Plus, it's a helluva lot of fun. From the pub-heavy districts of The Rocks and Potts Point to the shadier, more "adventurous" red-light district Kings Cross to the many glitzy clubs that can be found dotted throughout the city, Sydney offers more of a California coastal feel paired with an NYC "center of the world" mentality where there's always something going down -- not to mention better weather and a less concrete feel than Melbourne. Whether your scene is Manly or Bondi Beach, the hipster hoods of Newtown/Surry Hills around the University of Sydney, or laid-back beachside suburbs like Coogee, keep in mind this warning: a Sydney vacation can quickly turn into a permanent relocation.
Sign up here for our daily Thrillist email, and get your fix of the best in food/drink/fun.
Jay Gentile is a Thrillist contributor and world traveler who's been to 25+ countries across five continents, but really wishes he was in Byron Bay right about now. Follow him @innerviewmag.