The Coolest Cities to Visit in Australia
Where city living meets the magnificent outdoors.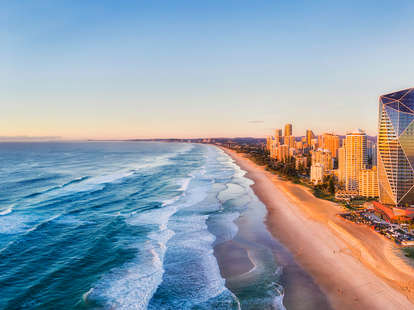 Surfers Paradise on Queensland's Gold Coast

| Taras Vyshnya/Shutterstock
Surfers Paradise on Queensland's Gold Coast

| Taras Vyshnya/Shutterstock
Topics covered in Basic Australia 101: kangaroos, Steve Irwin, and the Great Barrier Reef. Unfortunately, that's about as far as most people get in their Aussie education. Australia comes off as remote and intimidating; its landmass dwarfs the entire European continent, yet it has fewer residents than the state of Texas. It's home to the most deadly and dangerous species known to man, and Nicole Kidman, but what else?

The vast majority of Aussies aren't whacking around in the bush like you may think. A huge 89% live in vibrant cities that rock diverse food scenes, world-class surf, immaculate beaches, award-winning wine, and legendary nightlife. For visitors, these hubs are essential jumping off points to some of the most extraordinary landscapes and badass outdoor experiences you can have on the planet. Here are the best cities to visit in Australia, plus tips for the best things to see and do in each.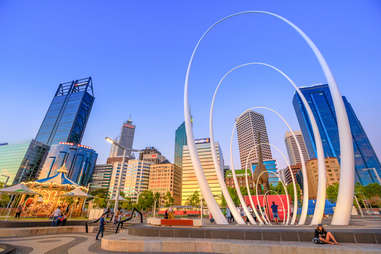 Perth
Western Australia
This town is out there, both in general weirdness and geographic location. The most isolated capital on the planet, Perth is over 1,300 miles away from the next major Australian city. It's also got the highest reported days of blue skies, so if you're pro year-round sunshine, this is one of the best places to live in Australia. Good-humored locals are almost always wearing thongs (that's "flip flops" to you") if not walking around straight up barefoot.
Perth boasts one of the country's most spectacular coastlines: Mullaloo, Cottesloe, Scarbrough, and Rockingham are just a few of the postcard-worthy beaches within a 45-minute drive of the city center. Rent a bike and take the quick 25-minute ferry ride out to Rottnest Island, where a series of beautiful beaches are tied together by splashable tidepools and rocky coves galore

Don't leave without: chatting up a stranger. Locals around here tend to be well-versed in strange and fascinating things, and offering up a friendly hello will be rewarded with a world view like none other. Play your cards right and you just might get invited to a family BBQ or road trip to Coral Bay.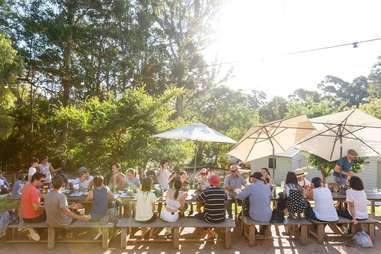 Margaret River
Western Australia
An easy 3-hour drive south of Perth, this town is one of Australia's top wine destinations. With over 215 wineries, the land best known for its cabernet is now taking home trophies for its rosé, sauvignon blanc, and chardonnay. Visit Vasse Felix -- named the 2017 New World Winery of the Year by Wine Enthusiast -- and book a reservation at their acclaimed restaurant. Down the road, Stella Bella offers a more affordable, laid-back vibe with a picnic area overlooking their vineyards. And for the beer lover, Margaret River Brewhouse has live music on the weekends in their sunny outdoor space.

The aggressive surf at Surfers Point draws the world's surfing elite to town. Grab coffee at the White Elephant Café and post up to watch the pros take on some truly terrifying waves. For beginners and swimmers, there's friendlier surf to be found at Redgate Beach or Hamelin Bay, where bright white sand sits in gorgeous contrast with the turquoise waters.

Don't leave without: booking a whale watching tour. Between June and early December, an estimated 35,000 whales migrate just off the Margaret River coast.
Melbourne
Victoria
This city of skyscrapers is big enough to hold 20% of Australia's population and cool enough to have invented the avocado latte. For a well-rounded work-life balance, there is no better place to live in Australia; on weekends, young professionals shed their suits to seek out elaborate brunches and outdoor adventures.
Melbourne's proximity to the chilly South Pole makes for plenty of snow in July and August, and nearby Mount Buller is an easy option for a day on the slopes. Come November the Yarra Valley wine region heats up in pursuit of the perfect pinot. And as summer temps edge towards 80 degrees, St. Kilda Beach and its cafe-lined boardwalk become the go-to spot. Instagrammers should trek down to Brighton Beach to see the famous Bathing Boxes, a colorful series of 82 beach huts dating back to the early 1900s.
The seasons may change, but Melbourne's dedication to Australian footy, strong coffee, and inventive cuisine lasts year-round. Hit world-recognized restaurants like Attica for a tasting menu of sous vide crocodile and emu eggs -- or stick to no-reservations-necessary favorites like Queen Victoria's Night Market, South Wharf Promenade, and Postal Lane.
Don't leave without: seeing the penguins at Phillip Island's Ecotourism Nature park, a 90-minute drive from the city center. From the bleachers you'll witness the nightly migration of the world's smallest penguins as they waddle from the sea to their hidden beach burros. It is, in a word, adorable.
Port Douglas
Queensland
Flying into the city of Cairns and staying in an impersonal, overrated hotel is standard procedure for a visit to Australia's Great Barrier Reef. The better option is to rent a car at the airport and drive an hour north to the classic Aussie town of Port Douglas -- if for no other reason than to witness the Cane Toad Races at Iron Bar. You can explore the surrounding Daintree Rainforest by train via the Kuranda Scenic Railway, or get more hands-on at this eco-certified wildlife sanctuary, where you can and should fulfill your dream of holding a koala.
Port Douglas is also one of the best cities to visit for an eye-opening look into the culture and customs of Australia's first people. For something special, check out Flames of the Forest, an intimate dinner event in a dreamy candlelit setting that celebrates ancient Aboriginal culture through dances, storytelling, and didgeridoo performances.
Don't leave without: swimming the Great Barrier Reef. Offering everything from your beginner level reef experience to a seasoned diver's dream tour, Port Douglas is the perfect launching point for reef exploration. The boats get rocky, so do yourself a favor and take some dramamine before you board.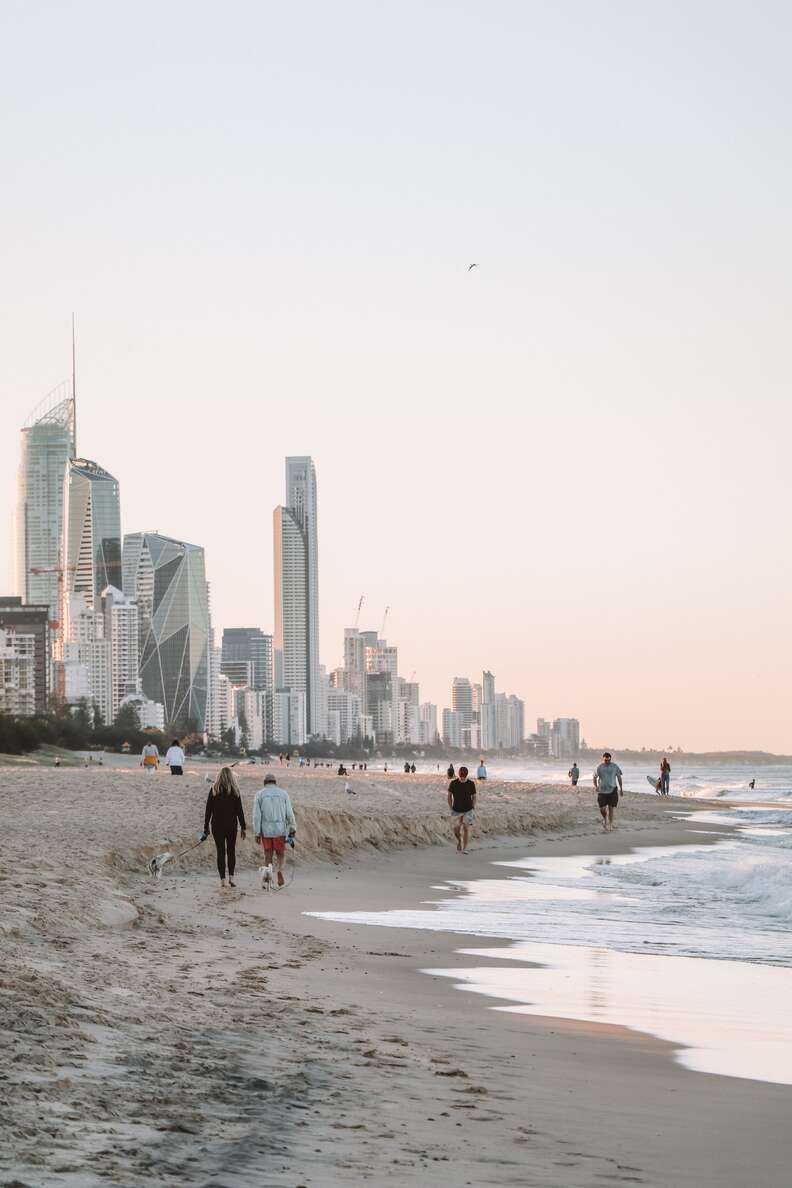 Gold Coast
Queensland
It's one glitzy row of high-rises after another in the party capital of Australia. Perfect beaches, ocean view rooms, nightclubs, theme parks, and water sports make the Gold Coast a favorite among schoolies (the Aussie version of spring breakers, essentially) and bachelor parties. In between partying your face off and nursing your hangover, hit the roller coasters of Warner Brothers Movie World. You can take a surf lesson from Go Ride A Wave or kick it up a notch by mastering the jetpack fly boards.
Don't leave without: taking the Rainforest Glow Worm hike. Besides its white sand beaches, the Gold Coast's lesser known beauty is found in the nearby Gondwana Rainforest and the Tamborine Mountains. At night, the rainforest sparkles with tiny glow worms and their strings of bioluminescent light, giving off a magical Fern Gully vibe. The thick forest makes them difficult and dangerous to find on your own, so make use of a friendly local at Tour Gold Coast to see these tiny wonders.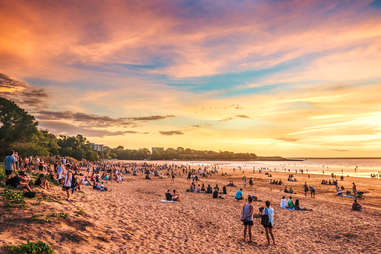 Darwin
Northern Territory
At the tippy-top of Australia, Darwin is hot. Like, average of 90 degrees hot, with a dramatic wet and dry season that pretty much dictates daily life. The moody climate comes with a silver lining: September through December, Australia's most succulent mangos are ready for harvest. Family-run farms pop up for public feasting: Crazy Acres serves treats like mango toast, mango cheesecake, mango ice cream, and picnic platters with you-have-to-try-it-to-understand mango basil mayo. Between May and October, spectacular sunsets on Mindil Beach are enhanced by a music filled, food stall-style night market. You can also catch an outdoor film at Deckchair Cinema and dine along the waterfront at Stokes Hill Wharf.
Don't leave without: swimming with crocodiles. Australians, who have a penchant for giving everything cute slang names -- like "brekky" for breakfast and "arvo" for afternoon -- refer to saltwater crocodiles as "salties." (Not to be confused with the much less dangerous "grumpy nippers," or freshwater crocs.) You will learn all this and more at Wangi Falls, a popular swim spot for tourists and freshwater crocs in the insanely beautiful Litchfield National Park. Just next door at Kakadu National Park's Upper Gunlom Falls, a glorious natural infinity pool overlooking the park's neverending landscape will have you ready to set up permanent camp.
Alice Springs
Northern Territory
There's not a lot going on in this dusty, backpacker town, but it serves its purpose as the gateway to Australia's outback. Surrounded by national parks, Alice Springs is the perfect place to rent a 4-wheel drive vehicle, stock up on supplies, and take off in any direction.
The heart of Australia's Aboriginal people, the outback is where red rocks and blue skies rule the horizon. Otherworldly rock formations, like the perfectly round Devil's Marbles, pop up out of nowhere. Deep valleys of vertical sandstone cliffs will blow your mind in Watarrka National Park. And the giant, water-filled gorges of West MacDonnell National Park are lined with walking paths, easily accessible for visitors of any age with full mobility.
In one of the most intense climates on earth, your gear matters: Opt for sturdy boots with thick socks, a large billed hat to keep the sun at bay, and a light scarf to shield your face from the dust and flies. For inspiration, watch the beloved Aussie classic Priscilla Queen of the Desert, in which three drag queens brave the outback -- if they can do it, so can you. But if you're intimidated about trekking solo, book a tour with the wonderful guides at Wayoutback Safaris. They offer a wide range of experiences for any age, budget, and comfort level.

Don't leave without: visiting Uluru. The most famous rock in all of Australia sits in solitude on sacred Aboriginal lands, rising a full 78 feet higher than the Eiffel Tower with a massive 5.8 mile circumference. It's a five-hour drive from Alice Springs, and you'll get the best glow off the rock at sunrise and sunset, so plan on spending the night (you are not the first person to have this idea, so you'll find plenty of overnight options, from camping to glamping to luxury suites).
Sydney
New South Wales
Australia's most visited city is steeped with energy and never ending things to do, and luckily, an efficient ferry-based public transportation system makes it easy to zip around and take it all in. It should go without saying, the opera house is cooler in person.
Definitely visit the Northern Beaches, strung together with coves, sea pools, and an aquatic reserve perfect for snorkeling. Bondi is famous for a reason; the crescent shaped beach churns up waves custom-made for a surf lesson, epic swim, and good old fashioned people watching. Organic cafes like the aptly named Speedos line the sandy coast.
Back in the city, refinement and small portions are the name of the game in dining districts like Darling Harbor and Surry Hills. Sydney's Fish Market amps up the energy with multiple stalls of live seafood and made-to-order lunches. In the wee hours of the morning you might find yourself in the Rocks district; just start at the Argyle and see what happens.
Don't leave without: climbing the Sydney Harbor Bridge. It's an expensive, vaguely terrifying, once in a lifetime situation, but three hours, 1,332 steps, and 360-degree views later, you'll be glad you did it.
Byron Bay
New South Wales
The emphasis in Byron is all-natural everything: the food is organic, the restaurants are farm-to-table, cannabis wafts through the air, and many of the beaches have unofficial clothing-optional zones. With some of the best surf in Australia, even for beginners, locals and tourists alike flock to this idyllic seaside town in an attempt to catch a wave. Family run surf schools like Blackdog Surfing make picking up a board as easy as joining the nightly drum circle. Sitting on Australia's most easterly point, rise with the sun at Cape Byron and you'll be among the first to see the light of day.
Don't leave without: boarding the Happy Coach to Funky Town. This tie-dyed, cannabis-clouded hippie bus leaves Byron Bay on the daily for a 75-minute ride to Nimbin. Full of funky 60's style craft shops, bakeries, and novelty stores, Nimbin's main drag proudly showcases the drug-friendly lifestyle this community is known for. Legal or otherwise, there isn't much you can't get your hands on here. Buyer beware: doses may be higher than expected.
Hobart
Tasmania
South of Melbourne, the island of Tasmania was founded by the British in 1804 as a penal colony. Today, its capital boasts a thriving craft cocktail scene, locally brewed beers, boundary-pushing art (the Museum of Old and New Art features a giant wall display of vagina molds), and superb local produce. With a four-season climate and seafood rich waters, Hobart grows the best… everything. Cherries, honey, black truffle, saffron, olives, and cheese are just a few Tasmanian specialties. Local chefs spin fresh ingredients with Japanese, Greek, South American, and even Indian influences. At Templo, a seven-course seasonal chef's menu sources all ingredients within a 30 miles radius of the restaurant.
National parks make up 42% of the island, so when you're not eating you should be exploring this magnificent landscape. Consistently topping the list of Australia's most beautiful beaches, Wineglass Bay is worth the two hour hike it takes to reach it.

Don't leave without: seeing the massive, otherworldly sea cliffs that surround Bruny Island. An easy boat tour from Hobart will have you fast jetting your way from one sea arch to the next. You'll probably spot dolphins and sea lions on the journey.
Julie McNamara is a contributor for Thrillist.