Presented By
Hit the Slopes, Schnapps, and Schnitzel on this Epic Austrian Road Trip
It's Beethoven's birthday, so let's have a big ol' sausage and cheese party.
Presented By
Note: The US State Department has issued a Level 3 travel advisory to reconsider travel to Austria, and the European Union is currently banning travelers from the US. For more information about Austria's response to COVID-19, click here. For now, use this guide as inspiration to satisfy your wanderlust safely from home.
From trekking the "cheese roads" in Bregenzerwald to skiing the Olympic slopes in Innsbruck, catching Mozart concerts in Salzburg and eating elephant-ear-sized schnitzels in Vienna, few countries offer the blend of untamed wilderness, cultural elegance, and ungodly portions of veal quite like Austria.
This summer sees the 100th anniversary of the world-famous Salzburg Festival, where operas, concerts, plays, Mozart matinees, and the requisite Jedermann performance will overtake the city from July 18 to August 30. Meanwhile, Vienna will be brimming with music in celebration of Beethoven's 250th birthday. That's why we've selected Austria as one of our 20 Places We're Dreaming About in 2020. What follows is a handy, 10-day Austrian itinerary for your consideration -- packed with tips for places to visit, things to do, and schnitzels to eat. So, gemma! (and that's your first course in Austrian-German, it means "let's get to gettin").
Day 1: Fly into Munich, Germany
Yeah, yeah, your trip to Austria doesn't actually begin in Austria. There are usually more -- and cheaper -- direct flights to Munich from the US. And, if we're being honest, it's the easiest starting point to loop around Austria.
In the Bavarian capital, fill up on Augustiner, cheap oxtail soup, and farm-fresh fare -- we're talkin' cheese, fruits, veggies, pretzels, dark rye, schmaltz, more pretzels, and even more helles -- at Viktualienmarkt and its Biergarten. Stop and see the famous dancing Glockenspiel or visit the art collections at Haus der Kunst before hopping on a train (~20 euros) straight to Innsbruck, Austria.
Days 2-3: Innsbruck
This two-time Winter Olympic host city lures latex-laden ski jumpers, amateurs willing to break their legs on the "bunny hills," and those keen on exploring an 800-year-old city center enmeshed in Gothic and Baroque architecture.
Ride the futuristic, Zaha Hadid-designed Hungerburgbahn train up the Nordkette mountain for an otherworldly panorama at 2,800 feet. In summer, paraglide above the Patscherkofel mountain, or trek the Zirbenweg Trail through an 800-year-old protected stone pine forest; come winter, those same Alpine trails offer supreme runs.
Add in a little culture at the Habsburg Imperial Palace. Get your gröstl (potato, bacon, and onion hash) with city views at Restaurant 1809, then snag a rental car (15 euros/day, plus a 10-euro highway toll for 10 days) because this journey continues on the road.
Day 4: Zell am See
It's a quick drive to the town of Zell am See (unless you'd like to stop in Kitzbühel for some Bergkäse cheese, fresh from the pastures of the Wilder Kaiser mountains). Whether summiting the 3,000-meter Kitzsteinhorn glacier, adventuring up (or down) the Schmittenhöhe, or simply completing the Großglockner Ultra Trail, this natural paradise seems to exist purely to kill your quads.
MORE:Hiking Austria's "cheese road" is like heaven for dairy lovers
That said, come May, you can also traverse the serpentine Großglockner by car. The highest peak in Austria allows automobiles up the 36-curve, 29-mile Großglockner High Alpine Road. The mountaintop overlooks some 37 peaks and 19 glaciers, and, if you're not already squealing in delight, you can also learn to squeal in pitch with a yodeling course at Schmittenhöhe (here's a video because I know you have questions).
Traveling may be on pause, but that doesn't mean your dreaming and planning has to be. With The Marriott Bonvoy Boundless™ Card, earn 6X Points at 7,000+ hotels participating in Marriott Bonvoy™ and 2X Points on all other purchases, including future flights. For the journey ahead, carry a card that's here for you now.
Days 5-7: Salzburg
Best known for when Julie Andrews kicked Nazi ass whilst singing about female deer in The Sound of Music, and where Mozart created mega hits like Leck mich im Arsch, this artistic city is dominated by a UNESCO-certified Baroque skyline. Every visit requires stops at the Festung Hohensalzburg (the landmark fortress overlooking the city), Salzburg Dom cathedral where Mozart was baptized, the Residenz palace, Hellbrunn castle, and dinner at St. Peter's Stiftskeller (Europe's oldest restaurant).
Spend an evening drinking Austrian wine and seeing live jazz at Jazzit. Just be sure to line the stomach with some Tafelspitz (which contains no "spitz" but rather veal, boiled hard, and served with apples and horseradish) first. Grab breakfast at the funky Afro Cafe on your way outta town.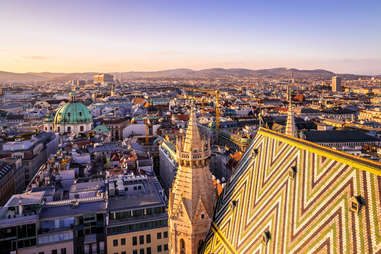 Days 8-10: Vienna
First timers to the Imperial Capital should check off visits to the imperial summer residence, Schloss Schönbrunn, and the Belvedere Palace and museum, which displays the world's largest collections of Gustav Klimt (including the very famous The Kiss).
Traditional meals should be limited to the Beisl (or bistro), at which you're required to devour a Wiener schnitzel the size of your head. Personal favorites include Zum Schwarzen Kameel and Hanno Pöschl. For the few trying not to gain 20 pounds on this trip, try Sino-Vietnamese fusion 1o1, or soulful Alpine and maritime-inspired dishes at Alma Gastrotheque. Or, honestly, just stick to coffee and cake. While Freud and Trotsky might have preferred Café Central, you and your wallet will be plenty satisfied at Hawelka and Café Landtmann.
Keep it going: Hop around Europe
As with all trips to Vienna, they rarely end in Vienna. Continue the journey and gorge on potato, sheep cheese, and bacon dumplings with a side of Borovička in Bratislava, Slovakia (10 euros and just an hour by train).
Venture farther east into the Hungarian part of the Austro-Hungarian empire to explore the ruin pubs, thermal baths, and goulash varieties in Budapest, Hungary (20 euros by train).
Or, head north to explore the dreamy medieval streets of Prague (15 euros by train).
Otherwise, just go back to Munich, find a trustworthy biergarten, and rest those quads before catching that Lufthansa flight home. For more travel inspiration, check out these nifty 10-day itineraries around Europe. Traveling on a serious budget? Try taking the bus.
MORE:Let these most beautiful places in Europe guide you
MEET THE WRITER
Tom Burson's a Detroiter displaced in Germany. His writing appears in Vogue, Vice, Departures, Centurion, and his HP G-6 laptop.
When was the last time you were in Austria? What drew you there?
Umm… yesterday? I came for the hikes in late 2014 and stuck around for the schnitzels. I live less than an hour away in Bavaria, so I find myself regularly visiting for the Bergkâse and Speck in Tirol, or hopping on the train for an overly cultured (YES, THAT'S A PUN) weekend in Salzburg.
What was the coolest thing about Austria you didn't expect?
Cheese. Hikes. This involves trekking through regions like the Bregenzerwald, through the 20-ish dairy valleys and some 100 Alpine farmsteads. Stop for some cheese and schnapps. Continue to the next farm. More cheese, more schnapps. Roll down to the next valley. Embrace the weeklong constipation.
Number one can't-miss recommendation?
I mentioned the cheese hikes, right? Beyond that, just get into the Alps. Whether summer or winter, the outdoor adventures are endless and diverse. Like skiing? Schuss. Hiking? Just strap on your boots. If you're a serious lounger, just follow the three S's: Schnitzel, Strudel and Schirmbar (an "umbrella bar" that's usually located along ski slopes).
How easy is it to get around for English speakers?
No trouble at all. Most people speak English. They'll say their English is terrible, then ask "surreptitious, is that the correct word for a kind of naughty secret?" If you speak German, you're still probably better off speaking English, as the German is damn-near unrecognizable from anything you learned in Frau Schneider's class in 8th grade.
Any other advice?
For the love of God, do not compare Austrians to Germans or casually joke, "Ohhh, you're like Germany's south, so basically Mississippi" because a burly man named Günther will angrily interject about how Austria is its own unique country with a separate culture, values, and punctuality -- all of which are better and situated in a more beautiful landscape than its northern neighbors.
What's the next big trip you have planned in 2020?
There's the requisite trip to Cologne, Germany, for carnival. I'm planning on hiking a bit of the Via Dinarica, after a visit to the Slovenian fishing village Izola. I'm also keen to visit the world's largest sausage fest, which is, in actuality, the world's biggest wine festival in the not-so-bacchanal-sounding town of Bad Dürkheim.
Ultimate bucket list destination?
Pond hockey against the New York Rangers in Mystery, Alaska.