10 Awe-Inspiring Mountains You Can Actually Climb
<a href="http://www.flickr.com/photos/notnyt/9666983958" rel="nofollow" target="_blank">Flickr/notnyt</a>
You don't need to be a descendent of Sir Edmund Hillary to be destined for mountaineering glory, because as it turns out many of the world's highest peaks are often the easiest to climb. Iconic mountains you thought were the only domain of crampon-wearing, icicle-encrusted experts are actually just really hard hikes (and even some not so hard), that anyone looking to explore the unknown can tackle.
<a href="http://www.flickr.com/photos/phahie/7981771449" rel="nofollow" target="_blank">Flickr/TomFahy</a>
1. Mont Blanc
France
Towering above the fabled Chamonix Valley -- Mecca for extreme skiers and alpinists -- is the highest summit in Western Europe, Mont Blanc. And like a lot of Europe's highest peaks, there's a cable car that will take you most of the way up and a bartender at the top who will pour you an ice cold Stella Artois. But, while the 11,000-foot ascent on the Aguille du Midi tram is thrillingly fun, you'll have to cover the final 3,000 feet under your own steam.
The pain: You'll need a guide to babysit you on crevasse-riddled terrain and you'll spend a chilly night on the glacier before your challenging 12-hour trudge over ice and snow to the top. But the relatively low 15,781-foot summit isn't much higher than a Colorado ski resort.
The gain: Being able to say you've climbed Mont Blanc will sound fancy to your American friends, but Euro skiers consider it a brisk trail run.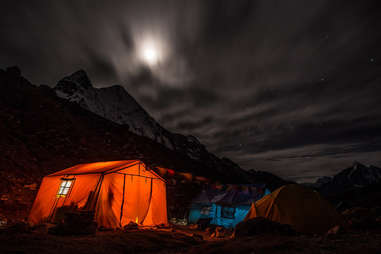 <a href="http://www.flickr.com/photos/everexplore/8510798236" rel="nofollow" target="_blank">Flickr/Kiril Rusev</a>
2. Island Peak
Nepal
For anyone who harbors Everest ambitions but doesn't have $60k and two years to train, Island Peak is the next best thing. Considered the Himalaya's easiest "trekking peak", the 20,305-foot summit can basically be claimed by anyone who can handle 12 hours on a Stairmaster, wearing a ski mask to simulate oxygen deprivation. So, in plain English, don't tackle this climb unless you are in very, very good shape. And are not afraid of a little deep descent as getting to Island Peak is arguably more frightening than the climb itself, as just reaching basecamp requires a terrifying
flight from Kathmandu
to Lukla and a several-day trek up the Khumbu Valley (alongside rich doctors headed for Everest). But your Sherpa-guide will handle the heavy loads and keep you on a short leash all the way to the top.
The pain: 20,000 feet above sea level is no joke -- you will feel like you've been run over and are being dragged by a school bus all day. Period.
The gain: It's a 20-freakin-thousand-foot mountain in the Himalayas -- you could never climb another mountain again and simply brag about this one achievement for the rest of your life.
<a href="http://www.flickr.com/photos/wcouch/8070044645" rel="nofollow" target="_blank">Flickr/Bill Couch</a>
3. Half Dome
California
It's a beautiful thing when one of the world's most iconic and picturesque mountains can be climbed in sneakers. Half Dome, that famous 8,839-foot monolith of granite overlooking Yosemite Valley, has a beautifully manicured hikers highway that delivers you right to the base of the dome itself. The final hurdle between you and summit is a 400-foot slab of steep rock, with a cable ladder and handrail in place to prevent death-falls.
The pain: Round-trip, it's an all-day affair in thin air. But, honestly, hiking past RV retirees and Japanese tourists in sandals as you ascend will instill all the confidence you need to get it done.
The gain: It's always cool when you can snap an Ansel-Adams-style selfie on top of one of the most photographed mountains in the world.
<a href="http://www.flickr.com/photos/howardignatius/10330179724" rel="nofollow" target="_blank">Flickr/Howard Ignatius</a>
4. Mount Whitney
California
If there were no such thing as Alaska, California's Mt. Whitney would be the highest peak in America. And at 14,505 feet, it does have the distinction of being the tallest mountain in the lower 48. Known more for its incredible setting at the southern tip of the John Muir Trail than for its difficulty, the trail to the top passes through stunning high Sierra backcountry. Some make the trip from the 8,300-foot trailhead to the summit and back in about 14 hours. We suggest you bring a warm sleeping bag, channel your inner boy scout, and make it a 2-dayer.
The pain: This is really just a long walk in the woods, especially in the summer months.
The gain: When you say you've climbed the highest peak in the lower 48, there's a good chance people are imagining some impossibly gnarly spire in Colorado. No need to correct them.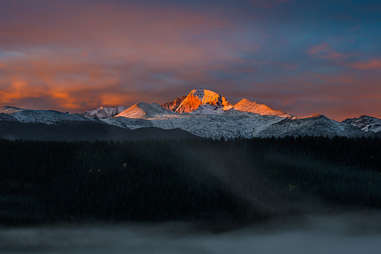 <a href="http://www.flickr.com/photos/27870539@N07/8726047324" rel="nofollow" target="_blank">Flickr/Alistair Nicol</a>
5. Mount Evans
Colorado
Colorado has 54 summits over 14,000 feet -- it's a to-do list hardcore climbers call "the 14ers". We prefer another much shorter list called "14ers you can drive up". There are actually only two peaks with paved roads to the top and the less crowded of the two, Mount Evans, is only 60 miles from Denver (it's the snow-capped peak they always show when the Broncos play on Monday Night Football) and can be summited from the comfort of your car via the highest paved road in the country.
The pain: The only hard part about "climbing" Mount Evans is finding a parking spot at the top. You can basically tackle the state's 13th highest mountain with the heater and radio on blast.
The gain: You get the same incredible Rocky-Mountain views from the summit as those who hiked it, and every time Monday Night Football comes on you can say "I climbed that!"
<a href="http://www.flickr.com/photos/ycchang/15640346776" rel="nofollow" target="_blank">Flickr/Yi-Chien Chang</a>
6. Mount Washington
New Hampshire
New Hampshire's Mount Washington is the highest peak in the Presidential Range, and in America's entire northeast. At just 6,289 feet, and with a paved road all the way to the top, it may not sound like much of a challenge, but be warned: some of the world's most ferocious weather, highest winds, and coldest temperatures have been recorded at its summit.
The pain: Whatever you do, don't dress for a drive, dress for an expedition. It's just a steep seven-mile drive from the base to the top, but you never know what you'll step into once you close that car door.
The gain: You will certainly get some of the best views east of the Mississippi -- but you're basically at an elevation a little higher than Denver International Airport.
<a href="http://www.flickr.com/photos/86207436@N05/14748013018" rel="nofollow" target="_blank">Flickr/Joe</a>
7. Grand Teton
Wyoming
The Grand Teton, just outside Jackson Hole, Wyoming, is America's Matterhorn -- a vertical craggy spire that seemingly has no easy way to the top. And, yet, local legendary guide service Exum delivers thousands of regular Joes to the 13,775-foot summit every year.
The pain: This ascent requires ropes and rock-solid nerves as you step over airy gaps and dangle thousands of feet above the valley below. But the mountain's bark is much worse than its bite and just about anyone who runs through Exum's required 2-day primer before the main event can make this their very first rock climb.
The gain: This Grand Teton has probably made more people want to become rock climbers than any other -- photos of yourself in a harness and helmet, reaching for the next handhold with the Teton Range in the background is your computer screensaver for life.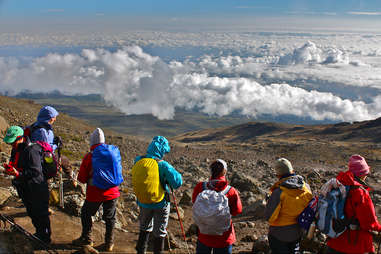 <a href="http://www.flickr.com/photos/kyletaylor/5771960082" rel="nofollow" target="_blank">Flickr/Kyle Taylor</a>
8. Kilimanjaro
Tanzania
"Kili", as it's known, is Africa's highest peak, an impressive 19,341-foot dormant volcano that sits alone among the Tanzanian Savannah. And since Tanzanian law requires the use of local porters, getting to the top basically involves a mellow five-day hike with a daypack, each evening stepping into a pre-pitched tent to eat a pre-made dinner -- it's no wonder Kili has become something of a favorite for charity fund-raising celebrities in the last few years. That said, it isn't exactly easy and, no, the porters won't carry you.
The pain: The altitude and speed with which you ascend can be crushing at times.
The gain: Kilimanjaro is one of the famed "7 Summits" (the highest points on each continent) and even being a seventh of the way finished with such a cool list is pretty badass.
<a href="http://www.flickr.com/photos/getdown/5319903920" rel="nofollow" target="_blank">Flickr/get down</a>
9. Mount Kosciuszko
Australia
The highest mountain in all of Australia is merely a 7,310-foot bump along the Great Dividing Range of New South Wales. Mount Kosciuszko is part of what's known as the Australian Alps and, in winter, it's actually covered in snow -- there are even a few ski resorts in the area (don't forget, Australia's winter is our summer). But visit during the mild months and it's an easy stroll to the top and back, and in winter, don't forget your snowboard.
The pain: Kosciuszko is such an innocuous roll in the landscape that the best way to see it is actually on a mountain bike, in which your reward for the 4-mile pedal to the top is a speedy downhill.
The gain: Mount Kosciuszco was once considered one of the "7 Summits", until purists decided some pesky mountain in Indonesia was on the Australasian continent. How many people actually know this? Very few, so your claim to the 7 Summit Club is unlikely to go challenged by Marty in Sales.
Shutterstock
10. Mount Fuji
Japan
Japan's most recognizable natural wonder, Mt Fuji, is also one of its most popular getaways. And leave it to the Japanese to make climbing a 12,388-foot mountain a very user-friendly and orderly experience. Just 60 miles southwest of Tokyo, there are a handful of parking lots around the mountain at about six- and seven-thousand feet elevation, from which most people start their ascent. On the popular Yoshida Trail, you can be to the top and back in time for a late-night karaoke session in the city.
The pain: This is certainly one long day from your car and back, but with dozens of stations all over the mountain, there are plenty of opportunities to step in out of the elements and slurp down some warm udon or sake.
The gain: Summiting Mount Fuji is more of a cultural experience than a climbing achievement -- this is as Japanese as sushi and samurais.