13 Awesome Festivals to Hit in Mammoth Lakes This Year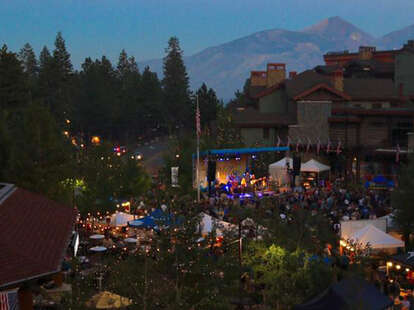 Courtesy of Mammoth VillageFest
Mammoth Lakes, California, is a year-round magnet for great festivals. From the culinary to the cultural to the kamikaze (really), we've rounded up the most essential events to hit on two legs or two wheels, at every altitude.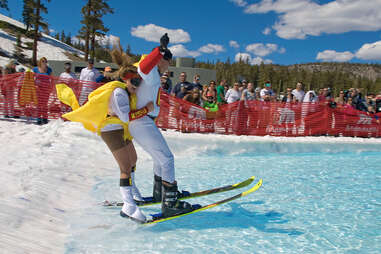 Skiers and riders compete for style points as they skip across the water, trying to make it across a pond built just for the event and often attempting to stick a trick or two in the process. It's open to all, but costumes required. Go on, make an effort.
The Eastern Sierra's answer to Sundance features more than 50 features and shorts from all over the world. Hollywood power-brokers and cinema-loving normals alike gather for five days of panel discussions with filmmakers, nightly screenings and events, and the apex -- the elimination-style Feature Film Tournament. While the buzz is everywhere, the festival is intimate enough not to overwhelm the town, so you can still count on a painless trip from SoCal, and easy-to-nab dinner reservations.
If you haven't yet attended the longest running motocross event in the US, make 2016 the year you fix that. The scenery -- 8,000ft up in the Sierra Nevada mountain range -- rocks, and the adrenaline (if not the athleticism), is contagious. Riders must nail six qualifying events around California on the way to this, the grandaddy of them all. Watch them battle it out by day, and dig out your Hawaiian shirt for the official Monster Energy Mammoth Motocross Afterparty at 53 Kitchen & Cocktails.
Doesn't your dad deserve a day of fun instead of a crappy card and another bottle of aftershave? Visit the Mammoth Lakes Basin during Father's Day weekend, take your biggest catch to Rick's Sport Center at 3241 Main Street, and tell "It was this big!" stories for years to come. Last year's prizes included Okuma rods and reels, tackle boxes, camping gear, Rapalla products, and of course, that trophy -- AKA proof.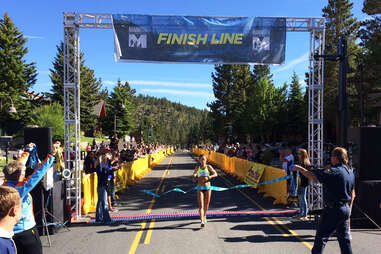 Mammoth Lakes' high altitude is great for training and the views are a refreshing change from the cities in which competitive runners usually compete. Sure, the air is a little thinner but there's also miles and miles of good news, too: much of this half marathon is DOWNHILL, not to mention it's one of the most beautiful footraces in the world, and there's also a 5K option. Up the ante with the San Diego-Mammoth Lakes Challenge and run both half marathons in the same year for major bragging rights.
Join the High Sierra Tri Club for "The toughest race in the most beautiful place". Tackle four different distances -- Half-Iron, Aquabike, Olympic, and Sprint -- or go way beyond with the Graniteman: three days of suffering fun that includes a 2.4mi swim, 102mi bike ride, and 12.4mi run that's all uphill. Just want to do one segment? Corral a few friends and sign up for the relay division. Even if you know and love Mammoth Lakes well, the extra miles are worth it for views dubbed "The Swiss Alps of the Sierra."
The fun kicks off on Friday Night at The Village at Mammoth, where more than a dozen wineries pour tastings of more than 50 wines, plus palate cleansers, all backed by live entertainment and auctions. On Saturday, catch the Celebrity Chef Battle and Grand Tasting, which is held outdoors at the Edison Pavilion and includes more than 100 wines from 20 wineries, paired with the best dishes from local restaurants like Petra's Bistro & Wine Bar, Whitebark, Restaurant Skadi, Lakefront, and more.
The "World's Highest Rib Cook-Off" pits chef against chef in a no-holds-barred, mano-a-mano for the title of Best Ribs, Best Chicken, and Best Chili. Everyone wins. Well, except for vegetarians. Wash down the tasty vittles with libations from the beer and wine garden, and be sure to check out local artisans' handiwork in the art walk between courses. Post BBQ-siesta, enjoy free concerts that typically include some of the best tribute bands in the land and stick around for the Sunday Crawdad Festival.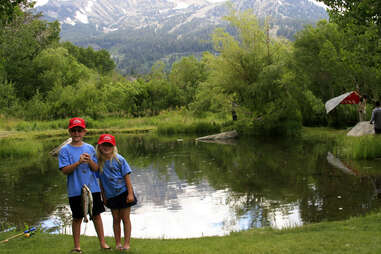 Give a kid a fish and he'll beg for chicken fingers. Teach him to fish and he'll supply dinner for years to come. This annual event is free for children under 14, and from 8am to 1pm, your little angler can try to nab some local catch. Rods and reels will be provided, and so will some guidance from professional fishing guides. But it's BYOK (bring your own kid).
This Coachella of blues and brews kicks off on Thursday night, runs all the way until Sunday, and is bigger than ever this year. There are now twice as many tasting days -- Saturday and Sunday -- to sample suds from more than 100 brewers, and a VIP beer tasting on Thursday. Check out the new Acoustic Stage to supplement the main stage, and the distilled spirit tasting and cigar bar lounge. Want in? Get those tickets today because "Bluesa" sells out months in advance.
Music and margs in the mountains... what could be better? The Mammoth Margarita Festival kicks off late on Friday afternoon in The Village at Mammoth, with more margarita bars than you can shake a swizzle stick at as well as great live tunes. Be sure to save some gas for the main event on Saturday -- a three-hour tequila tasting that includes blancos, golds, jovens, reposados, Añejos, and at least one random dude in a poncho singing the mostly instrumental hit from The Champs, "Tequila."
The Mammoth Gran Fondo bike race has been on the go for 22 years, but is changing it up a little this year with the addition of a timed KOM/QOM (King/Queen of the mountain) section, a team/corporate challenge that should hurt slightly less than paint balling, and more than 3/4 of the roads closed to traffic. Entry to distance rides -- 102mi, 70mi, and 42mi -- gets you access to fully stocked rest stops, photos of you in action, timed results, and, most importantly, access to the post-ride after-party at The Village at Mammoth. And thighs of steel, of course.
Mammoth is the birthplace of competitive downhill mountain biking, and the Kamikaze Bike Games is spearheaded by Mountain Bike Hall of Famer, Bill Cockroft -- so this four-day event has double cred. It includes endurance, downhill, cross-country, dual slalom (that just sounds scary), and clunker races, as well as a few significantly less risky options for the kids. And there's also an expo, because why should you have to go to Sea Otter or Interbike to see the latest and greatest? Other fun includes live music, great food, and plenty of beer.