The 10 Most Awesome Ghost Towns in the West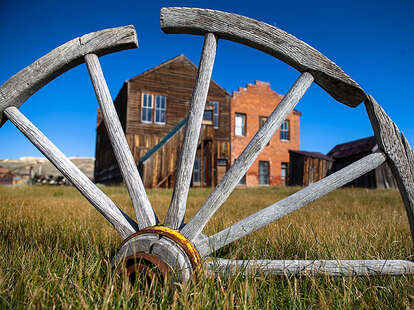 <a href="https://www.flickr.com/photos/scsbooth/8187885455" rel="nofollow" target="_blank">scsbooth/Flickr</a>
Before the town crazy person shook his fist at the sky and yelled, "There's a storm a'comin'!" every ghost town had its heyday, when businesses boomed and saloon doors swung, all fueled by pioneers riding in on a wave of optimism. And also fueled by mineral deposits! If you've got an intrepid spirit and a romantic love of abandoned places, here are the 10 former outposts of civilization you need to hit.
1. Belmont, Nevada
Belmont sprung up in 1865, and produced $15 million of silver and lead ore before its demise. Claims to fame range from the la-di-da to the downright terrifying. It boasted a music hall, "The Cosmopolitan Saloon," which was grand for the time and attracted celebrities of the age. But as notoriety goes, nothing tops its most famous, maybe, probably, graffiti artist: Charles Manson. Officials can neither confirm nor deny if the scrawled signature on a post inside the Nye County Courthouse ruins since 1969 is, for real, the musical madman's. But whoever it was is one creepy dude.
Tumbleweed factor: As the saying doesn't go, diamonds are forever… gold is not.
Must see/do: Stay at the restored Belmont Inn and Saloon, play cards, and crack yourself up with "I'm your huckleberry" and the like.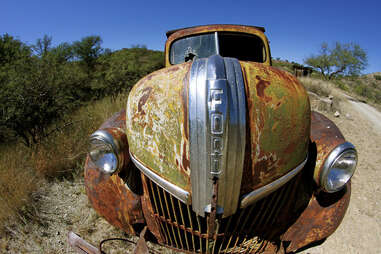 2. Ruby, Arizona
Arizona has no shortage of ghost towns, but few are as well preserved as Ruby. Prospectors made a beeline there in the 1870s, and everyone bailed around 1941, when zinc, copper, silver, lead, and gold mining operations ended. The town was named after general store owner Julius Andrew's wife, but lest you believe it was all warm and fuzzy, Ruby inspired the not-ambiguously-titled book, Ruby, Arizona: Mining, Mayhem & Murder. The Ruby Mercantile, the most profitable general store in the Oro Blanco, was the site of two double murders by bandits from over the border. TWO.
Tumbleweed factor: Murder and mayhem aside, Ruby ran out of ore, and was always hampered by water supply issues. It briefly became a commune in the '60s, proving that not all hippies are attuned to "good vibes."
Must see/do: Check in on the Ruby restoration project, which has extensively restored the school, warehouse, and courthouse. That's where your $12 visitors fee is going.
3. Virginia City, Montana
It may be chill these days, with just 132 residents, but in 1863? Virginia City resembled Macy's on Black Friday, with extra camels. Among its 15,000 residents were Calamity Jane (note the capitals -- the real her), and camels arrived for freighting in 1865. That's seven years before electricity, which you can't ride, so right on. It was once the capital of the Montana Territory, and smack in the middle of the richest placer gold site in the Rocky Mountains, which raked in $30 million in its first three years.
Tumbleweed factor: In a familiar theme, the gold declined steadily from the mid-1870s. Virginia City was effectively frozen in time until Charles and Sue Bovey purchased it in the 1940s and began restoring its buildings for tourism. Today, it is mostly run by the state.
Must see/do: Ride an old-school steam train on the Alder Gulch Railroad between Virginia City and Nevada City.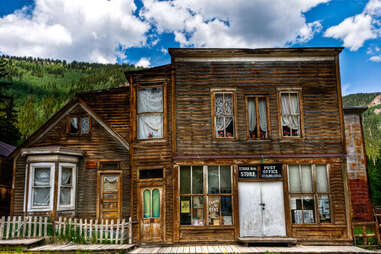 4. St. Elmo, Colorado
On paper, St. Elmo's chances looked good; it was a mining town and an important railroad stop. Do your worst, future (so said Myspace). The good times began in the 1870s, and peaked with more than 150 patented mine claims in the area and a population of 2,000. The town was also a major hub for supplies by train up until 1922, when the tracks were abandoned.
Tumbleweed factor: St. Elmo faded fast with the closure of the railroad, the joke being that the population left on the last train out. But there was one holdout. Longtime resident Annabelle Stark hung on until her death in 1960, and even after as the self-appointed town caretaker, if you believe in ghost stories.
Must see/do: Be sure to obey the "no trespassing" signs, or risk falling through the earth's crust. Some of the buildings and areas are unsafe and signposted as such. Also, assume that Annabelle is watching from a window. She does that.
5. Mogollon, New Mexico
In 1889, an intrepid miner named John Eberle built a cabin near Silver Creek's gold and silver mines and became the first resident of Mogollon. What transpired is regarded as one of the wildest mining towns in history, due to its transient population and isolation from civilization or the concept, "Really guys, cut that out." Between 3,000 and 6,000 miners descended on the town at any one time, and one of them robbed the stagecoach from Mogollon to Silver City 23 times in a single year. When the town wasn't plagued by human insanity, it was regularly ravaged by fire (1894, 1904, 1910, 1952, and 1942) or almost washed away by flood.
Tumbleweed factor: Mogollon lost several mines during World War I, as demand for gold and silver dropped. The population had contracted to just 200 by 1930, and the last mine closed in the 1950s. Fifteen hardy souls still live there. And you thought dating was hard in your town?
Must see/do: Stay at the renovated, ca. 1885 adobe Silver Creek Inn from May through October, and hang out with one crazy ghost crew.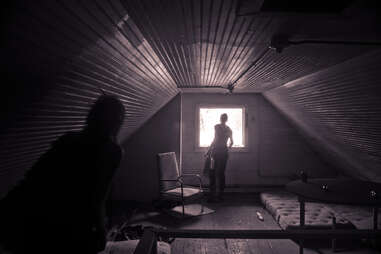 6. Lester, Washington
Located high in the Cascade Mountains, this one-time "helper station" for the Northern Pacific Railroad is one of few ghost towns in Washington State, and wins the award for "least tumbleweed" on this list. It's so green, in fact, that nature is taking it back -- so strap on some hiking boots, stat. Lester was named after the town's first telegrapher, and provided coal for steam trains before the regional switch to diesel-powered engines effectively made it redundant.
Tumbleweed factor: Lester officially hung on until 1984, when its rail line was mothballed, prompting the city of Tacoma to dissolve the town altogether. That didn't stop its last resident, Gertrude Murphy, from trying to preserve what was left of her town until her death, at aged 99, in 2002.
Must see/do: Check out the remaining two standing houses, warehouse, and guardhouse, but leave the wheels as it's accessible only by foot.
7. Rhyolite, Nevada
The Nevada gold rush of 1904-1907 centered on three towns, but only one of them built a house out of 10,000 beer bottles. Rhyolite's decline was as rapid as its rise, which began in 1904 with Eddie Cross and "Shorty" Harris' rich strike of ore in the hills to the west of the eventual town site. Befitting the Spring Break of mining towns, excitement got the better of reason, with a slew of grand construction projects -- an opera house??? -- that put the town perilously close to the red even prior to the financial panic of 1907, which made its financial backers back East jittery. Among those? Charles M. Schwab. So much for talking to Chuck.
Tumbleweed factor: Rhyolite peaked with an estimated 10,000 residents in 1907, but had shrunk to just 14 eternal optimists by 1920. The last resident died in 1924.
Must see/do: Did we say beer bottle house!?
8. Animas Forks, Colorado
Animas Forks once boasted of being the biggest city in the world, with the not-small caveat, "at 11,000-feet altitude." At its height (LOL), this silver and gold mining community comprised 30 cabins for its population of 450, as well as a hotel, saloon, general store, and post office. As if their day jobs weren't challenging enough, residents had to deal with a 23-day blizzard in 1884 that dumped 25 feet of snow and necessitated an emergency network of tunnels to get anywhere. While that seems justification enough to leave town, the real culprit was declining profits and investment.
Tumbleweed factor: Despite a brief uptick with the building of the Gold Prince Mill in 1904, Animas Forks reached population zero by 1920.
Must see/do: Rent a four-wheeler and get wild.
9. Kennecott, Alaska
Considering that Kennecott is at the end of a 60-mile dirt road, in the middle of Wrangell-St. Elias -- the biggest National Park in the US (bigger than Switzerland) -- it's hard to decide which is more impressive: that it produced more than $200 million of copper ore between 1911 and 1938, or that its population found it in the first place. It was worth the literal hike, as it proved to be the richest known concentration of copper in the world before becoming largely depleted by the early 1930s.
Tumbleweed factor: The last train left Kennecott in 1938, leaving behind a family of three, who served as watchmen until 1952.
Must see/do: Kennecott's nearby glaciers and mines are popular hiking spots, and tours of the town itself, which remains almost intact, are offered three times a day. Pro tip: hiking Eerie Mine is not for the faint of heart/vertigo stricken.
10. Bodie, California
There are ghost towns and then there are ghost towns -- no really, there's nobody here, leave a note, and bring a first-aid kit. Bodie is in the latter group. From a population of 10,000 with 65 saloons, opium dens, and a red-light district, it has been at nada for decades, and what remains of the town is preserved in a state of "arrested decay." Its boomtown period was born of tragedy, as a mine cave-in revealed preserves that brought the Standard Company to town in 1877, exploding the population from 20 miners to thousands virtually overnight.
Tumbleweed factor: There's still tons of gold there. Just kidding.
Must see/do: Browse the stores, where the shelves are still stocked, but nobody is there to ask if you have a club card. Oh, and in case you're thinking about it, a curse befalls anyone who makes off with items from the site, so not so fast.