11 Awesome Things to Do at Mammoth Lakes Right Now
Mammoth Lakes, California, is known to many as a pretty fantastic destination for whipping out skis and schussing down the slopes to the point of exhaustion. But there's more to it than that. Even the hardcores know that the chairlifts only run from 8:30am to 4pm. So we've got the whole Mammoth Lakes you need to get to know, from pre-sunrise fun to late night shenanigans, and... skiing, of course.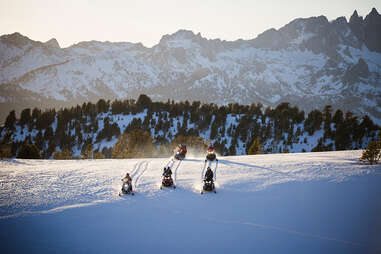 1. Jet ski... on powder
Snowmobiling very well could be the most fun you can have on snow (sorry, skiing). Seriously. Hopping on a "sled" and cruising through the woods is the best -- all the tranquility of the great outdoors and all the endorphins of lucking into a traffic-free highway. Snowmobile Adventures offers 90-minute sessions daily and rides start with instruction and a single file cruise out to an open area, where they let you run wild for a spell, before turning around and heading back to the start, where you just may start pricing new snow-mos online.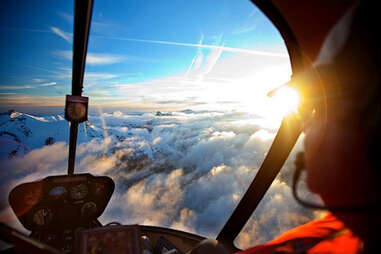 2. Take off
You know what's more epic than flying down the mountain on a piece or two of wood? Flying up it on a big, bad helicopter. Experience Mammoth Lakes from a whole new vantage point with Sky Time Helicopter Tours. While looking down on all the ant-sized people, try to remember that you're not necessarily better than them -- it just feels like it from up in the chopper.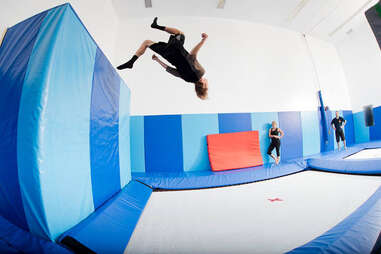 3. Get bouncy
Not all big air happens on the slopes. Get more comfortable off your feet at the Mammoth Trampoline Club, located inside Snowcreek Athletic Club. During orientation, first-timers learn a handful of maneuvers as well as how to abandon a bad jump. Some paperwork is required, so you may want to get that out of the way before you get your Cirque du Soleil on.
4.Test your mettle/skis
Ready to shred some uncharted awesomeness? Point your skis away from the beaten path and join a backcountry tour of June Mountain. If you think you're ready to handle places like the Gnome Zone and Devil's Slide, then test your mettle and take a ride on the wild side.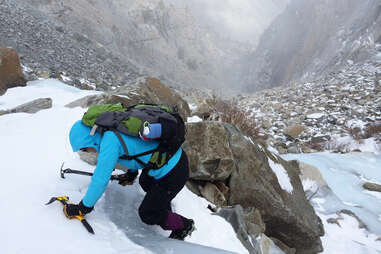 5. Conquer an icy cliff face
Let's be clear: one of the quickest ways to rack up your badass points is by climbing a frozen waterfall. Luckily, it's totally doable. Sierra Rock Climbing School takes up groups, from beginners to advanced to scale the ice cliffs. Go ahead: become a winter one-upper.
6. Do the trifecta: beats, bites, and bowling
Whether you owned the mountain or it owned you, all is well that ends with food, drinks and games at Mammoth Rock n Bowl. Sip a specialty martini, dine at the restaurant, and, of course, play. We're talking 12 bowling lanes, three golf simulators, foosball, darts and ping-pong. Game on.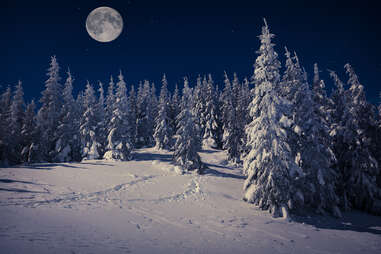 7. Ski under the stars
Take a cross-country ski tour under a full moon and experience the Mammoth Lakes Basin in a whole different light, literally. Check out Tamarack Cross Country Ski Center for lessons, rentals -- and free "wows."
8. Ride a cat
Experience the Eastern Sierras from inside Minaret Vista Apres Ski Tour's heated snowcat. The tour includes a champagne toast from one of the most scenic locations in Mammoth Lakes, as well as chocolate strawberries, and a glass of wine to clink while watching the sun go down. It's the great outdoors with zero hardship, basically.
9. Stroll, winter style
If you can roll out on time, "jaw-dropping" doesn't do Minaret Vista's sunrise justice. But snowshoeing is plain awesome at any time of day. Be sure to clear the cobwebs with a caffeine fix from locally roasted Stellar Brew before.
10. Sled/tube like a grown-up
You already know that the only bad part about sledding is having to scale the hill. That's why Woolly's Tube Park rules: a lift pulls you to the top before you drop back in on the trails. And you can leave the flask at home because they sell "adult drinks!" If you want to keep it old school, the Scenic Loop (on the way to Main Lodge), has a bunch of great sledding hills, too.
11. Get wheels
Fat bikes -- mountain bikes with cartoonishly large tires -- cruise on top of the white stuff thanks to the massive width of the wheels. It's fun for hardcore cyclists, newbies, and the folks in between, but be sure to dress in layers because you will warm up. Except for your feet. Bundle those things up like you're competing in Iditarod.