Where to begin poking fun at Sochi and the myriad blunders of the 2014 Winter Olympic Games? This picture of the public bathroom stalls, tweeted by BBC correspondent Steve Rosenberg, is a great place to start! Unless tandem pooping is a new Olympic sport, we have no idea what the Russians were thinking. So here's a list of bathrooms that are infinitely better. And that people might actually use.
Sofitel Queenstown -- Queenstown, New Zealand
Just try to keep from going pee-shy when life-sized models are laughing, pointing, and busting out the measuring tape.
Suvarnabhumi Airport -- Bangkok, Thailand
Same sense of humor in Bangkok. Can you imagine a US airport ever doing something like this?
25hours hotel -- Frankfurt, Germany
Taking care of basic bodily needs has never been so rock 'n' roll.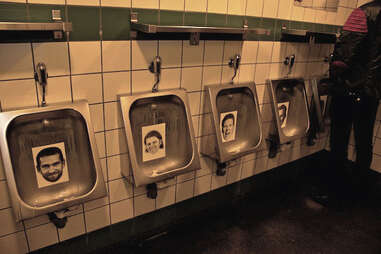 Sódóma -- Reykjavík, Iceland
For Icelanders, taking a whizz has never felt better. Why? Because those smiling faces they're defiling are pics of the former bankers who legged it out of the country after its financial crash.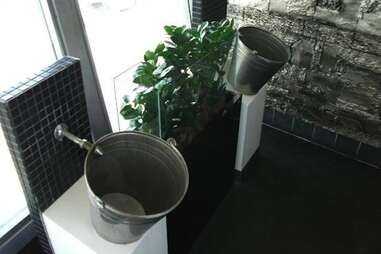 UFO -- Bratislava, Slovakia
This super-lavish restaurant goes back to basics in the bathroom.
Columbia Center -- Seattle, WA
Stalls with a view like the ones on the 76th floor (some of the tallest in the world) make us understand why the toilet's sometimes called a throne.